Monsoon rains have made its onset, claimed twenty-one human lives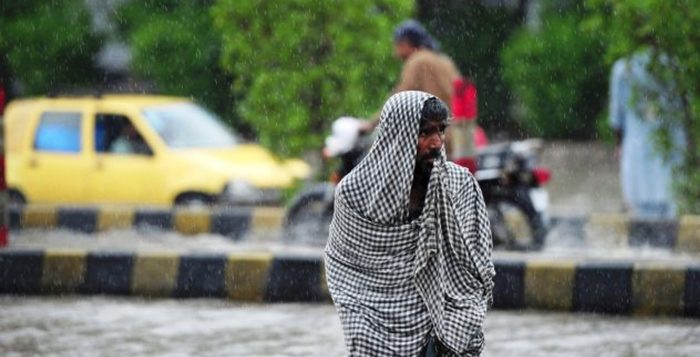 photo credit: https://www.samaa.tv
Monsoon rains have made its onset in Pakistan started Monday, June 26, 2017 and since then different parts of the country have received precipitation with intervals. Karachi and Hub are the most affected areas where flooding and electrocution has claimed seventeen human lives. Five persons were electrocuted in different parts of Karachi city and two children drowned in a pond, while nine people including two children died due to heavy rains in Hub and Lasbela areas of Baluchistan. Flash floods have also swept away several houses in Hub, Baluchistan.
In Khyber Pakhtunkhawa and Gilgit Baltistan intermittent rain was witnessed in various regions, out of which Chitral, Lower Dir, Bajaur, Shangla and Upper Dir saw minimal rain while Attar Pak saw received the heaviest spell. One boy lost his life in Chitral in rain related incidents.
Rain-thundershowers with gusty winds may occur at scattered places of Hyderabad, Karachi, Mirpurkhas, Tharparkar, Shaheed Benazirabad division, and at isolated places of Islamabad, Rawalpindi, Gujranwala, Lahore, Malakand, Hazara, Kohat, Bannu, D I Khan, Kashmir and Gilgit-Baltistan.
There is risk of landslides in hilly areas of upper Khyber-Pakhtukhwa, Malakand, Hazara, Gilgit-Baltistan and Kashmir.
Community World Service Asia Response: Community World Service Asia will monitor the situation and will try to get updated information from different stakeholders. Its emergency response teams are ready and will be deputed immediately if the need to respond to the crisis arise.
Contacts:
Dennis Joseph
Associate Director – Disaster Management Program
Email: dennis.joseph@communityworldservice.asia
Cell: +92 300 855 7414
Palwashay Arbab
Head of Communications
Email: palwashay.arbab@communityworldservice.asia
Tel: +92 42 3586 5338
Sources:
www.samaa.tv
www.tribune.com.pk
www.dawn.com