Workshop on Managing Complaints Response Mechanism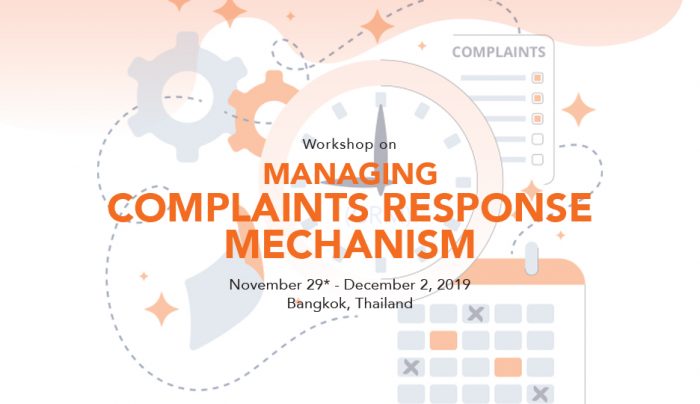 Rationale
The impact of humanitarian work on communities depends greatly upon the quality of services and accountability of actions both during emergency and non-emergency times. However, the impact of our activities depends as much on behavioural and professional standards of individuals who work for our organisations. Humanitarian agencies therefore have a duty of care to affected communities and a responsibility to ensure that right-holders are treated with dignity and respect and that certain minimum standards of behaviour are observed. The goal is to create an environment free of sexual exploitation and abuse, harassment and other unacceptable behaviour in humanitarian crisis and development work.
Course Aim and Objectives
The objective of this course is to gather professional humanitarian workers from (I)NGOs, UN, donors and government agencies who aim to become experts in complaints handling. It will allow participants to understand the linkages between quality & accountability and handling complaints, from reception to investigation and implementation of the learning. More specifically, at the end of the course, participants will have acquired the following skills:
Understand the different Q&A initiatives and how they complete each other
Explain and apply the 9 Core Humanitarian Standard (CHS) commitments and identify how they contribute to improved humanitarian interventions
Explain terminology related to sensitive complaints
Understand the global investigative framework including specific skills to conduct interviews
Demonstrate a robust knowledge on how to handle complaints, from communication to reception of complaints and subsequent investigations
Able to support and manage an ongoing investigation and its follow-up action
Methodology
The methodology will be very participatory, allowing participants to be involved in a dynamic way at all times through presentations, debates, experience sharing, group work, learning parts, videos. The course will be conducted in English.
Who Should Apply
This workshop has been designed for those staff members working to establish and handle complaints system in their organizations or staff members involved in the Prevention of
Sexual Exploitation and Abuse (PSEA) as well as investigating sensitive complaints. Applicants fulfilling the following criteria are eligible to participate:
Senior and mid-level managers, including project coordinators involved in complaints handling and Protection from Sexual Exploitation and Abuse (PSEA)
Proficiency in English
How to apply
Kindly fill out the Online Application Form: https://forms.gle/trS5Rf5A1zCtRhqM8 or fill the attached form and send it to qa.support@communityworldservice.asia by October 20, 2019. Applicants will be notified/confirmed about their participation by October 31, 2019. For further information or queries please feel free to contact us: qa.support@communityworldservice.asia
Please make sure you include contact information (postal address, e-mail or phone number) you will access during those dates, at the latest. Space will be allocated on a 'first-confirmed, first-served' basis. Payment of the tuition fee will confirm the course registration.
Things you need to know!
When: November 29 – December 2, 2019
Where: Bangkok, Thailand
Registration Fee: US$ 650 (All-inclusive except for dinners and travel cost to & from Bangkok).
Application deadline: October 20, 2019
Please note
Participants are expected to arrive in Bangkok on November 28 and depart on December 3 and will be accommodated for maximum 5 nights (on double occupancy basis).
All participants are expected to attend the collaborative event on the morning of 29th of November.
Two meals (breakfast and lunch), in addition to refreshments will be provided during the training. Participants will be responsible for their own dinner.
Participants are advised to please confirm any expense related information from Community World Service Asia to ensure all financial matters are clarified.
Meet the Trainer
Ms. Ester Dross is an independent consultant with over 25 years of experience, specializing in accountability, prevention of sexual exploitation and abuse, gender and child protection.
Ester had extensive exposure to humanitarian certification systems and accountability to affected populations while working with HAP International as their Complaints Handling and Investigation Advisor, later as their Certification Manager. She has been closely involved in the Building Safer Organizations Project since 2005, dealing with sexual exploitation and abuse of beneficiaries, particularly focusing on gender and child protection. Over the last 6 years and since working as an independent consultant, Ester has been leading a pilot project for FAO on accountability and gender mainstreaming in emergencies and working with numerous NGOs including ACT Alliance members, supporting and training their staff on gender issues, child protection, accountability, complaints handling and investigations. She is an experienced investigator herself and has conducted investigations in Asia, South America, Africa and Europe.
There's More
The CHS Exchange
When: 08.30 AM Tuesday, November 19 to 12.00 PM Wednesday, November 20
Where: Pullman Bangkok King Power Hotel 8/2 Rangnam Road, Thanon-Phayathai, Ratchathewi, 10400 Bangkok
Organized by the CHS Alliance, the CHS Exchange provides the opportunity to debate and discuss how the CHS can make aid work better for people in crisis. For more detail and registration please visit https://www.chsalliance.org/events/bangkok-chs-exchange/
The CHS Alliance General Assembly (Members only)
When: Wednesday afternoon, November 20 to Thursday, November 21
Where: Pullman Bangkok King Power Hotel 8/2 Rangnam Road, Thanon-Phayathai, Ratchathewi, 10400 Bangkok
The physical General Assembly of CHS Alliance members is an important opportunity for the membership to agree on the collective way forward, in our commitment to the CHS and making aid work better for people. For more details and registration, please visit https://www.chsalliance.org/get-support/event/bangkok-chs-exchange-and-general-assembly/
OCHA/ICVA/ADRRN Events
When: Tuesday, November 26 to Friday, November 29
Where: Bangkok, Thailand (Venue to be decided)
United Nations Office for the Coordination of Humanitarian Affairs (OCHA), The International Council of Voluntary Agencies (ICVA) and Asian Disaster Reduction and Response Network (ADRRN) are holding a range of events, including thematic sessions, in a collaborative manner during the four days. For more details, please be in touch with the organizers.
Launch and Panel Discussion
When: 09.00 AM to 12.00 PM Friday, November 29
Where: Windsor Suites Hotel 10/1 Sukhumvit Soi 20, Sukhumvit Road, Bangkok, Thailand.
A collaborative event will be organized by Community World Service Asia, OCHA, ICVA, ADRRN, Act Church of Sweden, CHS Alliance and Sphere. It will include the launch of the updated booklet on Quality and Accountability for Project Cycle Management. This user-friendly booklet is designed especially for field practitioners working in the humanitarian and development sector to improve quality and accountability of their projects towards communities. The revised version aims to introduce advance tools to use at each stage of the project cycle, allowing enhanced practical implementation of quality and accountability. The launch will be followed by a stimulating panel discussion by panelists representing a range of experiences on accountability towards affected populations. More information will be circulated soon.
Advancing women leadership
When: November 24 to 29, 2019
Where: Windsor Suites Hotel 10/1 Sukhumvit Soi 20, Sukhumvit Road, Bangkok, Thailand
Community World Service Asia is organizing a training on Advancing Women Leadership. This training is a holistic approach to leveraging the strength and power of women. We are all unique beings and this course lends itself to that. For more details and registration, please visit: http://bit.do/a-w-l-2019
Training of Trainers on Quality & Accountability to Affected Populations
When: November 23 to 29, 2019
Where: Windsor Suites Hotel 10/1 Sukhumvit Soi 20, Sukhumvit Road, Bangkok, Thailand
As part of Community World Service Asia's response to the demands for more support on awareness raising, capacity building and collective learning, we are delighted to announce the upcoming Training of Trainers on Quality & Accountability to Affected Populations. This event is a unique opportunity for all agencies, to equip staff to both disseminate and implement the standards. For more details and registration, please visit: http://bit.do/fbbcU
Cancellation/Postponement
CWSA reserves the right to cancel or postpone the course if circumstances require. Registered participants will be informed with 100% fee refund. However, if the participant wishes to cancel the registration, he/she requires informing CWSA office at least one month in advance or else the fee will not be refunded.
About Community World Service Asia
Community World Service Asia is a humanitarian and development organization, Registered in Pakistan, head-quartered in Karachi and implementing initiatives throughout Asia. We aim to address factors that divide people by promoting inclusiveness, shared values, diversity, and interdependence. Marginalized communities are assisted Irrespective of race, faith, color, age, sex, economic status, or political opinion. Respecting the right to choose how to live, we work with marginalized communities to overcome the impacts of inequalities and lead peaceful, dignified and resilient lives.
Our focus areas include: Emergencies; Climate Action and Resilience Building; Education; Health; Livelihoods; Water, Sanitation & Hygiene; and, Humanitarian Quality and Accountability. We engage in the self-implementation of projects, cooperation through partners, and the provision of capacity building trainings and resources at the national, regional and global levels.
To strengthen and extend the reach of our commitments to promoting quality and accountability in humanitarian response, we are a member of the Core Humanitarian Standard (CHS) Alliance and Sphere. We are the Sphere Country Focal Point in Pakistan and the Regional Partner in Asia for the Sphere. Community World Service Asia is ISO 9001:2015 certified and has also received the USAID management standards certification. We have also been certified as a Gender Friendly Organization (GFO) in Pakistan and have undergone the CHS self-assessment. Our commitment and capacities enable us to collaborate with key partners on advocating, building capacity, and enhancing quality and accountability of humanitarian action both within Pakistan and the wider region.
Disclaimer
Community World Service Asia shall not be made liable for any damage, loss, illness, injuries or death that may occur to or be caused by the participants during the course of training or travel to and from the training venue.
Download
Click here download brochure and invitation letter.
For further details, please contact:
Mr. Khurram Saeed
Email: qa.support@communityworldservice.asia
Contact: +92 51 2307484
Web: www.communityworldservice.asia