Situation Update: Heavy Monsoon Rains and Flooding Across Pakistan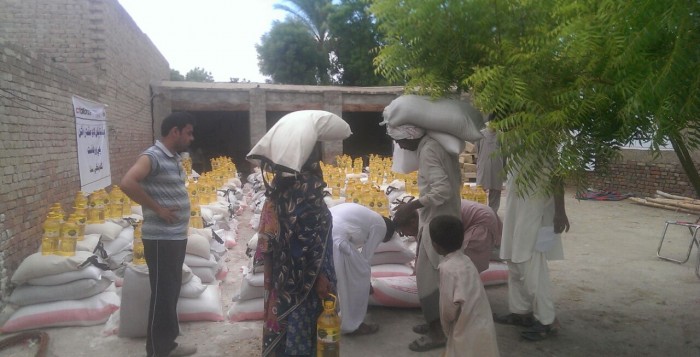 Download updated map indicating the latest flood situation of Pakistan
Heavy monsoon rains hit different parts of Pakistan starting the third week of July and are still going strong. These rains along with rapid melting of glaciers have resulted in massive flooding across the country. Till date, 145 people have been reported to have died, while 36 people have been injured because of this heavy downpour and floods. Three thousand and fifty houses are damaged and 451 villages have been totally inundated while many more villages have been partially affected resulting in the displacement of around 3, 85,957 people across the country. These latest floods have also severally damaged the infrastructure and the local livelihoods.  A total of 715 cattle have perished in the floods, and 233,688 acres of agricultural land, local markets, roads, bridges and micro hydro-power stations have been damaged.
The Government authorities have predicted an increase in flooding especially in the Sindh province in the upcoming days due to the continuing rains, increase in flood water level in Kabul, Indus, Jhelum and Chenab rivers, and the further melting of a glacier in Diamer district. According to the Director General of the Meteorological Department, India has also released 150,000 cusecs of flood water which means 0.8 million cusecs of water is currently passing through the Guddu Barrage. India is likely to release more surplus water from its dam in the coming days which will further increase flooding in the low-lying areas of Pakistan. The authorities have warned of possible massive destruction in interior Sindh in the following weeks as flood water from all of over the country will be passing through catchment districts of Indus River in the province.
Following is a brief overview of impact of recent flash floods on different provinces of Pakistan so far:
Sindh: 16 people have died because of rains and floods and many more have been reported injured as of today. Six districts and over 300 villages have been affected by the floods in Sindh so far and many more villages are expected to be gravely affected in the days to come. The affected districts in Sindh include Kashmore, Gothki, Shikarpur, Khairpur, Sukur and Qambar Shahdadkot.  Over 100,000 people have been displaced and are forced to live in tents and under the open sky on river embankments and elevated places in the affected districts.   Anticipating displacement from these districts the government has established relief camps at various embankments in Sindh. The provincial government together with 800 personnel from the Pakistan Army is providing rescue and evacuation services to the people from the flood affected villages. Hundreds of people currently living in the open air and under tents are at risk of being highly food insecure.
Khyber Pakhtunkhwa (KPK): Three districts and 292 villages have been affected by the floods in KPK where 74 people have died and 15 have been injured so far. Many more damages are expected to follow in the coming days because of the continued monsoon rains, land sliding, melting of glaciers and increasing water levels in Kabul and Indus rivers. The affected districts in KPK include Chitral, Peshawar and Shangla while Nowshera and Charsadda are at high risk because of mounting pressure in Kabul River and continued monsoon rains.  Chitral is the most affected district where 64 people have died and 31750 houses have completely washed away with the flood water. Majority of the villages have lost land-connections with the major cities because of destruction of roads and connecting bridges and micro-hydro power stations. The Government has distributed relief items including tents among the displaced families and have also announced PKR. 0.5 million in cash for each family that have lost their homes due to the floods in Chitral.
Gilgit-Baltistan: Ghizar, Astor, Skardu and Hunza districts have been most damaged in this region. Six hundred and twenty five houses have reported to be fully damaged while many more were reported to be partially damaged as result of rains, landslide and flashfloods. Two people have been reported to have died because of rains/flash floods in this area. A number of roads and connecting bridges have been washed away that had left many villages disconnected from the main towns.
AJK: Districts Sudhnoti, Neelam, Havaili and Bhimber have been reported as worst affected by the rains and flash floods in this region. Thirteen people were reported to have died while eight have been injured and a hundred houses were reported as fully damaged.
Punjab: At least 31 people have died and 4 people have been reportedly injured as a result of the floods and vicious rains in the Punjab province. Four hundred and thirty three villages in Mianwali, Layyah, DG Khan, Rajanpur, Rahimyarkhan and Muzaffargarh districts are left flooded by the overflow of water from the Sindh River.  285,957 people have been reported affected out of which 59250 are living in 27 relief camps established by the Government.  Agricultural fields spread across 233,688 acres of land have also been destroyed.
Baluchistan: Heavy rainfall, windstorm and the flood situation in District Zhob has damaged flood protection bunds, electric poles, roads, uprooting trees, etc. The floods have also caused breaches at various locations of the protection bunds claiming four lives so far. In the central province, at least twenty-one people drowned in the flood water, however, only seven dead bodies have been recovered. The search and rescue operation is underway for the recovery of the rest of the drowned people.
FATA: A number of villages and houses have been reported to have been fully damaged in Khyber and Mohamand agencies of Federally Administered Tribal Areas. However, exact figures have are yet to be confirmed by the authorities and national media.
Response by Community World Service Asia: Community World Service Asia's field teams are present in KPL, Sindh and Punjab provinces as well as in Azad Jamu & Kashmir. Sindh, positioned on the tail-end of Indus River, is among the most flood-prone provinces. A number of districts in Sindh are already affected and thousands of people are displaced who are now in dire need of food, NFIs and health assistance. Community World Service Asia's field team in Sindh is carrying out assessments in the affected districts and has also started distribution of one month food rations to hundred most affected families in Gothki district of Sindh province.  Another one month food rations among another 827 families will be distributed in the coming weeks.
Contacts:
Allan A. Calma
Deputy Director
Disaster Management Program
Email: allan.calma@communityworldservice.asia
Cell: +92 301 5801621
Muhammad Fazal
Associate Director
Emergencies/DRR/Climate Change
Email: fazil.sardar@communitryworldservice.asia
Cell: +92 332 5586134
Palwashay Arbab
Senior Communications Officer
Email: palwashay.arbab@communityworldservice.asia
Ph: +92 42 3586 5338
Sources:
http://www.nawaiwaqt.com.pk/E-Paper/Lahore/2015-07-28/page-1/detail-24
http://www.thekawish.com/beta/
www.tribune.com.pk
www.e.dunya.com.pk/National Humanitarian Network
www.ndma.gov.pk
weather.par.com.pk
http://epaper.pknewspapers.com/the-kawish.html
Express News, July 27, 2015 http://www.pdma.gos.pk/new/Docs/flood2015/SER-1-25-2015.pdf
http://www.pdma.gos.pk/new/Docs/flood2015/24-7-2015STOCKSPOSITION.pdf