Situation Update: Floods High Alert issued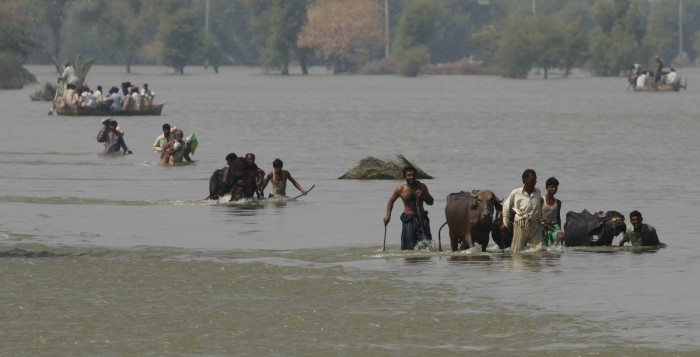 Monsoon rains and flood continues to create havoc in different parts of the flood affected areas leaving thousands of families affected, number of houses destroyed, thousands of acres of ready to harvest crops and fruits orchards have been damaged, link roads and bridges destroyed. The Pakistan Meteorological Department (PMD) Director General Dr Ghulam Rasul has issued high alert in the wake of expected widespread heavy rain and flood, over the next five days.
The PMD spokesperson added that the heavy monsoon was concentrating in Sindh where up to 500,000 cusecs of water was already flowing down the Indus at Guddu and Sukkur and the upcoming heavy downpour could aggravate the situation. According to the PMD the entire country is currently under an active monsoon system which might generate heavy widespread rains in coming days. National Disaster Management Authority (NDMA) also alerted that a sharp peak of High Flood is expected in River Jhelum at Mangla (upstream).
Following is a brief overview of impact of recent flash floods on different provinces of Pakistan so far:
Sindh: Around 150 villages have been flooded in district Ghotki, Kashmore and Sukkur which affected around 1000,000 people. The continuous driving rains incited rivers to wreak havoc and forced the citizens to shift to safer locations along with their livestock. Along with the three already affected districts, the Provincial Disaster Management Authority of Sindh has forecasted that districts Khairpur, Larkana and Shikarpur are also at high risk of flooding in the coming two to three days which can affect thousands of families in these vulnerable districts. Anticipating displacement from these districts the district governments have established relief camps, health camps and livestock facilities at various embankments.
Khyber Pakhtunkhwa: Around 300,000 people in upper and lower Chitral are affected by flash floods. Twenty-six villages are affected in the district, where 145 houses were destroyed and 32 partially damaged. The roads linking Chitral with Drosh, Orghoch, Garam Chashma, Bamboret, Mastuj and Boni are destroyed. Dozens of other link roads, major bridges and the suspension bridges connecting valleys and villages have been swept away in the gushing waters. A hotel, a private college and around 25 water supply schemes have also been swept away. Search and rescue operations are currently underway by Pakistan Army. Relief camps have been established in the affected areas while Government has announced PKR 500,000 for each of the completely affected households. Furthermore PRCS has distributed tents, kitchen sets, hygiene kits, Mosquito nets and blankets to 29 flood affected families. KP government has transported 20 tons of food packs to district Chitral.
Gilgit-Baltistan: Flash floods have cut off at least three valleys in Diamer and Baltistan. The valleys in Diamer – including Niat, Buner and Fairy Meadows – have been experiencing food shortages because of lack of connection with the outside world. Ghanche and Skardu are the worst affected districts of GB. Fast melting glaciers in the northern areas of the country during monsoon season and the resultant flash floods is a wake-up call for the K-P and G-B governments to start planning to tackle the situation.
Punjab: At least 244 villages of Mianwali, Layyah, DG Khan, Rajanpur, Rahimyarkhan and Muzaffargarh districts are inundated by the flood water of Sindh River. According to NDMA, 11 villages in Mianwali, 81 in Layyah, 40 in DG Khan, 14 in Muzaffargarh, 82 in Rajanpur and 16 villages in Rahimyar khan are affected by the flood. Crop fields spread on thousands of acres have been destroyed, while more than 100 families have moved to safer areas on their own due to insufficient arrangements made by the district and tehsil governments. A large number of people are stranded in the flooded localities. The urban localities which are on the bank of Lai Nallah in district Rawalpindi have also been flooded while due to the rain related incidents in the district, a girl has died during the last 24 hours. Government has established 120 relief camps in six districts of the province. Each camp will accommodate 500 people. 6,000 tents and 10,000 food packs are distributed so far.
Baluchistan: Heavy rainfall, windstorm and the flood situation in District Zhob has damaged flood protection bunds, electric poles, roads, uprooting trees, etc. Also caused breaches at various locations to the protection bunds claiming four lives so far. In central province, at least twenty-one people drowned in the flood water where only seven dead bodies recovered while search and rescue operation is underway for the recovery of the rest of the drowned people.
Response by Community World Service Asia:
Sindh being the tail-ender has always been the most affected province and is likely to be among the most affected by recent rains and flooding in the coming couple of days. Community World Service Asia has operational offices and teams in Sindh. Its senior management team, including Regional Representative and Associate Director for Emergencies is on the ground monitoring the situation and will be leading the emergency response. The field team is coordinating with key stake holders to plan to address emergency needs of the population by providing food, NFIs and emergency medical assistance in affected districts.
Contacts:
Allan A. Calma
Deputy Director
Disaster Management Program
Email: allan.calma@communityworldservice.asia
Cell: +92 301 5801621
Muhammad Fazal
Associate Director
Emergencies/DRR/Climate Change
Email: fazil.sardar@communitryworldservice.asia
Cell: +92 332 5586134
Palwashay Arbab
Senior Communications Officer
Email: palwashay.arbab@communityworldservice.asia
Cell: +92 42 3586 5338
Sources:
www.tribune.com.pk
www.e.dunya.com.pk
National Humanitarian Network
www.ndma.gov.pk
weather.par.com.pk