Situation Alert: Monsoon Rains trigger Urban Flooding in Sindh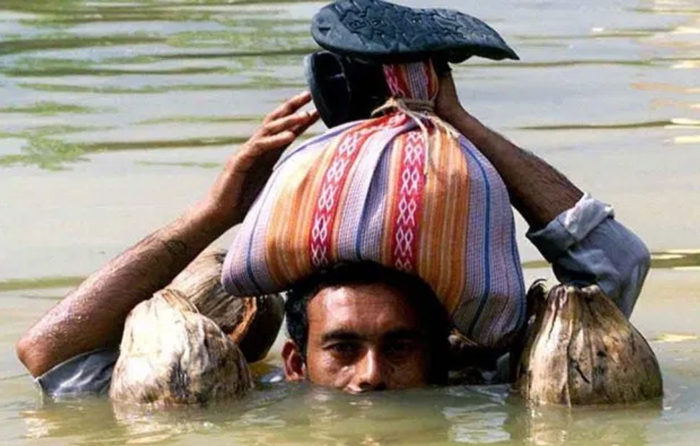 Photo credit: globalvillagespace.com
Prepared by Community World Service Asia's Communications Office
At least seven people were killed and dozens of others wounded in different rain-related incidents in Pakistan's southern city of Karachi due to its first seasonal monsoon rainfall.
After weeks of extremely hot weather, residents of Karachi found consolation in the season's first monsoon rains, pouring over 20 million people in the port city. However, the rains led to a series of unfortunate incidents of electrocution, roofs collapsing and uprooted trees and billboards that claimed seven lives.
Rescue teams reported that most of the casualties, including that of a woman and two girls, were caused by electrocution, while the wounded included those struck by branches, billboards, and other airborne items in the heavy storm. According to the Pakistan Meteorological Department (PMD), rainfall up to 43 mm was recorded in the city, and it wreaked havoc in areas that experienced heavy winds along with the rains. Electric poles were also uprooted in several parts of the city, resulting in hours-long suspension of electricity supply.
The Provincial Disaster Management Authority (PDMA) of Sindh province, where Karachi is located, issued a warning of urban flooding in parts of the city and other areas of the province. PDMA noted that heavy rainfall is expected in the province due to the monsoon and that the people and the urban areas concerned should remain vigilant and take requisite precautionary measures during the forecast cycle to avoid any unfortunate incident.
For the next two days, the PDMA has predicted further rains on the same trend in the city. As per the overall weather outlook for monsoon released by PDMA, the monsoon rainfall is expected to remain normal (+10%) during July to September 2020 in Pakistan. Sindh and Kashmir are likely to receive moderately above normal (+20%) rainfall during August and September.
Pakistan is still reeling under the impact of coronavirus pandemic. The World Bank in a recent report stated that Pakistan and the rest of South Asia would account for two-thirds of the 176 million people expected to be pushed into poverty by the COVID pandemic.
Sindh and Baluchistan provinces of Pakistan have faced severe droughts for the past three years. In addition, Pakistan is suffering from one of the worst locust infestation in 25 years, while meteorologists have forecast widespread flooding, potentially compromising national food insecurity and displacing millions of people. In the midst of additional impacts by Covid-19 on health, livelihoods and food security and nutrition of the most vulnerable communities and populations of Pakistan, it is imperative to contain and successfully control the desert Locust infestation and provide immediate relief to the flood-affected populations in Sindh, as fears about food security are at an all-time high in the country.
Community World Service Asia's Response:
Community World Service Asia is in contact with the local government and other stakeholders active in the area. Its emergency response team is on standby and can start the relief operations immediately if required. CWSA has worked in response to numerable humanitarian emergencies, providing assistance in food security, shelter and NFIs, health and WASH. Given the current COVID-19 pandemic and its repercussions on the sector and the communities, CWSA will ensure limited direct physical interaction with the communities and its response will mostly focus on provision of cash grants through mobile cash transfers.
Norwegian Church Aid (NCA) Response:
For monsoon emergency response, NCA in collaboration with its implementing partners and relevant Government Departments will ensure timely operationalization of Mobile Water Treatment Units in Sindh and KPK provinces to provide safe drinking water. Also, at national and provincial level, coordination with disaster management authorities is ongoing, either directly or through the Pakistan Humanitarian Forum. Furthermore, NCA and partners present in Sindh, KPK, Punjab and ICT are engaged in ongoing COVID-19 response through WASH-IPC interventions.
Diakonie Katastrophenhilfe Response:
Diakonie Katastrophenhilfe has active presence in Sindh Province from the last two years and can mobilize resources immediately when required.
Contacts:
Shama Mall
Deputy Regional Director, CWSA
Programs & Organizational Development
Email: hi2shama@cyber.net.pk
Tele: 92-21-34390541-3
Imran Masih
In-Country Representative, DKH
Email: Imran.masih@diakonie-katastrophenhilfe.org
Tele: 92-51-8312 530
James John
Deputy Country Director, NCA
Email: james.john@nca.no
Tele: +92 51 8317407
Palwashay Arbab
Head of Communications Office, CWSA
Email: palwashay.arbab@communityworldservice.asia
Tele: +92 42 3586 5338
Sources:
Bignewsnetwork.com
Reliefweb.int
Geo.tv
www.pmd.gov.pk