Kasi finds food and relief amidst a prolonged drought spell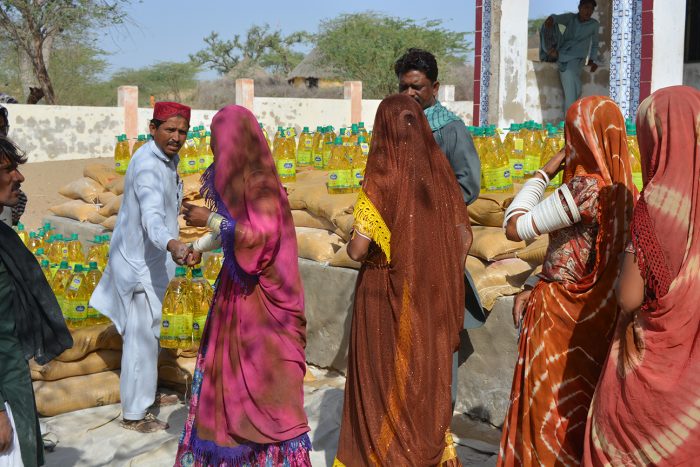 Seventy-three-year old Kasi, from village Ranahar of Umerkot district, takes care and provides for her bed-ridden son and his family. She works for agricultural produce on their local fields.
While sharing her challenges and talking about her sufferings of recent years, Kasi could not help but reminisce about their better days,
Just a few years ago we were leading a very happy life. My son earned PKR. 15,000 per month as a tractor driver. His monthly income was sufficient to meet our family's needs. However, those days were short-lived as our happiness turned to sorrow when my husband started experiencing frequent chest pains and fever and had to leave his job. Soon after, just four years from today, he was diagnosed with asthma and severe lung illness which could lead to chest cancer within years if not treated properly. With his job gone and barely any income, we could not afford his medication which further aggravated his illness.
Kasi added,
Our worries further heightened when our agricultural fields completely dried up. The drought had struck our lands.  I was not even able to collect a single grain from our field in the last two years.  Only my God knows my struggle and how I was trying to feed my family since the last two years. Not even our neighbours or relatives were able to help us.
On March 2019 Kasi and her family were selected as participants of a drought response project implemented by Community World Service Asia and supported by Presbyterian World Service & Development and Canadian Foodgrains Bank. Through the project, Kasi's family, along with ninety more severely drought-affected families in Ranahar village of Umerkot received six rounds of food packages.
Before receiving this food assistance, I used to start worrying about what we would eat each day at the first light of dawn. Having even a single nutritional meal seemed to be a challenge each day. But thankfully, I do not need to worry about that anymore. The food provided to us has saved us from many sufferings. The quality and quantity of food provided is much appreciated by all of us.
Kasi is happy that her family and other families affected by drought in the area will be assisted with food supplies for the next six months. This support will be sufficient to feed the families until their own agricultural produce can be harvested in September.