Eco-friendly stoves introduced at homes in Umerkot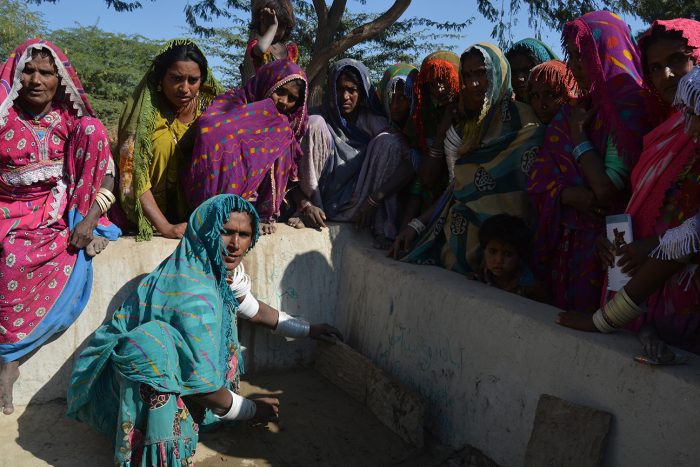 The United Nations World Health Organization (UNWHO) standards state that a country should have at least a twenty-five percent forest cover to help conserve ecosystems that provide for all living things and also works as a barrier against disasters[1]. Forests play an important role in helping species, people and countries adapt to climate change. Sindh lags behind in reaching this standard.
According to the latest Sindh Forest Department data, the forest cover in Sindh has reduced to an alarming level of less than two percent, forcing an estimated one million people in the province to migrate to other areas in the last 30 years.
To mitigate climate change impacts and help reduce deforestation rates in Sindh, Community World Service Asia, Ministry of Foreign Affairs (MoFA) of Japan, and partners, have initiated a Disaster Risk Reduction (DRR) project in Umerkot district of the province. As one of the project's interventions, 334 women from eight villages were trained on effectively using a new technology of fuel-efficient stoves in their homes. The fuel-efficient stove is an energy system that has a positive impact on the ecosystem while providing basic cooking needs. The stoves are made of mud and straw. It enables cooking simultaneously on two burners and the flame can be controlled as per temperature required. As a result, it allows for less emission of smoke and less consumption of fuelwood. Thirteen of these training were conducted by women community mobilizers that oriented rural women on the use of the stoves and made them aware of its environment-friendly nature.
The trainings enabled the women in the communities to help reduce health risks associated with smoke emissions that women and children often experience while cooking on traditional stoves made of firewood. Consequently, it has reduced incidents of household fire that were caused due to uncontrollable firewood flames.
Cleaner environments and being provided cheaper cooking sources has been seen as a direct impact of these training and the increased use of fuel-efficient stoves.  The adoption of these stoves has significantly increased in the area since the training. Other women in the communities have also requested for training and construction of these stoves.
The utensils turned black when we cooked on traditional stoves using firewood. The fuel stove is a remarkable tool which not only saves time and fuel, but it endows relief in cleaning utensils. Many women in the community are requesting me to construct the fuel-efficient stove in their households. We are grateful to be introduced to these remarkable stoves,
shared Saleemat from Mandhal Thakar Village in Umerkot.
---
[1] https://www.dawn.com/news/1402307