Joint Situation Update: Heavy Monsoon Rains and Flooding Across Pakistan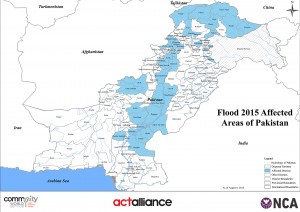 The ongoing flood emergency is continuing to adversely affect the lives and livelihoods of thousands of communities all across Pakistan and its AJK state. The rains that started in the mid of July have continued for weeks disrupting the lives of many communities. The National Disaster Management Authority (NDMA) have reported 917,791 people as affected; 173 deaths and 127 injuries owing to the devastating floods. In Sindh, the rainfall leading to floods has affected the Katcha area of the six districts however it is anticipated that the floods will drift down to the low lying districts of the province as well.
Damage statistics caused by the floods in the country are indicated in the table below:
| | | | | | |
| --- | --- | --- | --- | --- | --- |
| Province | Deaths | Injured | Houses Damaged | Villages Affected | Population Affected |
| AJ&K | 22 | 5 | 237 | 17 | – |
| Baluchistan | 13 | 33 | 798 | – | – |
| Gilgit Baltistan | 7 | 6 | 812 | 286 | 136,000 |
| KPK | 83 | 70 | 3,320 | – | – |
| Punjab | 48 | 13 | 2,025 | 496 | 362,863 |
| Sindh | – | – | – | 2,097 | 418,928 |
| Total | 173 | 127 | 7,192 | 2,896 | 917,791 |
Government authorities have predicted an increase in flooding particularly in Sindh in the upcoming days as heavy monsoon rains are continuing, thus increasing flood water levels in Kabul, Indus, Jhelum and Chenab rivers. The persistent melting of glaciers in Diamer district are further adding to the rise in river waters. The authorities have warned of massive destructions in interior Sindh in the coming weeks when flood water from all of over the country is expected to pass through catchment districts of Indus River in the Sindh province.
Following is a brief overview of the impact the recent flash floods have had on the different provinces of Pakistan so far:
Sindh:  Six districts have been severely affected by the floods in Sindh so far and the number of the affected villages is expected to increase rapidly in the following days. The affected districts in Sindh include Kashmore, Gothki, Shikarpur, Khairpur, Sukur and Qambar Shahdadkot.  The displaced communities have no choice but to live in tents under open skies on embankments and elevated areas in the affected districts. Anticipating displacement from these districts the government has established relief camps at various embankments.
Khyber Pakhtunkhwa: Eleven districts of the KPK province have been affected by the floods and a lot  more damage is expected in the near future due to the unending monsoon rains, land sliding, melting of glaciers and increase in flood level in Kabul and Indus rivers. The affected districts in KPK include Bannu, Batagram, Charsadda, Chitral, DI Khan, Karak, Kohat, Lakki Marwat, Peshawar, Swat and Shangla. However Nowshera and Charsadda are at a higher risk because of the mounting pressure being caused in Kabul River due to the continuing rains.
Gilgit-Baltistan: Diamer, Gilgit, Ghizar, Ghanche, Skardu and Hunza districts have been reported to be severely damaged. A number of roads and connecting bridges have been washed away leaving many villages disconnected from the main towns.
AJK: District Sudhnoti, Neelam, Havaili and Bhimber have been reported to have been affected by the rains and flash floods in 17 villages in the region.
Punjab: Almost 500 villages in Mianwali, Layyah, DG Khan, Rajanpur, Rahimyarkhan and Muzaffargarh districts are left inundated by the floods. Agricultural land spread across 378,172 acres of land have also been destroyed.
Baluchistan: Heavy rainfall, windstorms and the inevitable floods have left districts Zhob, Musakhel, Killa Saifullah, Kohlu and Dera Bugti severely damaged; flood protection bunds, electricity poles, roads, plantations have been impaired. The floods have caused breaches at various locations in the protection bunds claiming four lives so far.
FATA: A number of villages and houses have been reported as damaged in the Khyber and Mohmand agencies of the Federally Administered Tribal Areas. However, exact figures are yet to be reported by the authorities and the national media.
Response by Act Alliance: Community World Service Asia's project teams are present in KPK, Sindh and Punjab provinces as well as in Azad Jamu & Kashmir. Sindh, positioned on the tail-end of Indus River, is one of the most flood-prone provinces. A number of districts in Sindh are already affected and the thousands of people displaced are in need of food, non-food items (NFIs) and health assistance. Community World Service Asia's team in Sindh has carried out assessments and has also completed the distribution of monthly food packages to 100 flood affected families. The assistance is to be continued as 2,221 additional families will receive monthly food packages in the coming weeks. Community World Service Asia will also establish a water treatment plant in district Ghotki which will provide treated, clean drinking water to approximately 5,000 flood affected people on a daily basis for a month. Provision of Emergency Health Services has also been proposed in district Ghotki.
Our partner, NCA's WASH team have also completed an assessment in Punjab and Sindh. In Sindh province, NCA has jointly assessed the situation in district Ghotki together with Community World Service Asia focusing on WASH, health and livelihoods. NCA's assessment covers Layyah, Muzaffargarh and Rajanpur districts in Punjab province and Ghotki, and Kashmore districts in Sindh province.  The assessment team has conducted a rapid survey using semi-structured questionnaires, key informant interviews, FGDs and interviews with government stakeholders to gather important information on access, vulnerability, coping capacity, available resources and existing key risks. The assessment has been compiled.
As part of NCA's emergency preparedness plan, the organization is mobilizing its pre-positioned mobile Water Treatment Units (WTUs) for immediate use. Each unit can purify and provide clean drinking water to 5,000 individuals based on SPHERE standards. Keeping in view the urgent needs and NCA's life saving response capacity, it is utilizing its internal funds (through their head office) to provide emergency funds to immediately mobilize the WTUs. As planned for this response, six WTUs will provide water to alteast 30,000 individuals at this crucial stage. The budgeted amount is calculated for a three months response.
Contacts:
Allan A. Calma
Deputy Director
Disaster Management Program
Email: allan.calma@communityworldservice.asia
Cell: +92 301 5801621
Muhammad Fazal
Associate Director
Emergencies/DRR/Climate Change
Email: fazil.sardar@communitryworldservice.asia
Cell: +92 332 5586134
Palwashay Arbab
Head of Communications
Email: palwashay.arbab@communityworldservice.asia
Ph: +92 42 3586 5338
Sources:
www.ndma.gov.pk
www.pmd.gov.pk