Increasing access to safe, effective and quality healthcare in rural Sindh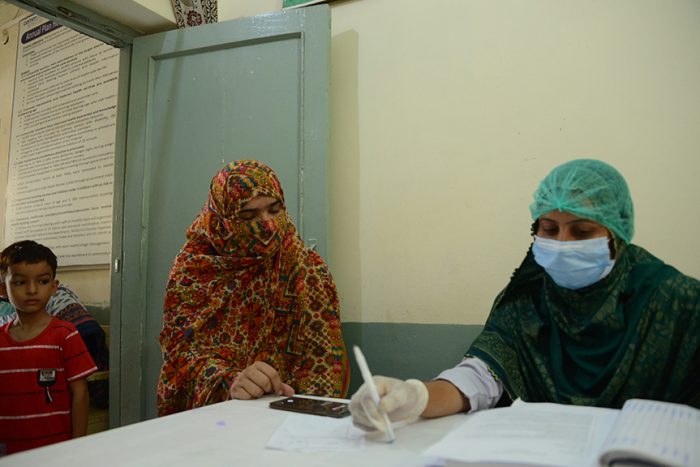 Saba, 25, resides with her eight-member family in Mohallah Railway station at Pithoro Taluka[1]. Her home is three kilometers away from Community World Service Asia's health center in Pithoro of Umerkot District. Saba was in her third trimester in November 2020.
"My husband worked in a textile company as part of the skilled labor before he lost his job amid COVID-19 and was earning PKR-15,000/month. In August 2020, he was diagnosed with Hepatitis. It has been difficult to make ends meet, as my husband was the sole bread earner. We had to take loan from relative to keep our livelihoods going."
Diarrhea, Tuberculosis (TB), Hepatitis, skin infections and malnutrition are some of the more common health problems reported among communities in Pithoro. During Covid-19 it was very difficult for these rural communities to access medicine and other health services as most humanitarian organisations were unable to operate due to strict restrictions or closures of offices.
"I was able to visit the health facility for checkups as the women medical staff at the Mother Neonatal Child Health Centre is very comforting and efficient in healthcare delivery."
Saba visited CWSA's health facility with her sister-in-law for the first time in her first trimester.
"I was so pleased with the health services. The medical doctor conducted a thorough check-up and prescribed some medicines, which I easily got from the pharmacy free of cost. The medical team also gave a health session to maintain a healthy diet and shared a diet plan for me to follow. I strictly follow the plan and it has been very beneficial in terms of health. I did not feel weak or tired throughout my pregnancy period."
Saba has to face some challenges due to the unavailability of laboratory services in the health facility.
"We have to travel to Mirpurkhas for blood tests, Ultrasound, Hepatitis, Urine-DR and blood CP. Moreover, the tests can be expensive with one blood test costing up to PKR 1500 (Approx. USD 9) in the district's laboratory. People in my neighborhood do not have sufficient income to manage their household expenses. For this reason, we cannot afford additional expenses of healthcare at quality medical facilities."
---
ⁱ A tehsil (of taluka) is an administrative division in some countries of the Indian subcontinent that is usually translated to "township".