Supporting Jatni fight back locust swarms to regain her crops and livelihood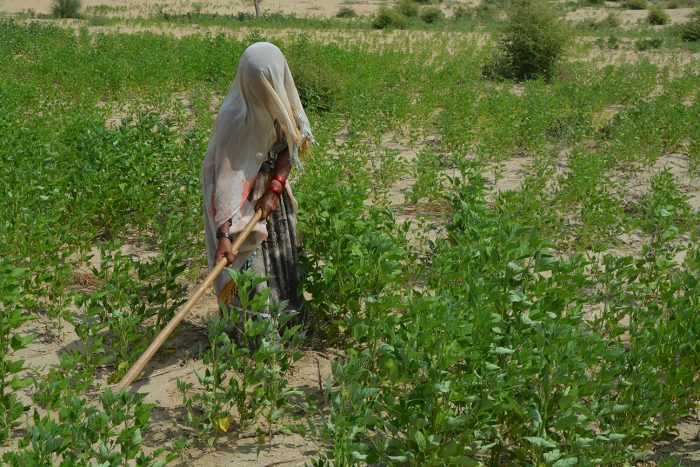 "Four years ago, my husband died of a heart attack. Since then, I have been supporting my family and trying to make ends meet. My embroidery and sewing skills help me earn PKR 700 a week (Approx. USD 4), and that is only when we receive regular orders. This is the only source of income for my three children and me," shared Jatni.
Thirty-five-year-old Jatni and her three young children live in Ramsar village located in district Umerkot of Sindh (Pakistan), where they own a small piece of land and two goats. Jatni and her husband used their four acres of land next to their village to grow Guar[1] and Mung[2] on. After her husband's passing away, Jatni continued with the farming activities on the land when she would be free from her hand-crafting work. She would sell the surplus produce to earn some extra income for her family. However, this year, despite being free from her handicrafts work since she barely received any orders due to COVID-19, Jatni was unable to grow any crop on her farming land due to locust infestations.
Since June 2019, the locust outbreak has been impacting eastern Pakistan. A plague of locusts hit Pakistan in February 2020, devouring crops, trees, and pasture as they moved through vast agricultural lands in Sindh and Punjab. According to the National Disaster Management Authority, 61 districts across the country are under attack from locusts, which have been damaging food crops. Pakistan incurred losses estimated to £2bn in winter crops, such as wheat, and is further expected to suffer another £2.3bn in the summer crops being planted now, according to the UN's Food and Agriculture Organization (FAO) in May 2020.
"The situation in Ramsar was worrisome. All the villagers were in a difficult situation because of the devastation the locusts had brought to agricultural production. Our food security was badly affected as the large swarms moved through the lands."
Ramsar's village committee, in collaboration with Community World Service Asia's (CWSA) emergency team, selected Jatni as a cash grant recipient of PKR 13500 (Approx. USD 84) under an emergency response project supported by Japan Platform.  The project aimed to help 1600 locust affected farming families recover through cash assistance for livelihoods and provision of insecticides to fight off the locust swarms infecting their lands. Additionally, pesticides was provided to the National Disaster Management Authority in June 2020 for locust control. In Umerkot district, 867 hectare of lands were applied with the provided pesticides by Agriculture Department, protecting crops from locusts, pests, diseases and weeds as well as raising productivity per hectare.
Jatni used the cash received under the project in the tillage operation conducted to recover from the locust attacks.
"The tillage carried out in the last week of June helped me recover and prepare the land for cultivation. The land is now sowed with our usual Guar and Mung seeds. I am hopeful that we will have a substantial harvest by the end of the season to sell in the local market. The money I will earn from selling the surplus will help us purchase a variety of groceries that will last us a good six-months."
---
[1] Guar is an important legume crop. It is cultivated for fodder as well as for grain purpose.
[2] The mung bean, alternatively known as the green gram, mash, or moong, is a plant species in the legume family.