Home
Newsroom
Stories
Providing relief and food-security to Jarviz and other families hit by COVID-19...
Providing relief and food-security to Jarviz and other families hit by COVID-19 and recurrent natural hazards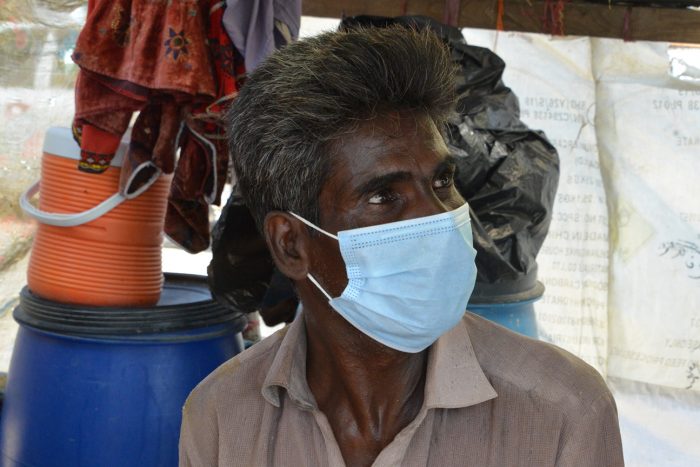 "For years, I have been chopping wood and selling it in the local market known as Pithoro Market. The COVID-19 lead lockdown imposed in our district minimised work opportunities for many of us. Market places had been shut down and people stayed indoors with no opportunity for businesses to operate or grow. Consequently, I was also unable to sell the wood and earn any sort of income. To further add to our worries, we also lost our home during the heavy rains in August (2020). Our house was made of mud and was fragile. We were forced to move out of the village as most of the village was flooded with rainwater. To survive, we built a tent near the main road on a nearby higher ground as a temporary shelter. We have been living here for weeks now. We plan to rebuild our home as soon as the land dries out and return to our village."
Jarviz is a father to five children and belongs to a remote village named Saint John Colony, located in Talka[1] Pithoro in district Umerkot of Sindh. He is the sole breadwinner for his family despite being physically disabled due to polio at a very young age. Before COVID-19 hit the country, Jarviz earned PKR 200 daily (approx. USD 1) which was not quite sufficient to cover all the needs and expenses of his family of seven (including himself) but the family stayed together and lived on a day to day basis. Jarviz has been a strong man and always helpful towards everyone he knew and is therefore an inspirational member of the community's Village Committee for over a year now.
"I have been a member of Saint John Colony's Village Committee (VC) since its formation in August 2019. We are ten members in total with equal numbers of both genders. The committee is formed to ensure community participation and facilitate Community World Service Asia's (CWSA) health project team in project planning, implementation, and coordination with government line departments and other NGOs. The main objective is to address the problems and needs of the community together. As an active member, I have been involved in conducting health sessions and organising free medical health camps with the project team in remote villages in the area," shared Jarviz Masih. 
Jarviz also remotely took part in the health sessions conducted by CWSA's health team on COVID-19 safety in May and June 2020, under its health program.
"The sessions sensitised me on social distancing, hand washing, using protective gear and avoiding public gathering to eliminate the transmission of the virus. In addition, the team held sessions on family planning and health and hygiene. One of the key purposes of these sessions were for VC members to replicate the teachings in our communities to make communities aware on COVID-19 preventive and safety measures as much as possible. I myself delivered sessions sensitising 157 people in my village in the following two months. The health team has been continuously providing remote counselling and educating us on accessing Taluka hospitals in case of emergency or other general health issues."
"In one instance, a woman in our neighborhood delivered a baby at home in an emergency. After her delivery, due to high blood pressure, she suffered from fits. I immediately contacted the health team and they advised us to immediately head towards the THQ[2] Pithoro, as the medical staff of the government was available there. The paramedic in Pithoro referred the women to the Female Medical Officer in Mirpurkhas hospital. The timely counselling and consultations benefitted and the woman was safely and immediately admitted to the hospital and is being treated well," narrated Jarviz.
As a humanitarian response to the COVID-19 crisis, Community World Service Asia (CWSA), with support of United Methodist Committee on Relief (UMCOR), implemented a project addressing the immediate needs of affected communities in Umerkot district in Sindh province of Pakistan. Jarviz was selected as a participant of this project.
"A cash assistance of PKR 24,000 was provided to me and my family in two installments in the months of August and September 2020. With the money received, I purchased groceries for my family to put food on the table. In addition, I bought some clothes and crockery items for my daughter as her wedding is planned in a month's time. The assistance was very beneficial and timely for me and my family."
---
[1] A tehsil (of taluka) is an administrative division in some countries of the Indian subcontinent that is usually translated to "township".
[2] Taluka Headquarters