Home
Newsroom
Stories
Village level DRR committees play a pivotal role in awareness-raising on COVID-19...
Village level DRR[1] committees play a pivotal role in awareness-raising on COVID-19 in rural Sindh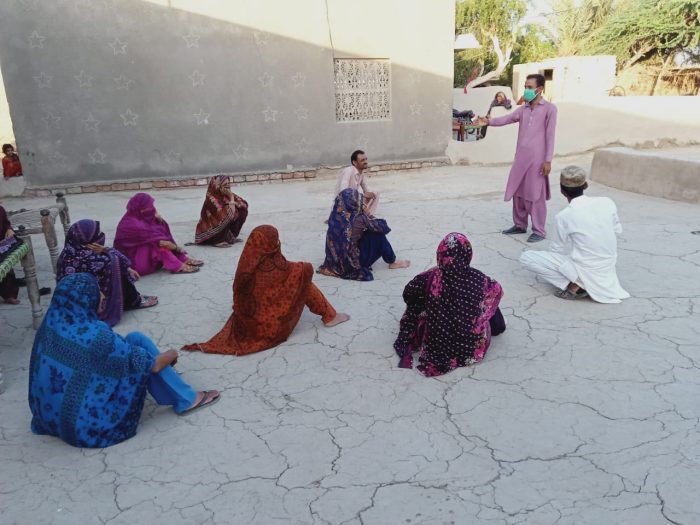 Under the Enhancing disaster resilience against droughts in Sindh Province project, supported by the Ministry of Foreign Affairs, Japan,[1]  eight Disaster Risk Reduction (DRR) committees have been set up in eight villages, with fifteen members in each. Established in April 2019, the committees work towards strengthening the local community's capacity to manage emergencies and collaborate with government agencies and relevant authorities to reduce risks during emergencies. These DRR committees play a pivotal role in facilitating the implementation and oversight of the project and to ensure community ownership and inclusion to maintain its long-term sustainability.
As physical interaction and implementation of any kind was not possible after the nation-wide lockdown imposed due to the COVID-19 pandemic in the country since March, Community World Service Asia's DRR team got in touch with the members of the committees through mobile phones. Together they discussed ways of raising community awareness on COVID-19 symptoms and how to stay safe from it. Upon agreement, training sessions with the DRR committees were planned and conducted in April 2020.
Haji Chanesar village in Umerkot district was one of the selected areas and five members of its DRR Committee were part of the remote training session. They were informed about what communities should be doing to be prepared to respond to a case, how to identify a case once it occurs, and how to properly implement the preventive measures to ensure there is no further transmission of the virus.
Prem, 28, is married and a father to three children. After completing his intermediate, he was engaged in different volunteer work as he had grave interest in helping others. As a member of the DRR Committee, he looks after and operates the RO plant established in the village and also supports in the implementation of the project activities. Prem, who is an active member of the DRR Committee of Haji Chanesar village was one of the participants in this training.
The trained members of the committee then replicated the learnings separately in a number of neighbouring villages. Over two hundred local community members were introduced to information on COVID-19 and learnt basic hygiene measures to protect against the infection. By the end of these awareness sessions, communities were able to identify basic symptoms of coronavirus, common transmission channels, how to assess the risk of infection and key preventive measures.
An isolation room was established in Haji Chanesar, in case anyone is infected or is suspicious of being infected. The sessions alerted the villagers and they followed all SOPs[2] strictly especially at homes.
"In my home, none of my children go out to play nor does my wife socialize with her friends or family. We have limited our external activities, and we only go out when food or important household commodities need to be purchased. We have been fortunate till date as no case of coronavirus has come up. To prevent the spread of the virus in our area, we remain secure at home and maintain physical distance," Prem concluded positively.
---
[1] Disaster Risk Reduction
[2] Standard of Procedures