Collaborating with PDMA on Disaster Risk Reduction in Sindh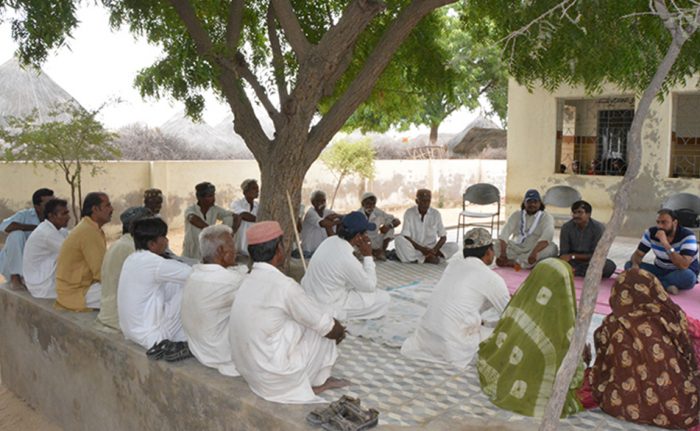 Community World Service Asia has signed a Memorandum of Understanding with the Provincial Disaster Management Authority (PDMA) in Sindh. The core components of the agreement focus on:
Disaster Risk Reduction and Response
Advocacy on Climate Change and Disaster Risk Reduction
Quality and Accountability
Through this agreement, PDMA Sindh and Community World Service Asia will consort together on strengthening disaster risk reduction and response mechanisms in the province and advocating and acting together on climate change adaptation, emergency response, and relevant recovery activities to help Sindh's disaster affected communities.
Ajay Kumar, Assistant Director Operations of PDMA Sindh, with his team, conducted a field visit to oversee the projects in Sujawal, Badin, and Tharparkar districts this August. The team first visited a community-level Emergency-Operating Center (EOC) and met with the Disaster Management Committee (DMC) established in Rahim Dino Thaeem, a village in Sujawal. The committee briefed the functions of the DMC and Emergency Operation Center. Ajay Kumar suggested that the EOCs needed to be linked with each other as well as connected with the district EOC through a wireless system.  Community World Service Asia assured to work on the suggestion and analyzed how this would further strengthen the role of the EOC in the community.
PDMA Sindh team then visited Community World Service Asia's Food Security and Livelihood project in Abbas Thebo, Badin. There, their team along with our staff, me the farmers, enrolled in the project supported, Farmer Field School (FFS). FFS promotes sustainable agricultural practices. It examines most appropriate methods of irrigation water use, role of Macro and Micro Nutrient trends in plants growth, weed management, land preparation, sowing methodology, demarcation of acres, and determining seed quality.
Abbas Thebo farmers shared that the involvement in FFS has enhanced their working capability in the agricultural fields.  Approximately 12,000 fruit and forest trees have been allotted to and planted by the farmers, and kitchen gardening kits were distributed to women-headed households. Farmers participated in different festivals including the Farmers Festival recently held in August and took part in exposure visits to increase their knowledge on the subject.
The team's next stop was at Baghtani village in Chachro, Tharparkar where they met drought affected families supported by PDMA Sindh in 2015. The Baghtani community still remembered the team members and praised the organization for visiting the village again. They told PDMA Sindh that its' food assistance, given every seven months during the drought in 2015, helped the villagers survive the peak of the drought season. The food rations received were sufficient in quantity for their families. The community these days is very grateful to the rains they have received as it has brought their rain-deprived homeland some relief.
Upon the end of his visit, Ajay Kumar expressed,
"I commend the efforts of Community World Service Asia's field team and the opportunity given to me to meet communities that have benefited from the various projects. It was nice to observe the enhanced capacity of communities in disaster risk reduction, early warning, sustainable agricultural farming, and strengthening of community institutions. This will all ultimately help communities to depend less on external support."