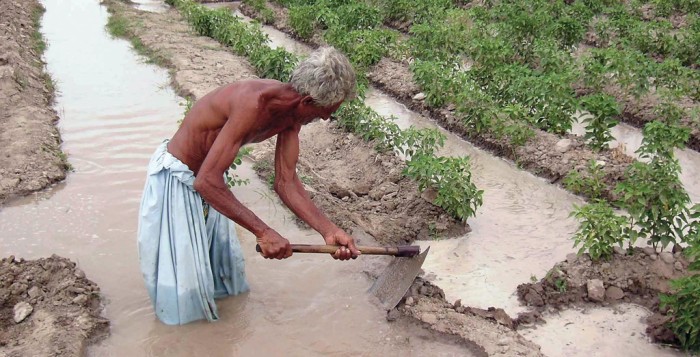 CWS-P/A believes not just in the power of individuals to transform their own lives, but even more so in the ability of communities to work together to realize local development and sustainable livelihoods.
By combining the right resources and knowledge with intentional grass roots ownership, CWS-P/A works to empower communities to decide their own futures and create more choices for themselves and their children.
The long-term sustainability of projects rests with the people – and especially with women. Therefore, livelihood projects are designed and implemented with as much focus on participatory training and empowerment as on distributions and tools. CWS-P/A aims to help communities tap into the resources they already have and build upon the knowledge and capacities that already exist.
Farm Workers Go Hungry
While much of the population in Pakistan and Afghanistan live in agrarian communities, the very same vulnerable families too often go hungry. Therefore, CWS-P/A believes that local sustainable agriculture and livelihood development are inseparable.
In Pakistan, 28 percent of the population is undernourished and more than 75 percent of the 121 districts are considered food insecure. In Afghanistan, more than two thirds of families are unable to secure enough food for healthy and active lives – or are on the borderline of food insecurity.
The decreasing food production in Pakistan and Afghanistan is attributable both to government agricultural policies as well as climate change and land degradation. And the market has had to resort to importing more expensive food, which is beyond the reach of most poor people.
Another key reason that highly vulnerable farm workers remain in a continued cycle of poverty is the unjust share cropping system and exploitation by moneylenders and landlords. An average family earns a little more than US$25 month, or less than $1 a day, which is insufficient to meet their daily needs or repay their debts to landlords. Many of these workers, known as haris, come from religious minority groups.
CWS-P/A along with its partners works to empower small-scale farmers aware and able to speak out on their issues. Their large numbers and spread has resulted in a lack of accessibility to government schemes.
Women typically work together with men in fields in order to earn more money, yet this makes women's lives significantly more difficult as they often have additional responsibility for domestic work in addition to agricultural labor.
Cultivating Food Security
CWS-P/A food security projects work to improve the availability, access, and utilization of food in agrarian communities. A variety of strategic and integrated activities are employed ranging from the creation of self-help community groups to high-quality seed distributions and agricultural inputs.
As climate change continues to impact the agricultural sector, CWS-P/A partners with communities to develop new strategies for irrigation. One key approach is the formation of irrigation ponds in areas facing water scarcity.
In addition, one of the central challenges to sustainable agriculture in Pakistan and Afghanistan is the lack of accessible fertilizer and pesticides. CWS-P/A trains communities in organic manure composting, which enables vulnerable agrarian families to have reliable access to the necessities for farming. In order to ensure the sustainability of food security efforts in communities, farming resource centers are established to provide continued support during and after a specific project comes to an end.
CWS-P/A recognizes that food security is not just about the quantity of food, but also about quality. Therefore, projects often incorporate training on kitchen gardens in order to promote the cultivation of nutritious foods for families.
Cash-saving self-help groups are another project that decreases the dependency on moneylenders and breaks the cycle of poverty. With time, women and their families are not only able to get out of debt, but they also are able to start their own businesses. And because all the money saved is their own – their commitment, ownership, and dignity are tangibly realized.
Improving Livestock Management
Livestock are central to rural economies and livelihoods in Pakistan and Afghanistan – both as means of income and improved nutrition, animals are often the measure of an individual's wealth and status within a community.
In partnership with communities, CWS-P/A carries out livestock management and dairy production training sessions – with topics ranging from animal housing to feed and fodder development. Community groups are engaged in breed improvement and taught methods to minimize and manage animal diseases. With the introduction of modern techniques, families can more than double the daily milk output.
Beyond the basics of dairy milk production, CWS-P/A staff train project participants to create products like cheese and yogurt – and then to develop business and marketing techniques that maximize their efforts.
Skills Training and Work that Multiplies
Across Afghanistan and Pakistan, CWS-P/A works to assist families in the rehabilitation and restoration of their communities as they return home after being displaced. Very often, local infrastructure is in need of repair, and many households need opportunities in new and alternative livelihoods.
One the greatest multiplying livelihoods activities that CWS-P/A engages in is cash and food for work opportunities for day laborers in the rehabilitation of roads and irrigation systems. This work not only empowers families with subsistence for their daily needs, but also benefits the wider local economy by improving market linkages and dramatically increasing the amount arable land.
CWS-P/A also trains men and women in new and alternative livelihood opportunities, including construction, tailoring, and embroidery. Trainings can also focus on human rights, gender, and include the provision of basic materials so that individuals have an initial investment to begin their work.
Bringing Back Livelihood Opportunities
In order to ensure that returning refugees and the internally displaced have an improved quality of life and strengthened livelihood opportunities, food security projects in Afghan districts and conflict-affected areas in the Malakand Division are actively pursued by CWS-P/A. These projects contribute both to immediate relief as well as to the long-term goal of poverty alleviation, while ensuring that community members have a sustainable supply of food.
Field trainings are also conducted so as to fully equip the beneficiaries with the right resources to practice sustainable agriculture. In addition, marketing channels for farmers are developed along with a range of extension services.