Home
Newsroom
Stories
The Big Leap: Farmers festival paves way towards Sustainable Agriculture in Sindh
The Big Leap: Farmers festival paves way towards Sustainable Agriculture in Sindh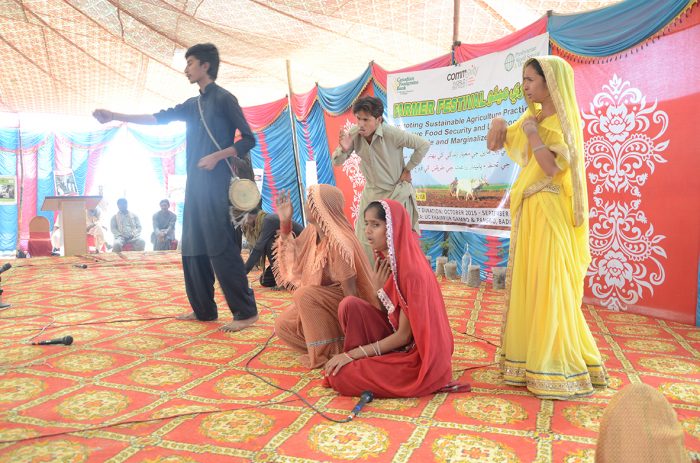 Agricultural farmers produce a variety of nutritious substances for human and animal consumption. Farmers all over the world generously contribute to the sustenance of all kinds of life and growth. Under its Food security and livelihood project[1] (FSL), Community World Service Asia organized a farmers' festival to encourage local targeted communities in the district of Badin in Sindh, Pakistan towards adopting sustainable agriculture practices. The festival also aimed at identifying ways to bridge linkages between farming communities and the civil society, NGOs and government departments working on agriculture in the area.
As one of the key components of the FSL project, this Farmers' Festival which was primarily for men only, was attended by more than six hundred community members in Badin, promoted the adoption of sustainable agriculture through a variety of informational yet fun activities; interactive theater performances, tableaus and open discussions on experience sharing were all part of it. Community Based Organizations (CBOs), Farmer Field School[2] members, local women trained in kitchen gardening and nutrition actively participated in the festival.
Relevant Government officials representing the district's Social Welfare and Agriculture departments took part in the event and recognized the improvements in on-farm activities noted since the initiation of the project. They affirmed that this sort of progress will surely ensure sustainable development and food security in the area.
Other non-profit organizations working in the region were also given an opportunity to set up stalls, displaying local handicrafts and pictorial presentations reflecting their own project activities, at the festival. Models on Key Hole Kitchen Gardening and Biological Pests Control were also exhibited. Women from the local communities had also set up their own stalls to sell vegetables freshly harvested from their kitchen gardens.
Perbhat, a local theatre group, performed an interactive theater play to highlight the benefits of kitchen gardening, sustainable agriculture practices and how to maintain a balanced diet. The audience was also sensitized on increased tree plantations and how that would reduce the adverse impacts of climate change. In addition, students of Ram Kolhi Sindh Education Foundation (SEF) performed two tableaus under the direction of their teachers, in an attempt to amplify the importance of education in strengthening and improving agricultural practices for long-term food security.
Key speakers, representing government bodies, CSOs, NGOs and local farmers also addressed the visitors and attendees of the festival, highlighting the valuable role that the communities themselves play and need to continue playing for social, economic and agricultural development. Moreover, the government officials assured the communities about addressing issues of mismanagement and negligence and recommended to work towards resolving these issues together. Local farmers also invited the Government and local officials to visit their lands to be able to better understand how they work and identify ways of increased collaboration. The festival was seen as a bridge that addressed the existing gaps between community members, local farmers and government officials and a big leap towards enhancing agricultural development in Sindh.
[1] Promoting Sustainable Agriculture Practices to Improve Food Security and Livelihoods of Vulnerable and Marginalized Farmers of Badin Project
[2] A group-based adult learning approach that teaches farmers to shift towards more sustainable production practices.
---
This project is co-funded by the Canadian Foodgrains Bank (CFGB) and Presbyterian World Service & Development (PWS&D). Special thanks to the government of Canada for supporting this project.