Home
Newsroom
Stories
Professional Development for Teachers: Bringing long-term benefits for students and academia
Professional Development for Teachers: Bringing long-term benefits for students and academia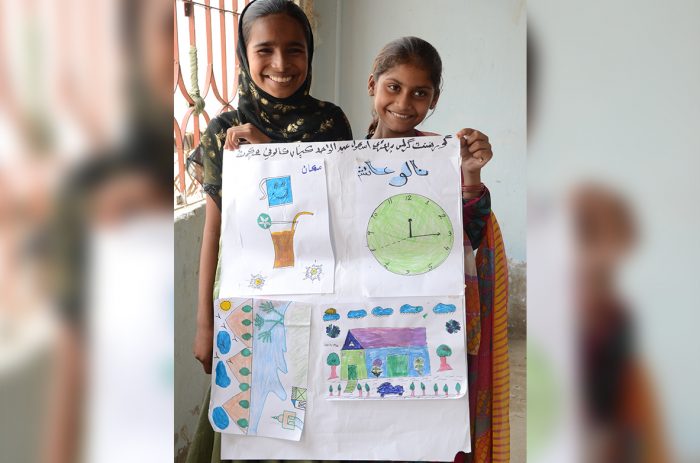 The Government Girls High School(GGPS) of Abdul Wahid Colony is one of the few functional girls' schools in Umerkot district of Sindh province in Pakistan. Established in 1991, the GGPS Abdul Wahid Colony branch has a total student enrollment of one hundred and twenty-one. With poor school facilities, a crumbling infrastructure and not enough classrooms, the learning outcomes of the school were justifiably low. Sami, Head Master at the GGPS Abdul Wahid Colony shared,
Due to a lack of interest in learning, students were mostly irregular in attendance and results were disappointing at the end of the academic year. In an attempt to upgrade education levels and improve and transform teaching methods, we have engaged with various organizations which has increased enrollment and students' interest in learning here.
Three teachers, Naheed, Tania and Sakeena, from the GGPS Abdul Wahid Colony took part in a series of Teachers' Trainings in 2017 and 2018 under Community World Service Asia and Act for Peace's Girls Education Project. Naheed also participated in the Masters Teachers' Training in February 2018. As an indicator of progress and as a result of the capacity building trainings, Sami shared an example of Tania's two students of class five.
Students who were previously disengaged and irregular have been participating in class very actively since the teachers' training and the new methods introduced in the classroom.
Ayesha, a nine-year-old student of class five, wants to grow up to be a doctor and provide medical treatment to people of all ages.
My favorite subject is Mathematics as I enjoy the way Miss Tania teaches the students through different activities and practical exercises. Initially we only solved sums on the board and learnt our lessons according to the chapters given in the textbook. Mathematics became more interesting when Miss Tania introduced diverse activities. I understand Mathematics well and now I am really good at solving equations. We use low cost material in learning addition and subtraction, multiplication and division. Miss Tania uses matchsticks, buttons, beans, balls and many other small things to solve equations which make learning fun and easy to understand,
shared Ayesha. Ayesha was a quiet student in class, but confidently participated in extracurricular activities. According to Sami, as Tania introduced new teaching methods involving role play, story-telling and group activities, Ayesha became more interactive and vocal in classroom sessions as well.
The teachers have become friendly in classrooms. They involve students in different activities making learning simple and enjoyable. Our classrooms are more child-centered now; focused on learning through activity and being friendly towards students,
narrated Sami.
Kashi, another grade 5 student, wishes to become a Police Officer when she is old enough and defend her country from criminals hurting the people of Pakistan.
Education is important if I want to become a police officer in future. As an educated professional, I will be able to serve my country in a better way,
 confidently added Kashi. Kashi's favorite subject is Science.
Miss Tania conducts group activities which makes it easier to understand. In a recent classroom session, while learning about States of Matter, Miss Tania drew a circle on the floor. All the students were called inside the circle. Since the circle was not very big, we were standing very close to each other. Miss Tania explained that we are in a solid state where molecules are close together. She then told us to move a little away from each other, to demonstrate the liquid state of matter.
Likewise, she explained the gas state by spreading us all around the classroom, far away from each other. She teaches us through story-telling as well. For many students, science is a difficult subject, but through interactive activities, science has become easy and interesting to learn.
Kashi and Ayesha were excited to talk about the concept of "Morning Meetings" recently introduced by the trained teachers in GGPS Abdul Wahid Colony.
These meetings are conducted every morning. As a result, the school has become a fun place as all students know each other better. In the morning meetings, we share and learn something new about other students' nature or daily routine. We share our likes and dislikes, our stories of previous days and what new we will learn in school that day. Through this interactive daily exercise, we have made more friends than before. Now we have friends from other classes as well,
 happily expressed Kashi and Ayesha, smiling at each other,
Moreover, our classmate Vaijanti, attended the summer camp. She shared her experience and learning with us. We also keep our classroom clean. Students have responsibility to keep their tables and chairs organized and the monitor supervises to maintain cleanliness in classroom. It is motivating to come to a clean classroom everyday
Kashi was not a regular student. Her parents switched her schools often.
I did not enjoy school a lot that is why I did not attend school regularly,
 expressed Kashi. Kashi initially was enrolled in GGPS Abdul Wahid Colony in class one with her elder sister, who was then in class four. She left and joined a boys' school after a year.
Kashi was encouraged to join GGPS Abdul Wahid Colony when she saw her cousin, who studied in the school, engaged in artwork at home. She further shared her study routine inclusive of role plays, story-telling and morning meetings. Kashi came back to us in 2017 in class four and since then has been regularly attending school.  Her performance in class is outstanding and the teachers commend her work and participation in class. It is therefore important to engage students in practical exercises. It's a child's nature to pick fast when they enjoy studying,
 mentioned Sami.
Keeping schools clean can help prevent students from falling ill and reduce absenteeism, giving students a better opportunity to stay on track with the curriculum. According to researches, people are generally happier and more productive in a clean work environment.
The students of Miss Tania are very enthusiastic about studying and learning new lessons every day. They proactively encourage other students to keep their classrooms and the school area clean. It is a pleasure seeing how responsible the students have become after the teachers' training. This positive change shows how important it is to have trained and well-equipped teachers in schools,
 said Sami.
A Creative Art Competition was organized in Umerkot on May 12th this year under the Girls' Education project. The activity aimed at strengthening creative skills of students by providing them a competitive platform to present their artistic abilities. A total of forty-three students and fourteen teachers from eleven different schools participated in the competition. The competition activities were categorized in three segments; Oratory skills (Speech, Poem recitals and skit performance), Creative Visual Arts (such as Drawing & painting) and Innovation, in which any new teaching methodology was introduced through a demonstration.
Students practiced very hard for the competition. It was the first of its kind and all teachers and students were excited to be participating in the event. Four students participated from our school participated in the event. Kashi and Ayesha were among the four students,
 narrated Sami.
I drew a beautiful scenery and Ayesha drew a Jug and a glass of drink. There were many students from different schools at the event and everyone was creating exquisite artwork. We did not know that our art piece will win a price. To our surprise, we won the third price in the art competition. We were full of joy to hear our names called out on stage,
expressed Kashi with great excitement.
Ayesha also took part in the Recitation competition. According to Sami, Ayesha delivered her recital with complete confidence and motivation.
I enjoyed reciting Naatii in front of an audience on the stage. I saw some girls go before me who were nervous. I was surely not nervous at all,
 concluded Ayesha excitedly.