Home
Newsroom
Stories
Supporting Refugee families facing economic hardship in times of crisis and mass...
Supporting Refugee families facing economic hardship in times of crisis and mass displacement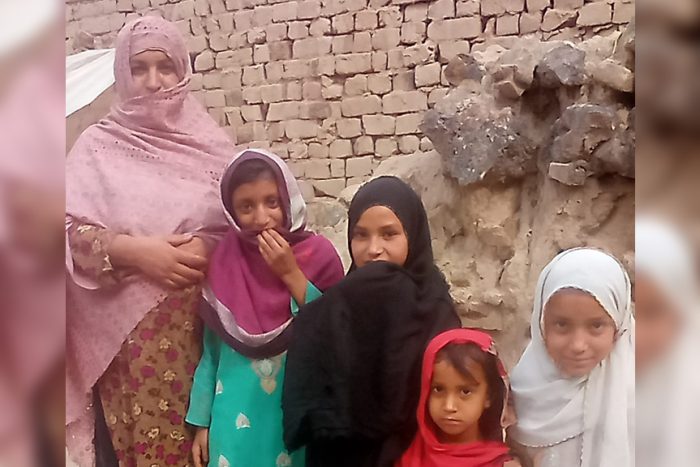 Gulalai lived a peaceful life with her husband and children in Kama district of Afghanistan before the conflict in the country escalated in August 2021. "My husband was a farmer and earned a sufficient income through agricultural activities. As the harvesting season comes after six months, my husband would work as a laborer in the months between, which allowed us to meet our needs comfortably. But things changed drastically last year. As the new government came in power, work opportunities decreased and we were not able to survive only on agriculture. We had to take the most difficult decision of our lives; leaving everything behind, including our home and land. A place where our families and us have lived for centuries and our ancestors buried in the same ground," narrated Gulalai.
The couple, along with their eight children, decided to migrate to Pakistan in search of a safe shelter and possible livelihood opportunities. "During our travel to Pakistan, we did not have sufficient food, nor did we rest along the way as we wanted to reach Pakistan soon. We only brought our essential clothing with us. My husband managed to find a temporary construction job but he fears of being deported if caught by the authorities as we do not have any legal documents," shared Gulalai.
Leaving everything that constituted their life behind as instability increased and a new government took over Afghanistan, the family of ten set out in search of making a new life in a new country. "In early this year, we migrated to Pakistan in search of a safe and better livelihood. In Afghanistan, we would gather together to celebrate every little and big occasion. We would also support and help each other in challenging times. Coming to a new country where you do not know anyone, seemed impossible to settle in."
Gulalai owned agricultural land back in Afghanistan. The entire family, with help of other relatives also, worked together on their land in ploughing and harvesting season. "We worked hard to earn a living and fulfilled the needs of our children. I never thought I will see a day where I will be needing aid. Being a refugee was not our choice nor our decision. Many Afghans like us are forced to choose this life for the safety and secure future of our loved ones."
Growing instability and economic hardship have lead countless Afghan families and individuals to seek shelter in Pakistan. Eight out of ten migrant Afghan women do not possess proper identity papers. This is hindering their access to education, employment, housing and property, according to a report by Norwegian Refugee Council. For the women population of the country as a whole, coverage is low – with only 38 per cent of women having a tazkera, the Afghan national identity document. Without the support and permission of the family, it is difficult for women to obtain a tazkera. Many people also have insufficient information about the application process, or the finances, in terms of travelling back and forth to the concerned office, needed to secure the document.
It was challenging for Gulalai to find a job or step outside their home in search of one as the family did not have complete identity papers or any other travel document. "I would always accompany my children when we went outside to the market or hospital, if needed. The authorities do not usually question a woman in hijab with children."
Community World Service Asia with the support of Catholic Agency for Overseas Development and other partners, are implementing a humanitarian project, titled 'Emergency Response to crisis affected Afghan Communities' in Pakistan. The project is addressing food insecurity and poverty faced by refugee families amid conflict and mass displacement. Gulalai was selected as a participant to receive cash assistance for a period of three months under the project. "I received cash support of PKR 15000 (Approx. USD 80) in April. I feel so blessed for being selected. I was able to buy sufficient groceries for my family and serve nutritious meals three times a day to my children. I will save some of the money from the next tranche for emergency purposes."