CHILD SAFEGUARDING: Awareness, Prevention, Reporting & Responding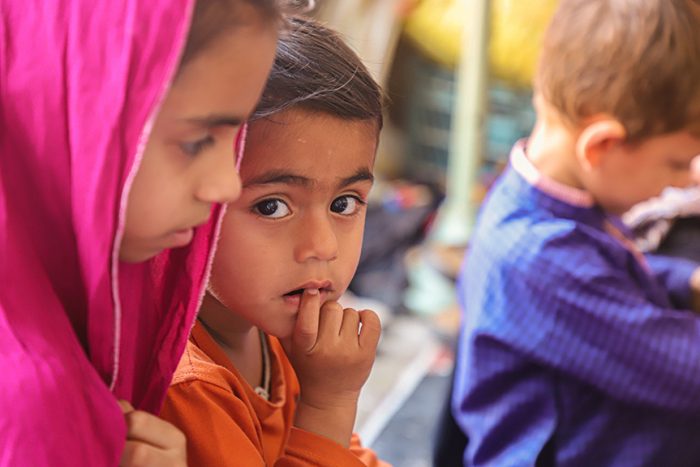 As a continuation of the Quality & Accountability (Q&A) Week 2021, the sixth virtual session, jointly hosted and organised by ADRRN's Quality and Accountability (Q&A) Hub, Sphere, CHS Alliance, ACT Alliance, ALNAP and Community World Service Asia (CWSA), focused on exploring ways to ensure inclusion for efficient child safeguarding into programs, safeguarding efforts, communications and complaints handling.
"Defining who is a child in the humanitarian aid sector is critical. Any person under the age of 18 is classified as a child. Most organisations, regardless of local or cultural traditions, accept the international definition," Ester Dross stated during the 'Child Safeguarding' webinar on May 24th, 2022.
What is child abuse?
What are the symptoms?
What are the consequences?
While raising these questions in the virtual event, Ester Dross said, "Child abuse includes physical, emotional/psychological and sexual abuse, neglect and negligent treatment, exploitation and violence in all forms. It is essential to have a clear definition in our policies and guidelines when addressing child safeguarding." Ahmad Alaghawani, Safeguarding Officer at Islamic Relief in Jordan, joined the webinar as the guest speaker. More than ninety humanitarian and development practitioners, from Asia and Europe, participated in this 90-minute webinar bringing together a wide array of diverse expertise and knowledge on safeguarding to learn from.
Child Safeguarding vs Child Protection
"Organisational commitment to preventing and responding to abuse of children, by its own staff is referred to as child safeguarding. On the other hand, the mechanism by which an organisation seeks to fulfil children rights in their communities is referred to as child protection," shared Ester.
All organisations that engage with or come into contact with children should have safeguarding policies and procedures in place. "Knowing the principles of child safeguarding guarantees that every child, regardless of age, disability, gender reassignment, colour, religion or belief, sex, or sexual orientation, has an equal right to be safe. Establishing and adhering to safeguarding principles ensures that children are safe and protected from any kind of harm." Key principles highlighted in the webinar included:
Children having equal rights to protection from abuse and exploitation
Organisation obligated to taking reasonable measures to prevent harm
Appropriately using photos of children
Acquiring skills and specialised knowledge to adhere to safeguarding policies
Working for the best interest of children
Treating reports with confidentiality and seriousness
Ensuring partners' responsibility to meet minimum standards
Safeguarding as a Key Responsibility
"At Islamic Relief, we ensure that its staff, operations and programmes do not harm children, young people and people at risk and do not cause them to be at greater risk of harm from others" said Ahmad Alaghawani, "We have policies and guidelines on Child Safeguarding, People at Risk, PSEAH[1], Code of Conduct and Dignity at Work."
The safeguarding, protection and wellbeing of those we serve have been a core area of Islamic Relief's work over the past 34 years. In working with vulnerable children of all ages and abilities around the world, Islamic Relief takes seriously its responsibility to protect and safeguard children from all types of abuses.
The organisation has developed a complaint mechanism for children after conducting focal group discussions (FDG) with the staff who directly works with children to address the challenges they encountered while dealing with children. "Some key recommendations that came out from the FDGs included training of teachers on child behaviour and special care of Syrian children refugees, establishing a complaints and feedback mechanism specifically for children and sensitising children on what is right and wrong to create a safe space," shared Ahmed.
The complaint mechanism for children focuses on raising awareness among teachers, families and children on child safeguarding and protection. Ahmed further added, "The staff at Islamic Relief has to attend a mandatory training on Safeguarding. We also have extensive IEC material which consists of information of different kinds of abuse and exploitation and steps that need to be taken by the communities and children at risk to address the vulnerable situations. Moreover, we conduct awareness sessions to sensitise communities and right holders on our complaint mechanism and ways to report SEAH." Organisations of all types and sizes to implement rigorous policies, processes and tests to protect children from abuse. "That could mean training staff to understand appropriate language and behaviour. Encouraging teams to run background checks on new recruits. And helping families and communities to understand what they can do to support young people at risk. All organisations have a responsibility to protect children from harm and it is imperative we exercise our responsibility seriously and accountably," concluded Ester.
---
[1] Prevention of sexual exploitation, abuse and harassment