Empowering health committees to ensure increased access to quality healthcare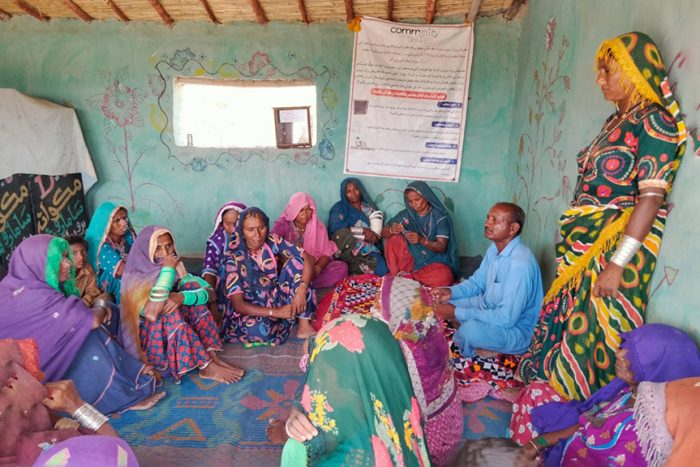 In November 2020, a health committee was established in Muzzafar Husain Shah village under Community World Service Asia (CWSA) and Act for Peace's health project. "I became a member of the committee along with four other women and five men from our village," shared Ganga.
The Village Health Committee, comprised of local community members, supports local health institutions and healthcare providers in meeting the village's health needs. They also assist CWSA's health team in organising project activities and events in the area. Since the committee's formation, Ganga has actively advocated for the needs of the women in the community, coordinated committee meetings, and referred pregnant and lactating women to CWSA's health centre in Pithoro, not far from her own village. "I have held sessions for women and girls in our community to improve their awareness on malaria, breastfeeding, diarrhoea, and other ailments frequently prevalent in our area. The main goal of the sessions was to impart information on preventative measures to make communities resistant to curable illnesses and diseases," narrated Ganga.
Ganga lives with her husband and three children in Muzzafar Husain Shah village, located in Umerkot district which is in the south of Pakistan. Ganga's husband is the sole income bearer for the family and works as a farmer for a nearby landowner. "The income of our family heavily depends on the output of crops, which is closely correlated with the availability of water, capital, and weather. Our family's monthly income of PKR 12,000 (Approx. USD 58) is mostly spent on purchasing food and household essential, educational supplies, and unexpected family gatherings."
"I believe education is key in building a better future. For this reason, I encourage my children to go to school and study hard. My eldest son, 15, is studying in Grade 9 while my two daughters are going to primary school."
In December 2021, Ganga took part in a training on community management skills. "The training improved the health committee members' knowledge and abilities, enabling them to effectively plan and manage developmental activities and make better use of the available resources for improved healthcare access of underprivileged families." The training increased Ganga's ability to identify health issues and work with line departments and civil society organisations to coordinate the effective delivery of health services to local communities.
The committee members bridge the gap between the community and the government health department. "Because of my active work in the area, I was nominated by the health workers working in the vicinity for Measles and Rubella campaigns, run by the government's health department. As a mobiliser in the 15-day campaign in November 2021, our team educated people about the need to eradicate Rubella and measles in Pakistan. I have also participated as a volunteer in the COVID-19 and Polio campaigns."
As a committee member, Ganga has imparted to the communities with knowledge and raised their confidence to advocate for their health rights and engage in meaningful conversations with relevant service providers to address the challenges related to healthcare provision in rural regions. "I am proud to be a member of the committee since this opportunity has improved my skills and allowed me to change lives," expressed Ganga.