Hope returns for Rano and Jeevo as a sustainable food security project starts in drought-struck Umerkot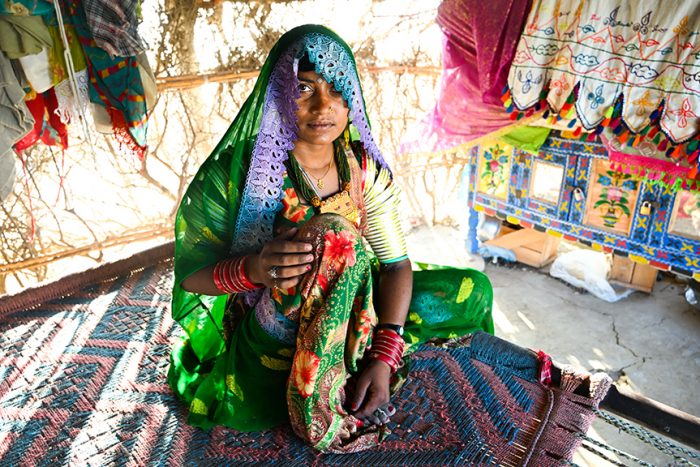 Village Haider Shah Bhiont is just under fifteen kilometres southeast of Umerkot. But so far as Rano and her husband Jeevo are concerned it could well be in the bone dry Takla Makan Desert. Young and married only five years, Rano has borne her man two children and carries the third in her belly in the hope that her third child will be born under a favourable star and the 2022 monsoon and many thereafter will be generous. Only then their investment in their four-acre plot will bring dividends.
The past year had been a disaster for the land that is the only source of income for this couple. Every year all his young life, Jeevo has tilled the land and in July looked heavenward for the dark clouds that would spell prosperity. When that failed, he went to work in the city as an unskilled labourer. As the summer of 2021 drew to an end without a drop of rain, Rano and her man watched the barely sprouted crop of guar, mung and millets wither away into the sweeping sand taking with it their entire investment of PKR 29,000 (Approx. USD 142) for the rented tractor and 160 kilograms of seed.
Inured to adversity, the people residing in the desert area of Umerkot do not give up easily. Even when hardship multiplies. And this happened when Jeevo's mother passed away. Mourners poured in from far and near and as is the tradition, Jeevo was obligated to house and feed them for as many days as they remained in his village. That cost money which was borrowed from the local money lender against the four acres Jeevo owned. When the final account was written down, his mother's death had cost the poor man PKR 300,000 (Approx. USD 1472). This huge sum had been borrowed purely on speculation that it would be returned when next crop would be bumper.
In November Jeevo went to work in Karachi while Rano struggled to keep her little children fed by purchasing provisions on loan. When he returned home two months later, Jeevo had PKR 10,000 (Approx. USD 47) in his pocket. Half of this was returned to the shop keepers as partial payment; the remainder saved to purchase the sweet water tanker as Rano says they had always done in her five years in this village. Ground water in the village, she adds, is too bitter to be used for anything but washing up and bathing.
The first good thing to occur for Jeevo was in February 2022 when he got a job as a driver with a fixed salary of PKR 10,000 a month (Approx. USD 47). That meant now there would be no uncertain days as he waited to be hired as labourer.
The next blessing was the visit in March by the Community World Service Asia team and selection of Rano and Jeevo as eligible for food aid under the HERD project1. The first distribution of food saved them Jeevo's entire salary which went to repay the shop keepers. Again half of it was kept aside for the purchase of the next water tanker.
In May, having received the second instalment of food aid, Rano was making plans. They were to save Jeevo's salary to invest in their agricultural land in the hope that the monsoon will bring rain. But now there is hope and with it plans. As a reasonably good cutter who has never worked as a tailor because she dreams of owning a sewing machine she could never afford, she looks forward to mustering some funds. If the machine would be within reach, she could set herself up as the village seamstress.
Meanwhile, the huge loan taken against the land stares the couple in their faces. Four acres even in the desert areas of Umerkot is a reasonable holding and in a good rainy summer can yield almost half a million rupees worth of crops. If fortune smiles on them, they will not only be able to sail out of their debt with plenty saved and Rano established as the seamstress to the village.
---
1. The Humanitarian Assistance, Early Recovery and Development (HERD) project funded by Presbyterian World Service & Development (PWS&D) and Canadian Foodgrains Bank (CFGB)