Home
Newsroom
Stories
Strengthening Community Mobilization through capacity enhancement of local development practitioners  
Strengthening Community Mobilization through capacity enhancement of local development practitioners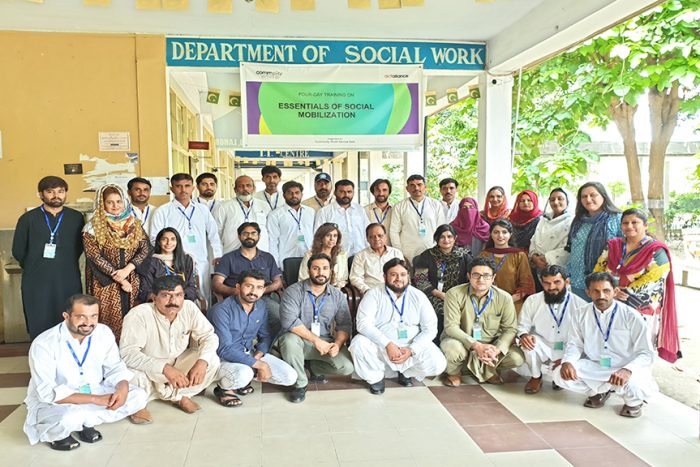 We were taught to carefully choose our mode of communication to effectively influence communities in a positive way and bring real change.
Reehana, Easy Approach Community Organization (EACO), Pakistan
Reehana participated in a training titled "Essentials of Social Mobilization" held in Lahore under Community World Service Asia's Capacity Enhancement Program for local humanitarian and development practitioners in Pakistan. The training took place in August 2019 and was participated by twenty-eight staff members representing eleven civil society organizations from across Pakistan. Participants strengthened their knowledge and skills on concepts of mobilization and influencing, conflict resolution and policy development in the four-day workshop.
Employed with Easy Approach Community Organization (EACO) as a Program Manager for ten years, Reehana is actively engaged in community mobilization and management of Community-Based Organizations[1] (CBOs). She is responsible to ensure smooth implementation of projects through providing guidance and support to field staff and monitoring and reporting on the project. With over 15 years of experience in the development sector, Reehana has worked with various local and national level organizations in different capacities and found this training to be one of the most enriching personal development experiences in her career.
When I saw the contents of the 'Essentials of Social Mobilization' training I could not wait to attend it. The content was related to the work we are doing in EACO, therefore, I believed that the learning would be fruitful in terms of strengthening influence and bringing change in the communities we are working in,
 shared.
I have taken part in numerous trainings focused on Microfinance, Leadership Skills, Human Resource Management and Social Mobilization. But I was lucky to get a chance of attending this training workshop as the holistic approach incorporated by the CEP[2] team has been very interactive and high-yielding for me.
The two facilitators leading the training, Moazzam Ali and Nergis Ameer Khan, engaged us in developing content of the training resulting in the content being relevant to our work and nature of field activities. We also gave input in designing the pre and post training assessments to make the learning more effective and useful. The most interesting aspect of the training was identifying a need for a social mobilization policy and actually starting drafting one during the training.  EACO did not have a separate policy on social mobilization. Currently, EACO is working on the first draft of the policy and aims to take support of Community World Service Asia for review and recommendations for improvements.
After enhancing my own skills and building my own knowledge at the training, I organized a training for the fifteen field staff members of EACO. The learnings of my training with CWSA, were shared with all the participants and the team assured to implement the new techniques of mobilization in their field of work. The training provided insights on conflict resolution. Consequently, the field team arranged a community level meeting to resolve the conflict between two communities in Mohala Sadiqi Haidri Farooqabad in Sheikhupura district. There was no draining system for waste water. People in the communities were facing health issues due to the standing dirty water in the area. The conflict arose as the communities blamed each other for not constructing a proper drainage system. In the meeting, community members were mobilized to gather measurements for the pipelines to install the drainage system. The costs of installing the system were divided among the two communities and two members from each community were selected to collect the funds. The communities mutually agreed to invest jointly to build a better drainage system for both the parties to benefit from. The project of draining system was completed under EACO technical and partial financial support,
expressed Reehana.
The training allowed a systematic learning of social mobilization which consequently improved our quality of work. The communities we work in trust us more and are comfortable with our interventions. I will be happy to recommend such trainings to my colleagues and CBOs[3]as they are relevant to our work and are very useful in the humanitarian sector. These learning opportunities provide a platform to network and increase our capacities at the same time,
 concluded Reehana emphatically.
---
[1] Community based organizations (CBO's) are nonprofit groups that work at a local level to improve life for residents.
[2] Capacity Enhancement Program
[3] Community Based Organizations