Situation Alert: More than 500 houses reduced to ashes as fire breaks out in rural Sindh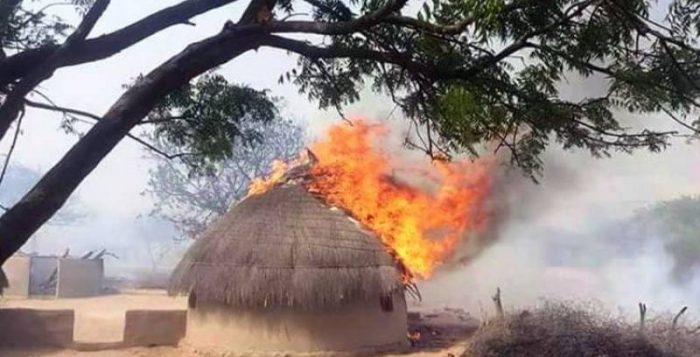 Photo credit: Dawn News
At least five hundred mud houses were destroyed when a fire broke out on the afternoon of May 10th, in village Vakrio near Islamkot town in Tharparkar district. The reported fire broke out due to a short circuit and immediately engulfed a thatched house in the village Vakrio. Due to strong winds, the fire spread to more than 500 thatched and cemented houses, reducing them all to ashes and rubble within minutes.
Luckily, at that time that the fire erupted, village residents were out working in the fields, saving them from the ravenous fire. Seven people from the village have however been reported injured. Most of the village livestock was also grazing in the fields at that time of the day, yet around 100 cattle have reported been killed in the fire.
Vakrio residents ran out their houses to save their lives, but did not have ample time to save their livestock or their belongings. All their ornaments, clothes, crockery, seeds stocks for next cultivation, stocks of fodder, food, were all burnt to ashes in front of their eyes.
The village residents all tried their best to extinguish the fire together by throwing barrels of water and sand on the blazing fire, but despite their efforts, they were not able to save the hundreds of homes. Only two hundred houses in the entire village were unharmed from the fire.
This is  the tenth such incident this year, on an average around three houses have been burned in each incident, but there has been no immediate solution to this recurring tragedy.
The people of Vakrio spent the night in the open land and appealed to relevant authorities and welfare departments to help them rebuild their houses and rehabilitate back to their usual life.
Emergency shelter kits, food package and nonfood items such as cooking utensils to cook their food are immediate requirements of the affected communities.
Community World Service Asia Response: Community World Service is in contact with local partners in the area on the updated information of the tragic event. It is closely monitoring and will devise its response plan accordingly.
Contacts:
Felix Dennis Joseph
Associate Director
Disaster Management Program
Email: dennis.joseph@communityworldservice.asia
Cell: +92 300 8557414
Palwashay Arbab
Head of Communications
Email: palwashay.arbab@communityworldservice.asia
Ph: +92 42 3586 5338
Sources: www.dawn.com