Hurmi: championing for change to achieve gender justice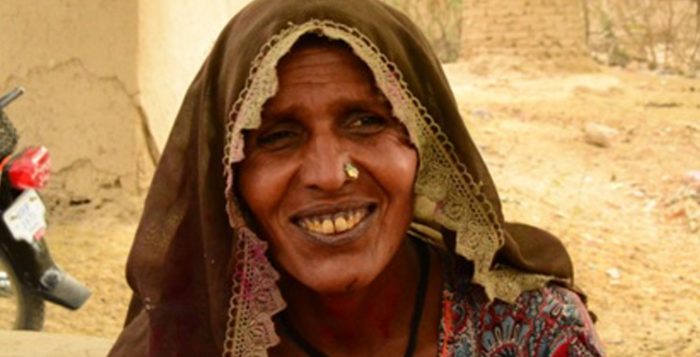 "Daughters have always been preferred in our family, unlike other families in the village. My husband and I have never given priority to our two sons over our two daughters. We love all of them equally,"
said Hurmi, a resident of Haji Chanesar village in Umerkot. Hurmi is the Vice President of the Steering Committee of the village and a gender activist in the area.
"My first child was a daughter. Normally in our community, daughters are considered as burdens and families are not so happy when a girl is born. But the case was different at our home. I am lucky to have a husband who loves daughters more."
When the skills development center was set up at Haji Chanesar Village, Hurmi helped identify artisans who were most in need of a sustainable livelihood. Later in the project stage, a steering committee was formed for which Hurmi was nominated as Vice President by the unanimous vote of the artisans themselves.
"After the Community Management Skill Training, the Steering Committee was well equipped with knowledge on how to manage communities and resolve their issues and conflicts. As the Vice President, my role was more influential as many expected me to bring change in the rigid traditions we have been following for years."
"The center brought countless benefits to women and girls in residual and nearby villages. They used to work in the fields in the season of cotton picking. Parents of young girls felt insecure sending their daughters to the fields, as they worked under the scorching sun and the bushes and thorns would tear their clothes or injure them. The center serves as a shadow in their lives. We encouraged the men of our families to send their wives, sisters and daughters to the center without a worry as the environment is safe and secure. Women in our area now work without worrying about traveling long distances while carrying heavy crops on their heads."
As a dedicated member of the Steering Committee, Hurmi worked actively for the well-being of her fellow villagers. Recognizing her consistent efforts and dedication, Hurmi was selected as a participant of a ToT for Gender Activists.
"When I joined the Gender Group as an activist, my in-laws and neighbors discouraged me saying such activities for women were not part of our culture and it was not right to let women and girls talk so boldly on sensitive issues. My husband on the other hand, supported me strongly. He motivated me to work as a gender activist and change the mind-sets of the people who did not allow their daughters to grow socially and economically,"
reiterated Hurmi with a confident smile.
"When I started working as a gender activist, I realized that the people in these rural communities are still living in a backward world, where caste difference was a firm way of life. One of the reasons for some families to not send their daughters to the skills center was the issue of caste difference. They could not allow their daughters to sit with women belonging to a lower caste than them. They also believed that sending their daughters to the skill building center will bring dishonor to their traditions and cultural values,"
narrated Hurmi disappointedly,
"We conducted gender awareness sessions. We also led sessions to individual households to have a direct impact. Girls in our village started to go to school and early childhood marriages started to decrease."
"Recently, a 16-year-old girl was getting married in our village. Our gender activist group visited the household and briefed the family about the problems young girls face in early marriages. When the girl's in-laws (to be) came to schedule the wedding for February 23rd, the father of the 16-year-old refused instantly. The in-laws were furious to see his reaction. The daughter's family called us to talk to the in-laws and explain the disadvantages of early childhood marriages to them as well. When the in-laws were also enlightened on the subject, they too understood and postponed the marriage to three years later. It is not just about one change in one house. People have started to think over many rigid traditions followed by us for ages as a result of these awareness sessions."
"There was another instance of a man named Mohan. His wife, Dhai, was very disturbed as Mohan use to drink a lot. He used to waste his earnings on buying alcohol. He did not even spare Dhai's minimum wage which she earned through stitching and agricultural work. He even hit Dhai when he was drunk. He once hit her with a small axe while he was drunk. He also used to beat his children. We tried to talk to him but he did not listen. So, we went to a doctor to talk about Mohan's condition. We requested the doctor to scare Mohan by lying to him, stating that his health is weakening. When Mohan fell ill, the doctor came to Mohan and stated that he has cancer. Mohan got so scarred that he stopped consuming alcohol himself. Mohan has not been drinking since three months now. His wife is very relieved as he does not hit her or her children as his mental state has now improved. He does not waste money on drinking now and is more calm and caring towards his family. Yesterday, our steering committee held a meeting with the villagers. At the meeting, Mohan informed us that he has quit smoking as well. His wife is very happy now. Everybody in the village is curious to know how Mohan has changed so much."
It is important for women to participate proactively for work on gender equality as only women can understand the problems of other women well enough. They will work towards resolving issues in a more realistic and practical manner.
"Women easily communicate their issues to us. I am happy when I help others to live a better life, especially when daughters are treated well. Now that we have been given a chance to live a better life, we must walk forward together to build a progressive society instead of letting each other down. I wish to see an all girls' educated and equality based society"