Rain – my family's only savior during the Earthquake!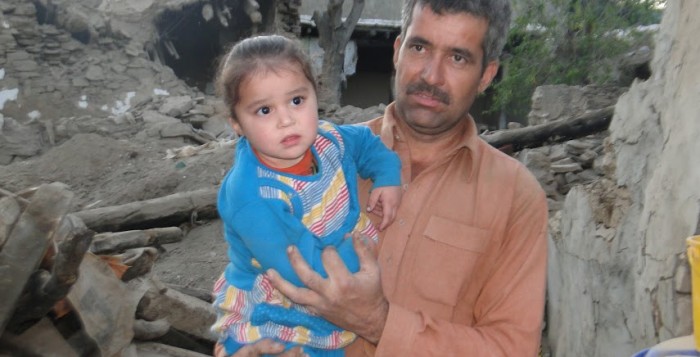 "I have nothing left to lose any more."
Sartaj Bacha is resident of Village Syedano Kalay in Tehsil Barikot, district Swat and was living quite a content life with his wife and five daughter. Despite not earning very handsomely since he was working on a daily wage, his life in his three room mud house was comfortable. Every morning he walked to work.
"The pouring rain on the day of the disastrous earthquake proved to be a blessing in disguise for my family and myself as I was home with them since I could not go to work due to the continuous rain. As the trembling of the earthquake began, I ran to take my four daughters and wife out of the house to a safer location but in haste I forgot my youngest daughter, Sania, two and a half years, sleeping in bed."
Sania was buried under the debris of the fallen roof and the panicked parents could hear her helpless cries from beneath the rubble. With the help of his neighbors, Sartaj instantly reached out to Sania after digging her out from the rubble. She was dug out of the rubble uninjured miraculously. "Had I been not at home, I would have lost any one of my family members," expressed Sartaj, holding Sania in his arms. "I thank God for sending rains as my family's savior".
"Even though I lost everything, I have my family with me." Sartaj and his affected neighbors are living with their relatives in their house in a nearby village. The affected communities in this area have not yet received any immediate support from humanitarian or government agencies.  Most of the community members are being supported with food assistance by their relatives from the winter food stocks that they were holding. That stock is also being depleted quickly since it is feeding more than its intended recipients.
Sartaj Bacha expressed that he has not yet thought of any recovery or rehabilitation plans yet. All of his family's belongings have been lost with the earthquake. Earning opportunities in Swat have diminished greatly since it has been affected by disasters one after the other- growing militancy, military operation followed by 2010 devastating floods and now this massive earthquake.
Community World Service Asia's team is currently doing the needs assessment in district Swat, Shangla, Malakand, Buner and Kohistan districts. The initial information received from the field team indicates that winterization support, food and health support are direly needed by the communities. Community World Service Asia will start its interventions within this week for the affected people to cover the gap identified during the assessment.