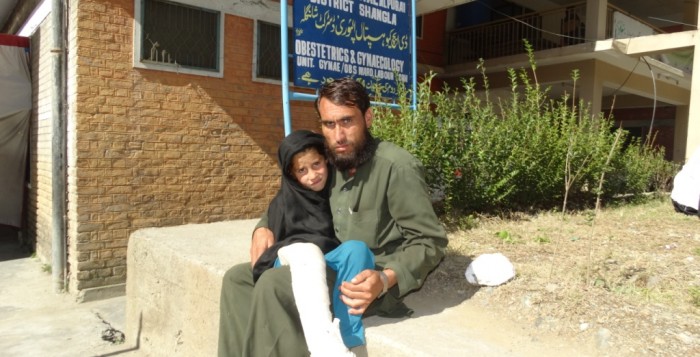 An 8 year old Kainat was spotted during our visit to DHQ Alpuri. She was injured when we met her as she was held by her father, who supports a family of nine including his wife, his father, two sons and four daughters. Kainat's family are residents of the earthquake affected village Maal of UC Kuzkana, District Shangla.
"We were all sitting in the kitchen after having lunch when the earthquake hit with full intensity. We rushed and evacuated our house and gathered in the fields outside. I was looking around at the shaking houses, mountains and trees as the earthquake continued. Then, all of a sudden, our house started to collapse around me, giving me no time to move. A wooden beam fell on my leg while at the same time some pieces of stones hit my grandfather,"
narrated Kainat's as she recalled her experience during the devastating earthquake.
Kainat's father added, "Nearly fifty percent of houses were destroyed in our village but the neighbors whose houses survived showed great solidarity and immediately started helping those families affected. They  helped us to rescue my daughter and my father from the rubble and quickly moved them to the hospital. We reached RHC Karora in a state of emergency, where, after being provided with first aid, we were referred to the Swat Hospital, as Kainat's leg was broken in two places and my father was severely injured. We received a thorough treatment at the Swat Hospital; my daughter was discharged but my father is still admitted there."
Upon inquiring about the current needs of those affected by the earthquake, he replied that the affected communities are currently seeking shelter under polythene sheets in open fields as the other villagers help in providing them with food and comfort to the best of their abilities. The weather is becoming extremely cold. Tents, blankets and food items are most needed for families like Kainat's to survive and recover.