CWS-P/A Mobilizes Emergency Flood Response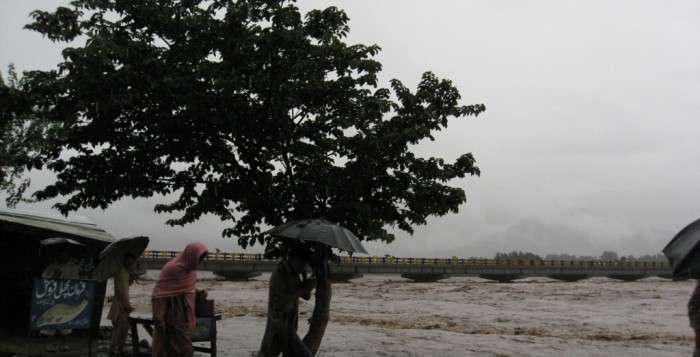 ISLAMABAD, July 31 – For millions of Pakistanis, floods during monsoon season are nothing new. But the scale and magnitude of this year's floods are far greater, resulting in tragic and deadly results, reports Pakistan-based staff of global humanitarian organization Church World Service.
At least 800 persons have died in floods during the last week; provincial government officials are asking for international assistance as the scale of this disaster appears to be beyond the capacity of the government of Pakistan to respond alone.
As part of relief efforts, CWS Pakistan/Afghanistan staff members are distributing food packages and shelter material such as plastic sheeting for flood-affected families in Balochistan and in Khan, Khyber Pakhtunkhwa. CWS has also mobilized a mobile health unit to provide emergency medical assistance in Mansehra.  Additional mobile health units will soon be dispatched to cover areas such as Kohistan, Swat and Balakot.
Given the problems facing disaster responders, it is even more important "to apply strict measures of transparency and quality management," said CWS-P/A Deputy Director Shama Mall. "We need to be good stewards of limited available resources while helping as many as possible."
To that end, CWS is coordinating with institutions and agencies on quality and accountability issues to ensure a dignified relationship between aid givers and aid recipients in the coming days and months. This ensures quality management when food assistance is selected and distributed; improves coordination among various aid agencies; and establishes a method for addressing beneficiary concerns, Mall said.
Church World Service has worked in Pakistan since 1954. In Pakistan, CWS's work includes a focus on providing food assistance, education, water and sanitation; improving economic livelihoods; and assisting peace and good governance efforts. CWS has also been a leading supporter of and participant in the Humanitarian Accountability Project, with CWS responses committed to meeting international humanitarian standards and local requirements.
All four of Pakistan's provinces have suffered widespread destruction in the latest flooding. The rains began two weeks ago at the beginning of the monsoon season. Balochistan province, for example, saw widespread flash floods in the region's localized mountain ranges.
During the last week the situation worsened, with Himalayan and Karakoram ranges receiving heavy rainfall; rivers flowing from northern to southern Pakistan have inundated vast adjoining areas. The flash floods have already caused massive destruction in Khyber Pakhtunkhwa and Central Punjab and further flooding is expected in Sindh province.
Media Contacts
Pakistan
Marvin Parvez, CWS Asia/Pacific Regional Coordinator (in Islamabad) +92 300 826 4558
U.S.
Lesley Crosson, +1 212-870-2676, media@churchworldservice.org
Jan Dragin, +1 781-925-1526, jdragin@gis.net