Bibi Zahra feels helpless and worried for her children amid COVID-19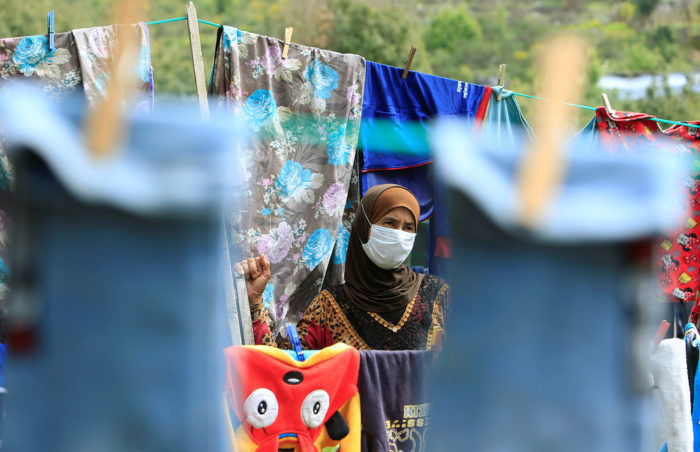 Photo Credit: Ali Hashisho/REUTERS
As a child immigrant of 5 years old, from Afghanistan's Paktia province, Bibi Zahra, made the refugee camp in Mansehra Khaki, Pakistan her home for the last thirty years. She is now 35 years old and a mother to four children of her own. Her husband succumbed to cancer three years ago which has left Bibi Zahra a struggling, single mother in a foreign land.
Before the coronavirus pandemic, Bibi Zahra and her eldest, 8-year-old daughter earned a monthly income of PKR 5000 (Approx. USD 32)through household cleaning work in the local neighbourhood. They cleaned dishes, served tables, washed clothes and other such domestic chores for a living. The income they earned was not much but it helped the family survive on a day-to-day basis. However, the COVID-19 crisis has further strained the family with more financial challenges and has even deprived them of a single decent meal.
Since there is widespread fear of the coronavirus being highly contagious, most homes in the neighbouring community have barred part-time domestic workers from entering their houses. Many local businesses are also suffering and cannot afford to offer credit services to their regular customers. Similarly, local shopkeepers are no longer providing credit services to Bibi Zahra to purchase essential food and household items. Many families like Zahra's are left to depend on the in-kind or financial support of family and friends, whenever that is.
"I'm feeling helpless right now. I have no choice but to expect help from others. Neither the government nor any agency has offered any assistance. These days, I can hardly place food on the table for my children."
Bibi Zahra confessed she faces a lot of mental stress because of the increased anxiety about the future of her family. She cannot even afford to buy her own medication at this point.
"I know only that this virus is extremely contagious and can be spread easily from one person to the next. I do not have protective items such as sanitizers or virus-protecting masks for myself or my family. I have barely enough money to purchase soap. I am more concerned about the well-being and safety of my children. Since my children barely get a proper meal a day, their health will suffer and they will become less immune to the deadly virus."
As a result of the pandemic, their lives are at stake. Bibi Zahra spends every day worrying about the future of her children.