Helping Afghan refugees survive through the COVID-19 crisis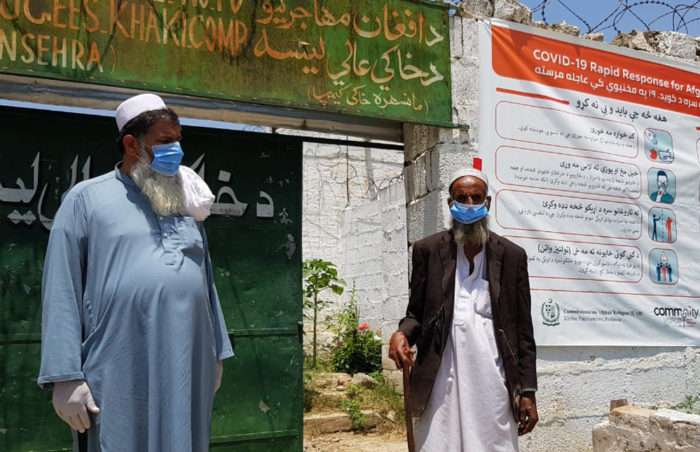 Ghulam Sher is a 45-year-old father of eight children, who migrated, along with his family to Pakistan as an Afghan refugee in 1980.  He was only five years old at the time. Today, Ghulam Sher has eight children of his own and they all live together in the Afghan Refugee Camp located in Khaki, Mansehra district.
At the age of eight, Ghulam Sher suffered from a paralysis which followed a severe case of typhoid that went untreated. This left him completely paralysed from down his waist for a long time. After undergoing a lengthy therapy, Ghulam Sher was able to move his arms and hands, but one of his legs and limbs remained paralysed for life.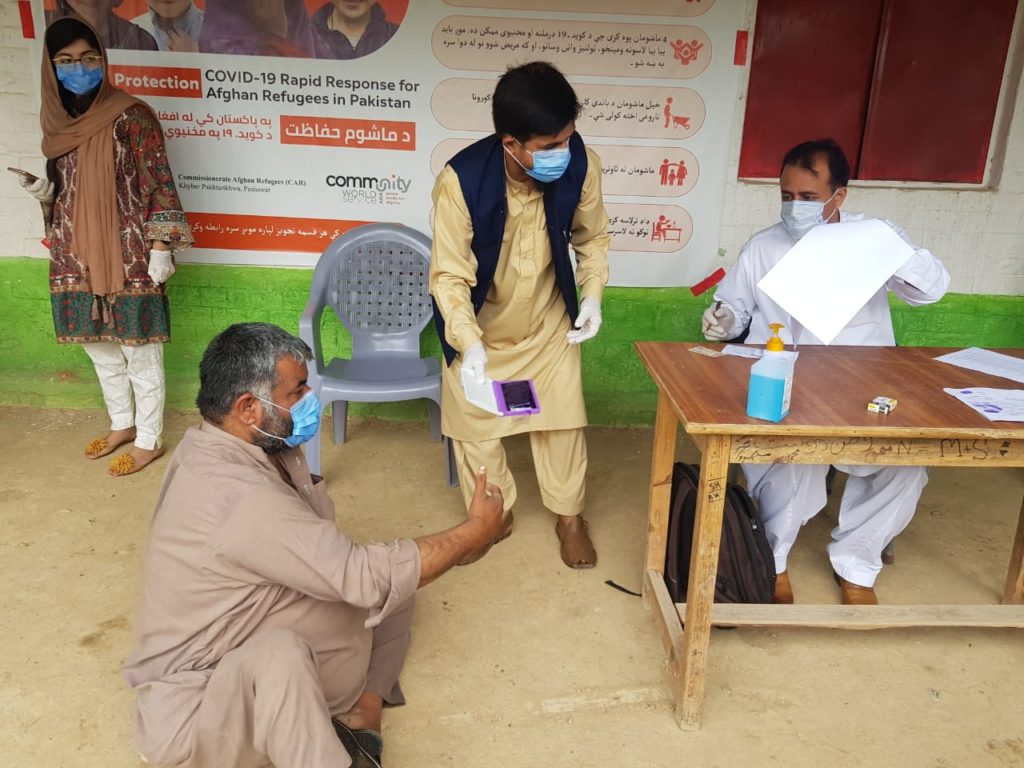 "I did not lose hope in life. I learnt embroidery skills and started doing embroidery on men's wear. Since the age of 15, I have been earning a sufficient income for my family through this work. However, when Afghans were requested to repatriate things became difficult for us here and we were left in an economic crisis. Many Afghan families were sent back to Afghanistan from the camp which meant I lost a lot of my clients and the demand for my products fell drastically. Eventually there was not much work left for me to do.

Shortly after, I set up a scarp shop, selling waste plastic pieces and tins which were collected and sold to me by local children. The earning was close to nothing but we were trying to survive.

Two months ago, I bought two large gas cylinders and started a small gas refilling business that would cater to domestic households. This helped me earn PKR 6000 (Approx. USD 37) monthly which was just enough to bear the minimum family expenses," said Ghulam Sher.
Since a country-wide lockdown was imposed, Ghulam Sher's business also had to be shut down at end of March, 2020. The restrictions on visiting households and delivering the gas refills personally lead to him discontinuing his services. Due to his physical disability, he was not able to find another job to earn an income either. His family was left without any livelihood.
To address this challenge, Community World Service Asia with the support of Street Child initiated a 'COVID-19 Rapid Response for AR in Pakistan' program in May. Under this project, cash vouchers were distributed among 150 Afghan Refugee families residing in Khaki Refugee Village of District Mansehra. The cash assistance intended to help one of the most vulnerable communities of Pakistan overcome the many challenges they were facing during the current pandemic.
Families who had lost their livelihoods amid the crisis, included 27 widows, 83 poor daily wagers, 4 orphans and 36 PWDsⁱ were nominated and verified by the Commissioner Afghan Refugee (CAR) office through UNHCR and NADRA database for the project. The distribution activity was conducted in a strict controlled and safe environment that ensured all precautionary SOPs were followed. Staff and refugee community members maintained social distancing and all stakeholders wore essential protective gears. To avoid cluster gathering, 12-15 families were called at the distribution point at a time at different time slots. Each family received PKR 12,000 (in line with Government of Pakistan's AHSSAS Emergency Cash Program) after being presented with a token issued to them prior to the distribution. The head of Refugees Elders (Shura) Khaki, Refugee Village Administrator (RVA)/ Security in-charge District Administrator office Mansehra and a representative of Community Development Unit (CDU) from Commissioner A/R office were present during the distribution activity.
According to UNHCR, Pakistan hosts approximately 1.4 million registered Afghan refugees, approximately 68 percent of whom live in urban and semi-urban areas alongside Pakistani host communities. Half of the refugee population lives under the poverty line. Most of those who had employment, as daily wagers, have now been laid off as a result of the COVID-19 outbreak. Ghulam Sher was one of them.
"My elders who live here nominated me as a project participant in the COVID response project as they knew I was not able to find sufficient work because of my disability. I received PKR 12,000 under the rapid relief project. I plan to purchase essential food items and other necessities for my family. I will also pay off some of the loan I had taken to establish my shop."
---
ⁱ Persons with disabilities