Participant Spotlight: Zehra Ilyas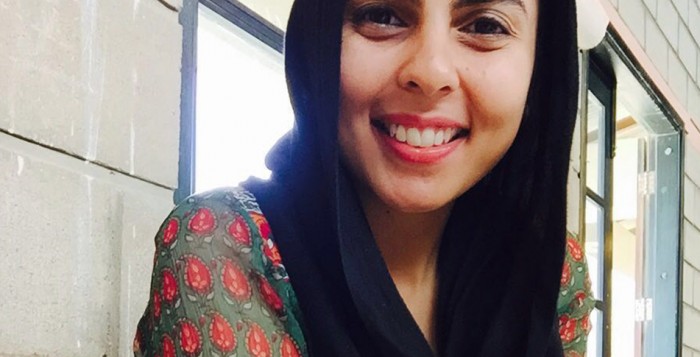 Community World Service Asia is working to enhance the livelihoods opportunities of rural artisan women by linking them with students from design institutes in Karachi.  The artisans and students are collaborating to produce innovative designs which combine traditional handicraft skills with the demands and trends of the modern urban market.  The initiative, supported by the Danish Center for Culture and Development, aims to connect these rural artisans to an urban customer base in order to develop a profitable and sustainable source of income.  The project also provides students with an exciting opportunity to share their skills and knowledge, and learn about the cultural and artistic heritage and value of these handicraft traditions.  This month, we spoke with Zehra Ilyas, a fourth year design student at the prestigious Indus Valley School of Art and Architecture, to hear about her experience of the project so far.
Q: Why do you think there is a need for such a program that connects women in rural communities with young women like yourself studying design in urban centers?
A: We, as design intervention students, are taught how to sustain crafts that exist in our country and how to help their revival in a way that the livelihoods of the people who are working in rural areas can be improved. We are also benefitting from them in that these types of embroidery are not available all over the world.
Q: What do you feel that you are gaining from your involvement in the project?
A: They [the artisans] are producing a different type of embroidery that no other part of the world can produce. It's a great thing to have that sort of craft revival in your own country so that you can get linked to your roots and you can do something different from what is already being produced. More specifically, I would like to point out that in a time when there is so much mass production, if there are hand-embroidered products, that of course creates an impact.
Q: As a designer, what have you learnt from the artisans?
A: It was a very humbling experience.  We think that we know everything, but when we meet them, we know that there is so much more to learn, not just because of the embroidery that they are doing, but the fact that they are very experienced with their embroidery. We feel like we know it and that we can just draw it, but there's more to it. The way they are so patient with it, they are so good with their work and are extremely disciplined with it.
Q: What were the main challenges that you faced while visiting the artisans in their rural village?
A: Language was the biggest barrier. Secondly, there were time constraints as one or two hours are not enough with each artisan. That was one problem but they were so hospitable and nice. There were no other issues as such besides language and time.
Q: What do you think is the importance of empowering women – especially in a country like Pakistan where we are still struggling to provide basic rights to women?
A: Pakistan, being a third world country and the education level being so low, making women independent should be one of the biggest aims of the country. When we look at how women are oppressed it's very important to make them independent. Teaching them how to be independent, I believe, that is a very big step. It gives them confidence to deal with people and situations. If I give them an order and ask them to produce something in a given time frame, it develops them in a different way.
Q: What other projects or brands have impacted your interested in a project that encourages collaboration between rural and urban communities?
A: Well, FnkAsia [a brand which sells women's clothing and accessories] collaborates with a group in Chitral. It's a good brand and the products are expensive. The thing is that the products are being sold and the artisans are being paid. That is the basic aim.
Q: What did you learn from them?
A: Patience. I am not a very patient person and even though there was a language barrier, the artisans were so calm and relaxed with us.