Empowering Women to Pursue their Goals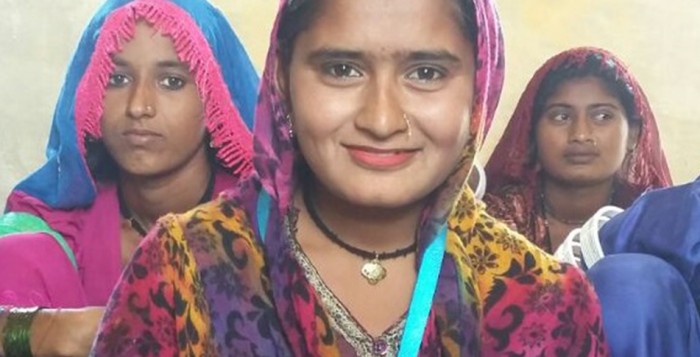 Community World Service Asia is working to empower young women in rural Sindh through improved earning opportunities, literacy skills, and enhanced awareness of gender equality.  Kaveeta is eighteen years old and lives in Walhar village in Umerkot, where the project is being implemented in partnership with Y Care International and UK Aid.
She is engaged in the project as an artisan and an instructor at the Adult Literacy Center.  Currently, her entire household subsists on around Rs. 6,000 (approximately US$57) a month. "Lack of income means doing everything the hard way," she explains. "We are struggling to get food."  For Kaveeta and her family, meeting the basic needs of nutrition, health and education is a constant challenge.
When Community World Service Asia initiated the project in her village, a local steering committee was formed and the members met with the community to tell them about the project and encourage them to participate.  Kaveeta was already experienced in appliqué work, and wanted the opportunity to polish her skills.  At the Vocational Training Center, she has learned about working in a group to improve the quality, as well as about different color combinations, finishing and packing products, pricing, and how to negotiate with suppliers.
Due to Kaveeta's skills, she was selected to produce handicrafts to be displayed and sold at the Daachi Foundation Exhibition in Lahore in November 2015.
"That was a great experience," she shares. "Our trainer told us that we have to prepare quilts for the exhibition and we had just fifteen days to complete this order.  At first I was nervous and thought, 'How can this order be completed in just two weeks?' But when I started to work in the group, we completed the order on time and realized the importance of group work. That was the first time we prepared quilts with modern designs, that's why I was very excited."
Kaveeta received payment from Community World Service for her contributions to the exhibition.  As she continues to earn an income, she hopes to one day open her own center where she will teach others what she has learned through her participation in the project.
"Teaching adults is special for me," she says. Kaveeta's affinity for teaching motivated her to volunteer as an instructor at the Adult Literacy Center, where she helps her fellow artisans to develop literacy skills. "I enjoy this work because I want to teach all the women of my village.  They are interested in learning.  It is a big achievement that artisans learned to write their names."
Through her participation, Kaveeta is building not only her handicraft skills, but her confidence as well.  She has high hopes for her future and for the future of the women in her village.  Community World Service Asia looks forward to continuing to work with her and to realize those hopes.