Situation Update: 71 more killed as rains continue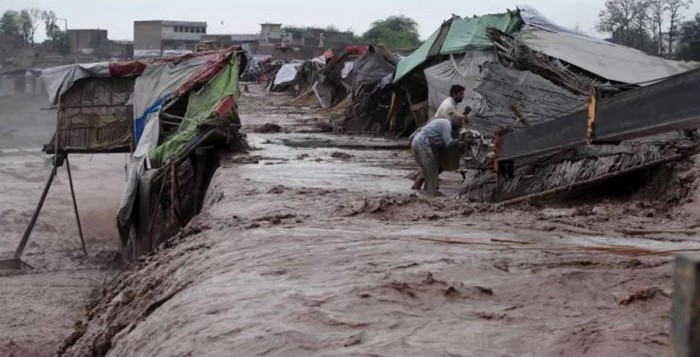 Picture: (Reuters: Fayaz Aziz)
Since Saturday 2 April, torrential rains and flooding have led to collapsing roofs and land sliding incidents, causing extensive devastation in Khyber Pakhtunkhwa (KP), Gilgit-Baltistan (GB) and Azad Jammu & Kashmir (AJK), with the death toll escalating to 71.
Among the deceased, 45 people are from KP, 14 from GB and 12 from AJK, while the extent of damages are expected to increase as detailed information will be received from the affected areas.  Landslides are blocking main highways and link roads in Hazara and Malakand divisions in KP, and in AJK, while swelling rivers and streams are damaging infrastructure and livelihoods, as floods wash away homes and shops.
Forecasters have predicted that unstable weather will continue over the next 24 hours, especially in Malakand and Hazara divisions. This flooding follows severe rain and flood-related damage which killed 122 people, injured 124 and destroyed or damaged 1,620 houses across Pakistan and AJK last month.
The Chief Minister of Gilgit Baltistan has already declared a state of emergency in the province.
Response by Community World Service Asia: Food, tents and winterization to support the affected families in AJK were proposed by the district government in AJK during last month's flooding.  The same support is also expected to be required support in KPK and GB.  Community World Service Asia is currently monitoring the situation. Its disaster response team is in close coordination with the Government authorities and local partners present in the affected areas and will propose the response strategy accordingly.
Contacts:
Allan A. Calma
Deputy Director
Disaster Management Program
Email: allan.calma@communityworldservice.asia
Cell: +92 301 5801621
Muhammad Fazal
Associate Director
Emergencies/DRR/Climate Change
Email: fazil.sardar@communitryworldservice.asia
Cell: +92 332 5586134
Alison Sneddon
Acting Head of Communications
Email: alison.sneddon@communityworldservice.asia
Cell: +44 7575 284828