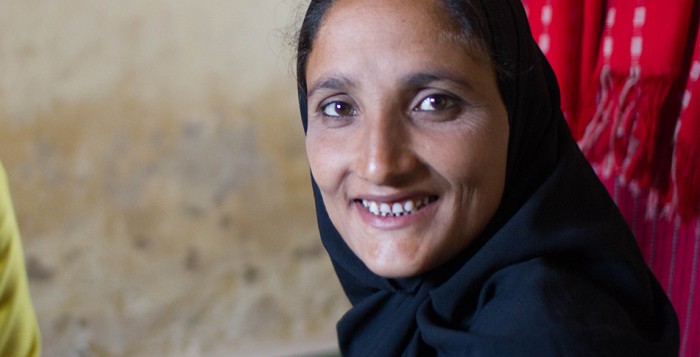 Haseena, a 28 year-old-artisan woman, belongs to the village of Dadu Panwar near Thatta. She started working after the floods in 2010. Haseena says that prior to joining the center established by Community World Service Asia, she did not know many types of embroidery stitches. She says that it was at the center that she and her fellow artisans learnt how to read and write their names.
"We used to give our thumb prints but now we are able to sign."
Haseena feels that it was through the continuous efforts of the vocational teaching instructors and designers that opened up various aspects of local craft.
"We went to Karachi for a training. Previously, we didn't know which products would be made out of our samples but once we went to Karachi and saw the market, we found out what our embroidered samples were being used for. When we went to the market again, we saw bangles, earrings, and bags that had been made out of embroideries similar to ours. If we work more passionately, we will be able do well,"
she says. 
Now that the center has been reestablished, Haseena says all the women in the village are very excited at the prospect of learning new skills and going to Karachi.
"We are very happy and are hopeful to learn further and move forward in life. If we get money from our orders, then we will spend that money in educating our children, running our homes."
She feels that it should not only be the man's responsibility to earn money for the house.
"This skill that we are learning will allow us to be independent and not rely on anyone else for financial support," she adds.