Maximizing the use of Theatre to educate and mobilize rural communities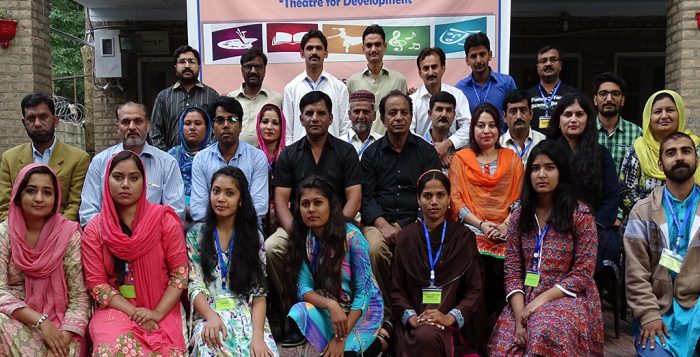 Theatre has always been an art form which is extremely effective in inspiring and uniting communities by engaging audiences through entertaining and thought-provoking performances and dialogues. Through this interactive form of entertainment, awareness on social issues is raised and possible solutions to prevailing problems are sought. Recognizing the strong impact of this artistic medium, the Capacity Institutionalization Team at Community World Service Asia held a seven-day residential workshop titled, Theater for Development this June in a hill-station training centre in Murree.
The workshop was attended by twenty-three participants from parts of Sindh and Punjab and aimed at building the capacity of these participants, closely working with local, vulnerable communities to build awareness on social issues through theatre.  Techniques on effective theatre plays for social advocacy were taught at the training while also providing participants a multidimensional experience of learning through theory analysis and behavior study of different age groups. This learning opportunity enabled them to explore the fundamentals of theatre, art of creating stories, improvisation with groups and how to inculcate issue based content into an effective theatre performance.
Sarfraz Ansar, Actor, Director and Vocalist, with a vast experience of 25 years and having conducted over a thousand theatre performances at national and international levels was the lead facilitator at the training.  While, Idrees Ali Khan, theater performer, puppet maker and cultural activist for the last thirty years was the co facilitator. Idrees Ali has an expertise of directing more than a hundred plays on social issues in partnership with leading civil society organizations. Both the facilitators were from Azad theater Pakistan.
The training contents were developed around three major themes; Essentials and Fundamentals for Theater – this theme included various components namely body language, communication, expression, rhythm, emotions, images, and trust building; the  second theme, Theatre Development, included a history of theatre, script writing, storytelling, improvisation for the street, challenges and opportunities and theatre techniques; while the final theme focused on production and performance with an emphasis on the importance of costumes, lighting, sets and  back stage design.
At the workshop closing session, Liaqat Ali Tameemi, Executive Coordinator of Doaba Foundation participated as the chief guest to distribute Awards and certificates among workshop participants and formally closed the training. He thanked and acknowledged the efforts of Community World Service Asia and the Azad Theatre Pakistan and stressed on a need for a follow up of this workshop to ensure its sustainability.
Tahira Azam, Doaba Foundation

"We, the Doaba team, are very satisfied with the training, learning and especially with the quality of lesson delivery of resource persons. We see this learning as a great skill and we will use learnt techniques in our community work.

We request Community World Service Asia to extend follow up support to us in its implementation at community level especially with young children as Doaba planned to establish children clubs to impart health and hygiene awareness in villages."

Zulfiqar Ahmed, Deutsche Welthungerhilfe

"This training increased my understanding of theatre and its role in communication and advocacy. It helped me to understand possible effectiveness of using theatre tools in our awareness raising on food and nutrition related problems in targeted communities under projects. I feel happy and confident after learning new theatre techniques."

Tasneem Bashir, Doaba Foundation

I have learnt a lot from this training about tools of theatre play. It inspired me to learn advance techniques of Production, Direction, Acting, Script Writing and Puppet Show in future. It would be great if Community World Service Asia help us in providing specialized trainings like these."

Islam, Indus Theatre Development Organization- Khairpur Mirs

"I learnt basic techniques of practicing theatre for development. The training contents were need based, relevant and beneficial for a theatre activist. Physical and mental exercised executed in training have sharpen our imagination, observation and improved body knowledge."