Boosting Disaster Management Skills in Pakistan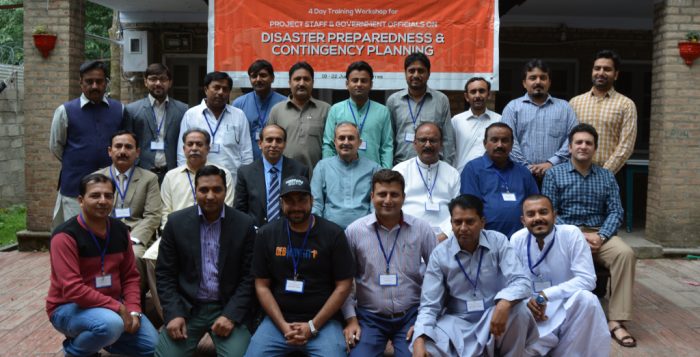 Considering the susceptibility of the Sujawal District in Sindh, Pakistan, to natural and anthropogenic disasters, a lot of work still needs to be done to promote and streamline disaster risk reduction (DRR) approaches and activities among the local communities. Contingency planning in the wake of natural disasters in this newly established districts needs to be developed and improved.
To make the communities of Sujawal, and other disaster prone areas of Pakistan, more resilient to onset, recurrent disasters Community World Service Asia conducted a four-day training on Emergency Preparedness and Contingency Planning in Murree. The training held in June, was participated by nineteen representatives from line Departments of Sujawal, Provincial Disaster Management Authority (PDMA) Sindh, Provincial Disaster Management Authority (PDMA) KPK, National Disaster Management Authority Pakistan (NDMA) and Health and Education Departments.
The training aimed to enhance the skills and capacities of government staff in responding effectively pre, post and during emergencies (disasters) and to prepare the communities for such situations with effective and immediate contingency planning. The key agenda of the training aimed  to equip local authorities, who are focal points in their respective regions, to be well prepared for and respond to disasters, and mitigate its' damages, efficiently and promptly. The training enabled the organizations and their staff to review their existing plans and make improvements where required.  It provided an opportunity to provincial institutions to share information and best practices among each other to promote mutual learning and extend cooperation.  The lead facilitator, Falak Nawaz, from Network of Disaster Management Practitioners (NDMP), explained the  project objectives and the process involved to ensure implementation of activities and plans. He encouraged participants to be proactive and raise questions during the training and urged them to exhibit ownership to make such workshops successful at district levels.
The standard terms and concepts developed by the United Nations International Strategy for Disaster Reduction (UNISDR) were introduced in the session on "Basic concepts and terminologies using in Disaster management". These were taught through a group activity using charts and pictures of a Disaster Risk Management (DRM) cycle. The participants were oriented on global, regional and national environments of disaster risk situations. A historical timeline of past disasters and its impacts on local, regional and global levels were briefly explained. Examples of The Greatest Eastern Earthquake and Tsunami in Japan, 2011, were cited and discussed.
A detailed session on contingency planning was conducted. The participants were briefed on the importance and uses of contingency planning and its differences to disaster risk management planning.
Towards the end of the training, a formal closing ceremony, which was chaired by Director Operations, PDMA Sindh was held at which all participants were awarded certificates. The DO appreciated the efforts made by Community World Service Asia towards disseminating knowledge and skills amongst government officials of PDMA's, NDMA, academia and district administration of Sujawal and urged the participants to take lead in disaster management activities at local levels through close coordination among each other and the communities.