Maham, leading through example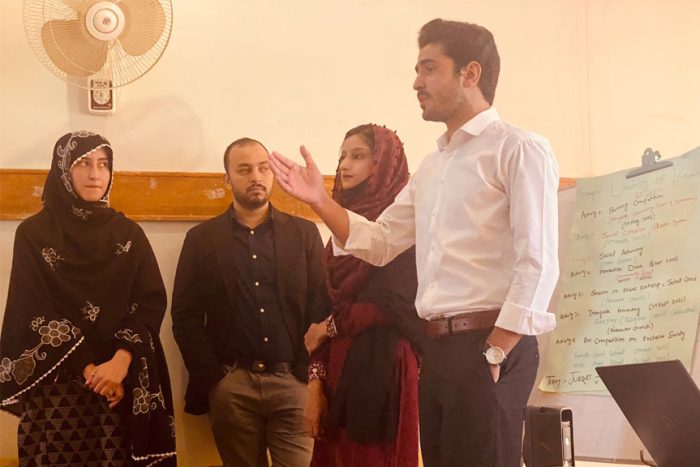 "My name is Syeda Maham. I am 21 years old and am currently studying in the Social Work Department at the University of Peshawar. Prior to pursuing my undergraduate degree, I had no practical experience in the field of social work. However, my engagement in the Local Capacities for Peace (LCP) Youth network enabled me to gain valuable opportunities and experience as a social worker."
The LCP network was formed in 2005 and the network started working with youth including students and educators in Pakistan since 2015, to promote peace-building, raise awareness on the do-no-harm framework, and the importance of youth in conflict management. Maham participated in a residential training for members of the LCP Youth Network, in March 2021. That particular training focused on raising awareness among youth members on peace-building, pluralism and constitutional and minority rights. "Nine students from my university participated in this training and learned about the importance of peace-building, especially for the marginalised communities living in Pakistan. Interacting with a diverse group of people, and learning about first hand experiences and knowledge really motivated me to speak up for the rights of the marginalised and to build awareness on it among other students."
"Through this learning journey, I have understood the importance of developing relationships across other cultures and the critical role that young people play in promoting peace in a society. Working alongside minority groups has been especially enjoyable and valuable because there is so much that we learned from them and about them without any bias or preconceived judgements. We understood each other's values and traditions with an open mind. I also got the opportunity to attend sessions on Human rights, advocacy, civic education and leadership skills"
"After the training, we organised different sessions on our campus and with underserved communities on mainly issues concerning marginalised segments. The sessions included seminars, theatre performance and video screenings followed by discussions. These sessions were vital because they gave other youth members and groups the opportunity to understand the value of peace and living in cohesion in a society and helped them develop the ability to spark good change within and with their communities." The LCP Youth Network has cultivated and equipped young people to become catalysts for change and promote a just society. These young people are ultimately creating a well-informed youth population that is engaged, empowered ad proactive.
"I also took it upon myself to organise multiple interventions that replicated the learning from the training. These interventions included seminars, workshops and group sessions to raise awareness especially on promoting education for all segments of society among students and communities."
Maham organised an awareness raising session, with a group of marginalised youth, on the Government's Ehsas Scholarship Programⁱ and the 5 percent job quota for minorities. "Participants were informed about the application process and eligibility criteria for Ehsas scholarships and the 5 percent job quota for minorities. I personally helped some students who showed interest in applying for the scholarships with filling out their application forms. One student from among the minority group remained in touch with me for advice on the programme application and preparation. I guided her through the process and was overjoyed to learn that she had been selected as a recipient of the Ehsas scholarship. Witnessing the impact of my small effort on someone's life made it one of the happiest moments for me."
"Elders from other religious groups have also commended my efforts and encouraged me to continue my work. During my sessions, I advise students to seek mentors in their respective field as a means to eliminate biases and discrimination."
"I hope to one day be an inspiration for the youth to become more involved in promoting and creating a more welcoming and inclusive environment for everyone."
---
Through the Ehssas Scholarship program, students can apply to 125 institutes recognized by the HEC and get scholarships to study in that college or university.