Learning to bring about disaster resilience in local communities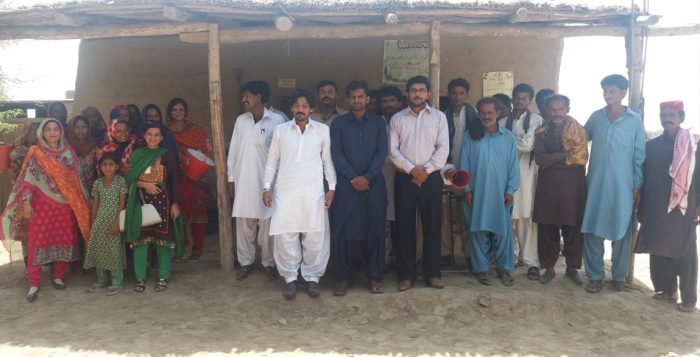 It is unfortunate to realise that many countries in the world are still not investing enough in prevention and preparedness of disasters.. From a development perspective, disaster risk reduction is vital for building a more equitable and sustainable future of vulnerable, at-risk communities. Investing in prevention and preparedness is vital to the systematic efforts of increasing disaster resilience.  In this very attempt, Community World Service Asia works towards disaster risk reduction (DRR)as a cross-cutting theme in all its programming to strengthen the resilience of rural communities. Recently, we facilitated an exposure visit of a group of volunteers from Indus Resource Centre (IRC), Dadu to experience some DRR related activities executed in Thatta by our project staff. Eighteen participants visited the Emergency Operation Centres (EOC) set up by us, in three separate villages..
The Indus Resource Center team commenced their visit from Achar Khaskheli Village where a meeting was conducted with the Women Enterprise Group (WEG). The artisans of the WEG shared their experience of receiving a training on Community Based Disaster Risk Management (CBDRM)which was very helpful to them during the 2015 floods. The team was further taken to the Emergency Operating Center in Nooh Waliro Village where Mr. Hanif Nooh Waliro, the Local Support Organization's President, gave a briefing on the process of the formation of the Community Organization (CO), Village Organization (VO) and the Local Support Organization under the livelihood projects. He added,
"strong efforts are put in the development of the village by the members of these organizations and the people of the village are appreciating the progress made through different activities."
At Phul Jakhro Village, the team visited the Emergency Operating Centre where Phul Jakhro, LSO President, shared his thoughts about the productive utilization of the equipments used at the centre during emergency situations. The EOC's shelter was also visited where a questions and answers session was held and the queries of the team were effectively addressed. Phul Jahkhro also briefed the visitors on the information charts they have put on the walls. A fire drill was performed by the Phul Jakhro community where a manual siren call was made and a woman called for help on a mega-phone. The community people reached at the scene with buckets and fire extinguishers, carried rescue efforts and extinguished the fire.
Qurban Ali Mallah, President LSO Union Coucil Gozo shared that they are grateful to Community World Service Asia for hosting such a fruitful exposure visit.
"The interaction with business women from the WEG reflected empowerment and confidence building. The EOC and the installed equipment were new for them at this level therefore they learnt a lot."
In another occasion, Rashid Chandio, IRC representative, said that,
"women participation was laudable. The trainings on DRR have really brought magnificent changes into their lives."
Rukhsana, an IRC volunteer, added that they would replicate such activities in their area to increase women participation.