Learning new ways to influence effective social change through digital media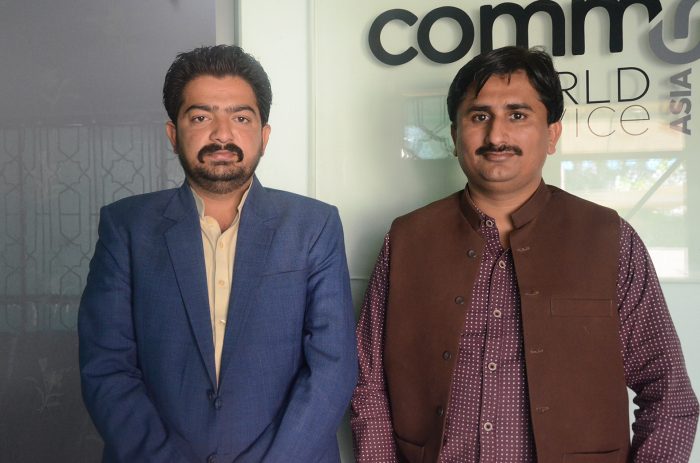 As Media Coordinator, my main responsibilities include management, editing and publishing the visibility material of AWAREⁱ. My team and I also provide coverage to program teams across the five districts that AWARE is working in the Sindh province. Till date, we have published a number of press releases, organizational reports and updates of project activities,
shared Abdul Karim.
Employed at AWARE since 2015, Abdul Karim has provided communications support to the organization's projects being implemented in the five districts of Umerkot, Tharparkar, Tando Muhammad Khan, Badin and Tando Allahyaar.
We publish news articles in local newspapers. We also use social media as a popular platform to exhibit our work and publications. Different groups on WhatsApp about project activity updates are also formed with community members, district stakeholders and government officials, giving immediate visibility to our work,
added Abdul Karim.
Shewaram, Program Manager at AWARE, however felt that there was still a need for more effective visibility of their projects.
Under our various thematic areas such as gender sensitization, education and water sanitation, our project teams are doing a lot of work but it is usually not represented as successfully. We were not able to deliver the right messages and promote our work the way it should be,
commented Shewaram.
Despite having an official website and a Facebook page, Shewaram consistently advocated for improved program and organizational visibility within AWARE. He believed that the relevant teams at their organization needed to strengthen their capacity on utilizing the platforms more strategically.
We have 2000 followers on Facebook. To engage and increase this followers' number, I felt we needed to have more updates on all our external platforms. We were unaware of proper strategy building on social media and other platforms in order to publish our news/updates. Who is our target audience? Are they decision-makers or community people or stakeholders? All these questions needed to be addressed and thought of. This is why we nominated Abdul Karim to participate in the Advocacy for Change training organized by Community World Service Asia in Mirpurkhas in May last year (2018).
Training Experience:
Abdul Karim was excited about the training and held high expectations about his learnings from it. He wanted to learn about new advocacy tools and guidelines on developing successful visibility campaigns.
This training was an opportunity to learn more about advocating and publishing effectively. To increase our digital presence, we needed the knowledge and technical skills of advocacy and digital communications.
Through the training, Abdul Karim and other participants learnt about the advocacy planning cycle.
To strategize for effective advocacy, we learnt to be flexible and be able to adjust our plans to changing circumstances. The training helped us understand that advocacy is a repetitive process; with ongoing monitoring and review, the plan can be updated and adjusted according to the different reactions perceived from the target audience. The contexts in which we work are unpredictable and often changing, and we need to be able to respond accordingly,
shared Abdul Karim.
Twenty-four participants from 14 organizations participated in this training to enhance their digital marketing and campaigning skills.
We learnt how to develop, refine and deliver potent and productive messages. The group exercise on advocacy strategy building allowed building a good understanding on the practicalities of resourcing, implementing and monitoring an advocacy plan.
Abdul Karim also built his knowledge on effective media engagement techniques.
The mock interview session with media and the activity on preparing a press release taught us strategic utilization of media which will help in creating a favourable environment for change.
Way Forward:
After the training, Abdul Karim shared key points of the advocacy planning cycle with his team at AWARE and informed them of the many media engagement and resource mobilization techniques for advocacy that he learnt.
The Twitter account of our organization was not actively used as we did not understand how to manage it very well before. At the training, we learnt how to use Twitter as a tool for campaigning and advocacy. It taught us how to deliver strong messages and tag relevant stakeholders, followers and government officials to our posts for an increased impact,
quoted Abdul Karim.
Since the training, we have launched two campaigns in collaboration with Oxfam Pakistan on twitter. Our communications team uploaded powerful messages on girls' education and tax justice. This twitter campaign emphasized on amending education laws and increasing awareness on the importance of girls' education. Relevant government departments and officials were tagged in the posts. We also shared this with our WhatsApp group members and requested them to retweet, 'like' and comment on our posts for mass coverage. Within an hour, the messages were retweeted several times. We received positive feedback from a large group of people on twitter,
narrated Shewaram. Through the campaigns, important issues reached relevant government departments, demanding a call for action from them.
Engagement on AWARE's official Facebook page has increased noticeably and the page now features more regular updates. The organization's webpage is also frequently updated and receives more traffic now.
Organizational documentaries and videos were only uploaded on Vimeo before. Now, while we have launched a YouTube account and post all our videos on that as well. This has increased our visibility a lot. We now cater to a larger viewership, who appreciate our work and share feedback with us. Our teams confidently approach government officials to liaise and hold meetings with decision and policy makers. They work through a proper channel. Moreover, our higher management team is also appearing on talk shows and participating in policy amendment processes which has increased the impact of our work,
concluded Shewaram positively.
ⁱ The Association for Water, Applied Education & Renewable Energy.