Interview with an Artisan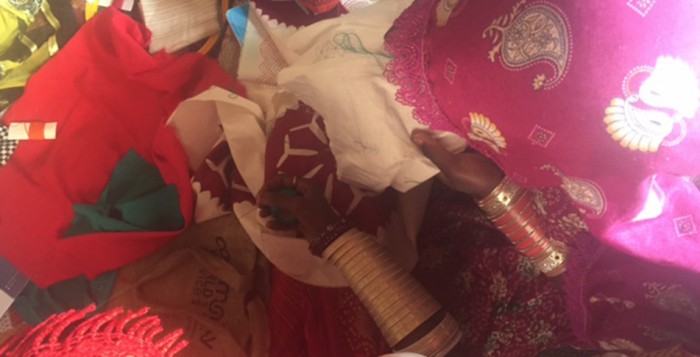 Community World Service Asia, with the support of Christian Aid, is working to empower women in rural Sindh, Pakistan, by supporting them to earn an income through traditional handicrafts skills. Mithal talks to us about her involvement in the project.
Name: Mithal
Age: 37 Years
Village: Phull Jakhro
Occupation: Tailor, House wife, Artisan
Q: How much did you earn before becoming involved in this project?
A: Before, my monthly household income was around 1,000 – 1,500 rupees [approximately US$10 – 15].  I earned by sewing the clothes of villagers.
Q: How has this affected your life?
A: It was not enough income for me as i have a son.  Complete responsibility for him shifted to me after the death of my husband. So it was difficult to manage the household expenses.
Q: Tell us about how you learned these skills.  Do you enjoy doing this kind of work?
A: Before joining the Centre, I was familiar with some of the traditional skills which I had learnt from my mother. Yes, I enjoy doing this work, because for me it is like my ancestors' custom, and I have to keep it alive by making embroidery which I know on different products.
Q: Why did you want to be a participant in this project?
A: Before this project, in our village, there was not any kind of literacy or vocational centre where I could learn both literacy and more embroidery skills. So the interest to learn more made me able to participate.
Q: What new skills have you learned at the centre?  How do find the teaching style?
A: I learnt more about ralli (traditional quilting) making designs and appliqué work at the centre. The teaching style of our instructor is very motivating.
Q: How much money have you earned through your handicrafts since becoming involved in the project?
A: I have earned 3,000 rupees [approximately US$30] since i have been involved in the project.  Orders were made within my village, and my friend made the order for me.  The order was for four embroidered shirts, and it took me one month.
Q: What was it like for you to fill these orders?
A: It created a hope for me that slowly, but now, it is going to be a source of income generation for me.
Q: What did you do with the money you earned?
A: I gave 1,000 rupees to my mother who is also a widow, and ill.  I gave 1,000 rupees to my elder brother. The rest is spent on food and clothing.
Q: What do your family think about the money you have contributed to the household?
A: I am a widow and stay with my elder brother and mother. My brother has his own family to feed, but he supports me too. He was also ill, so when I gave him the money, he became happy and felt proud of me.  I am very happy to feel that I can also contribute for my household.