Home
Featured
Newsroom
HHR Asia 2017 Building resilient organisations in a changing humanitarian sector
HHR Asia 2017 Building resilient organisations in a changing humanitarian sector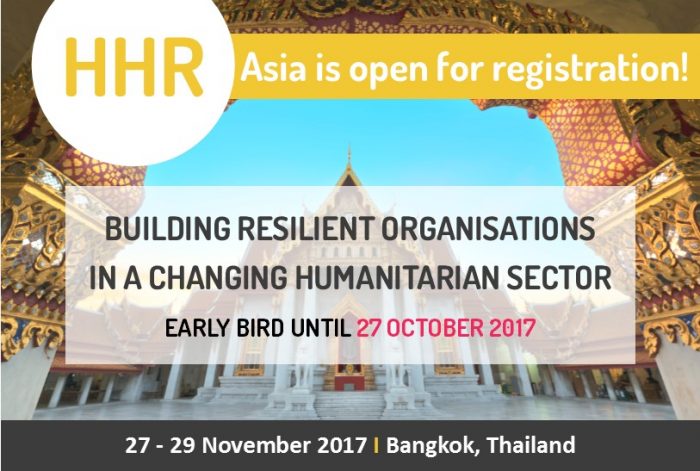 HHR Asia 2017
Building resilient organisations in a changing humanitarian sector
During crisis, humanitarian organisations may experience an abrupt change in the ways their operations are run. Download our flyer and join HHR Asia to find out how to increase your organisation's resilience so that you will be prepared when challenges arise.
Together, we will: 
Explore the concept and the principles of organisational resilience;
Work with key stakeholders to identify strategies and practical ways to support organisations to become resilient;
Network with other HR and humanitarian specialists from Asia with the intention to establish a strong Asia-based HR practitioners' network;
Share our respective experience at a lively and interactive Market Place;
Participate in a World Café group discussion on how to strengthen individual and organisation resilience.
As a result of the conference we aim to identify:
Characteristics of resilient organisations, leaders and aid workers;
The role of HR in building resilient organisations;
The balance between duty of care and high performance especially when funds are limited;
Key challenges of organisational resilience.
Why organisational resilience?
Disasters continue to test the resilience of many humanitarian organisations, and Asia is the most disaster-prone region in the world. In cases of major crises organisations with limited or no prior experience in humanitarian response often experience an abrupt change in the ways their operations are run. It is not only about continuing work and recovering from the disaster, it is the ability to effectively manage change and thrive during the change process and beyond. The aim of this year's HHR Conference is to improve the ability of participating organisations, both individually and as a community, to find, select, prepare and retain human resources for emergency and non-emergency operations.
Booking
Our early-bird discount fee of GBP 550 for residential and GBP 400 for non-residential places is available until 27 October, after which the conference fee will go up to GBP 650 and GBP 500 respectively.
Please note that this is the postponed HHR Asia Conference which was originally scheduled for May 2017.
REGISTER AT