Gifts from Kalawanti – her story of success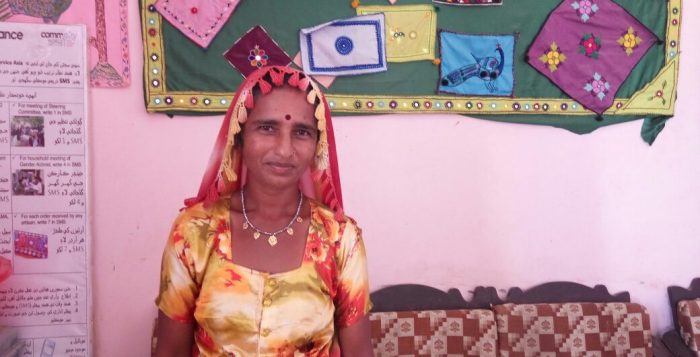 "In handicrafts there is a continuous swing between utility and beauty. That swing has a name: pleasure."

Octavio Paz (Mexican Poet)
To provide a solution to both rural and urban employment, it is important to encourage artisanry goods production, especially those made by the youth and women in rural areas, giving them an opportunity to contribute to the economy. Kalawanti is a perfect example of one such artisan as she has been fortunate to have made the highest earnings amongst 417 artisans in Umerkot. She has successfully earned PKR 10,500 in the month of September alone (this year), with timely completion of all her orders. Needless to say, this gifted and hardworking artisan was very content with her earnings as it is the highest income she has ever earned from her handicraft business.
Kalawanti, a 33 years old mother of two, resides at Khariro Charan Village, located about twelve kilometers away from Umerkot city. She is a project participant of the Connecting Creativity project in which skills between rural artisans and design and textile students are exchanged in an attempt to create urban market demands.
"I use to earn from regular orders that I would avail locally but the average income did not exceed PKR 1,500 per month."
Kalawanti's achievement has not only encouraged her but other women in the village to produce diversified, trendy and better quality products as well as completing orders timely. They see this as an effective and honorable way out of persistent poverty and low standards of living.
Kalawanti's outstanding quality of work, neat finishing and quick learning abilities were widely acknowledged by project staff, the trainer, students and fellow artisans alike. She produced beautiful Saari borders, sitara (sequin) embellished Saaris, short kurtis, laces, shirts with different embroidery patterns, fashionable shalwars, and aplique work scarves. All of her products were ranked of high quality. She devotedly took upon assignments which were new to her to build on her diverse experience and to further enhance her crafting skills.
"We were working on very limited number of designs and color combinations earlier but interaction with the students from Karachi opened doors to new designs, stitches, cuts and trends currently demanded in urban markets."
Kalawanti's family is very pleased with her progress she has made through these handcrafted products. Her husband supported her throughout, saying,
"If you can earn in such a way, it would be encouraging and relaxing, and it will be very beneficial for us as a family."
Kalawanti purchased clothes for herself and her children from the earnings and bought books for both of her children enrolled in grade 1 and grade 2. She was happy to receive the payment before their religious festival,
Diwali
which was celebrated later in October. She also bought some kitchen utensils for her home. She delightfully said,
"That moment was very precious when I came home and shared my shopping with my husband and children. The smile on my husband's face was very motivating and gave me mental peace."
Kalawanti is currently working on additional orders received. She assists other fellow artisans in understanding new designs and improving on their quality of work. She commits five hours of her work day  to her crafting daily, including the two hour class she attends at the training center for production. She is still enthusiastic to earn regularly and to utilize her skill for improving future prospects for her children and her family.