Fighting poverty one stitch at a time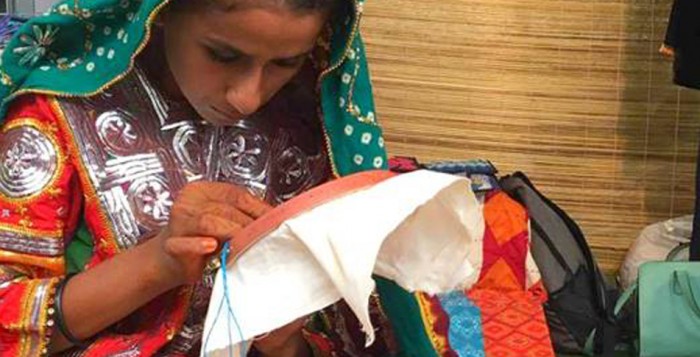 Kanwal, 20, is an artisan from Thatta in rural Sindh.  She is one of eight family members, who struggle to make ends meet with an average monthly household income of around Rs. 7,000 (approximately DKK 448).  Most of her family members work as laborers in the field. "Low income has always remained an issue in our family, and often it caused conflict among family members," she explains. "Because the income is low and the family is large, it is always difficult to pay for clothes, meals and other things."
Kanwal is the only member of her family who is learning a new skill to earn an income.  "I feel peace of mind while doing embroidery.  Basic stitches, such as running stitch, I learned from my mother and grandmother.  Right now, I have learned some stitches like mirror work, hormuch and filling stitch at the VTC [Vocational Training Center], and embroidery finishing."
Traditional Sindhi crafts are extremely important to the people in the region.  Kanwal explains that wearing these traditional handicrafts gives people pride in their identity.  Through her involvement in the project, Kanwal can share this artistic heritage through different designs.  "It is my passion to continue working in this project and improve my skills," she says.  Working with design students of the Indus Valley School in Karachi, has enabled Kanwal to explore a range of new skills and abilities.  She has learned about product ranges, color palettes, different types of material, measurements, pinning and tracing. "It was a good opportunity for me," she says.  "I really enjoyed [the students'] company and working with them during the design workshop.  I very much liked the institute, it was big and neat.  It seems like a dream that a visited there."
Kanwal's favorite experience from the project so far has been participating in the Danish Embassy's "Innovative Denmark" event, where she showed visitors how to do traditional stitches and shared her skills.  "It has really helped me in raising my confidence," she says.
Kanwal's family is also excited about her participation in the project, and are confident that she will be able to earn an income with her developed skills.  An alternative source of income is vital to these communities, who are so reliant on agriculture, an increasingly fragile sector.  She explains the importance of extra income for her family, who are affected by frequent flooding in the area.  "In crop season, I have to work with my family members for twelve to sixteen hours daily under frequently harsh and unhealthy conditions to earn some money and store something for the following year to survive, which is now becoming challenging because of flooding."
This project, which is supported by the Danish Centre for Arts and Culture and the Danish Embassy in Pakistan, is supporting artisans like Kanwal to enhance their opportunities and protect themselves from such financial shocks and is empowering them to combat poverty for themselves and their families. Under the project, rural artisans are working in collaboration with design students of renown design institutes in Karachi, Pakistan, to learn contemporary designs and stitching techniques to cater to the trending market demands as well.