Embedding Accountability in an Organisation's Core Values and Activities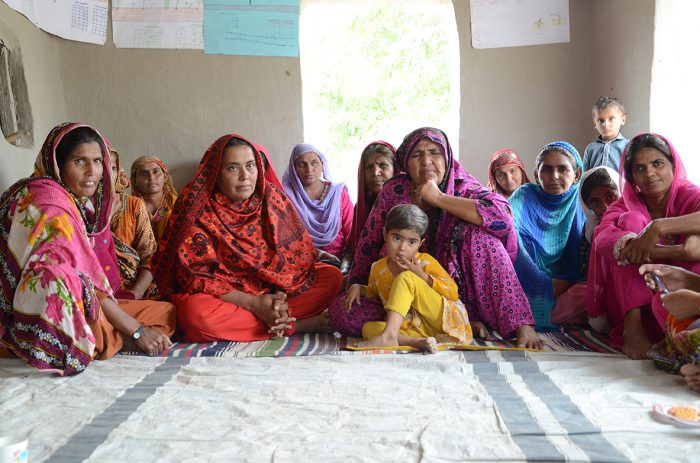 Quality and Accountability mainstreaming includes promoting and sustaining greater accountability to affected populations and to ensure its effectiveness, changes are required at different levels in the organisation. Hosted and organised by Asian Disaster Reduction and Response Network's (ADRRN) Quality and Accountability (Q&A) Hub as part of the 2020 Regional NGO Partnership Events[1], a virtual panel discussion held on December 14th, explored the different levels and ways of mainstreaming accountability.
Opening Remark
Shama Mall, Regional Director (Acting)
Moderator
Uma Narayanan, Independent Consultant
Panelists
Mayfourth D. Luneta, Deputy Executive Director, Center for Disaster Preparedness (CDP)
Hiroaki Higuchi, Manager of Program Development Division/M&E division, Japan Platform
Coleen Heemskerk, International Director of Strategic Planning, Act church of Sweden.
Participation
92 humanitarian practitioners from around the world
 "Like for many of you, it's very important for us that during any response or longer-term engagement, the affected communities are treated with dignity, and they fully participate in the process and hold us to account. Mainstreaming is not a onetime process; rather it is a continuous process. Commitment towards accountability and mainstreaming in our experience means leadership Buy-in, willingness to change behaviors and meaningful engagement and participation at community level," said Shama Mall from Community World Service Asia, during the introduction of the virtual event.
Accountability: A Way of Life
How can we ensure Vertical and Horizontal accountability in an organisation?
How can we create a balance between learning and accountability within organisations?
Mayfourth D. Luneta emphasised on not just being accountable in policy but to walk the talk as a key indicator of having better services for communities. Center for Disaster Preparedness's (CDP) vision is to establish safe, resilient and development communities and they work towards that by empowering and strengthening the people in the community for disaster risk reduction and management.
Organisations must engage in constant consultations and interactions with the communities to ensure to efficient programming and accountability processes. Mayfourth further shared,
"In communities we serve, we adopted different methods to keep a check on how CDP is working with the target affected populations. We mainstreamed these methodologies in our projects to monitor our workings whether or not the project required feedback or MEAL[1] planning. One of the tools known as The Evaluation Tree was carried out during the implementation of projects where community members provided continuous feedback on project activities, strategies, results at individual and community level, facilitating and hindering factors and recommendations. By doing this, we are being mindful of how we deal with our communities."
How do we promote accountability with our partners and governments?
Organisations must continue to advocate and share lessons learnt with the government and relevant stakeholders for them to improve government programs by applying this data taken from the communities. CDC shared its example of The Inclusive Data Management System for Persons with Disabilities project that promotes the inclusion of persons with disabilities in planning, budgeting, and other development processes of local government and agencies, particularly in Disaster Risk Reduction Management (DRRM). The intended outcome of the project is to increase the capacity of local governments to capture specific information on persons with disabilities in their localities.
"This project collects and records information on disability and DRRM through using the Kobo Collect, an open source Android application used in primary data collection for challenging environments. Ultimately, the intended output of the project is the establishment of a comprehensive data management system for persons with disabilities at the municipal or city level. This project is at its finalization stage and the report will be then shared in the near future," shared Mayfourth.
Quality & Accountability: Donor Perception
Hiroaki Higuchi discussed the limitations of reporting around accountability to donors and project participants. Typically reporting systems provide donors with a written account comprising of information in a form that ensures that the funds donated are used for specifically intended and planned purposes. This is usually in the form of a one-way flow of information from the NGO to the donor, with the focus being on the efficiency with which the donors' funds have been spent. In some cases, reporting formats often appear inflexible and rarely reflect the voice and experiences of field officers and communities in the field.
There is a predominant belief that many donors simply use quantified metrics and undermine other valuable qualifications and explanations of local conditions contained in the accompanying narrative.
"There must be somethings behind the quantitative performance indicators that can reflect the overall impact of an NGO's work by the Qualitative performance indicators. To address this issue, I recommend that there be a mixture of quantitative and qualitative performance indicators. A further recommendation in this area is to allow debates and discussions with NGO workers in the field and communities to help and determine appropriate performance indicators for specific project," said Hiroaki.
One of the drawbacks of accountability mechanisms is that donors are not informed about the unintended consequences and failures in aspects of project delivery. NGOs often find it challenging to report on such outputs as there is not much flexibility in terms of reporting formats and scope. Hiroaki added,
"There can be reluctance on the donors' part or on the part of NGO to report unintended consequences or failures. In some cases, NGOs prefer to emphasise on the success rather than the failures in humanitarian projects. I believe in the longer term, these failures can help organisations learn and ensure more sustainable development by recognising and responding to the cause of a short-term failure. Furthermore, reporting of unintended consequences in aspects of project delivery is important as it provides an opportunity to inform donors about what kinds of difficulties the NGOs face on the ground in the field level."
Ensuring Quality and Accountability at an Organisational Level
Following the example of ACT Church of Sweden (CoS), organisations can effectively mainstream quality and accountability through working towards commitments underlined by the Core Humanitarian Standards (CHS):
Commitment 1: Human Rights-Based Approach
Commitment 2: Gender Mainstreaming through all Programmes
Commitment 3: Environmental Sustainability
Commitment 4: Equal & Mutually Accountable Partnership
"We became CHS certified to ensure the affected-communities are at the center of our work. We want to ensure that we have to implement with the commitments we have made as an organisation. We, as an organisation, want to commit to continue learning," remarked Coleen.
A poll was conducted asking the webinar participants to share CHS requirements that they considered most challenging to achieve.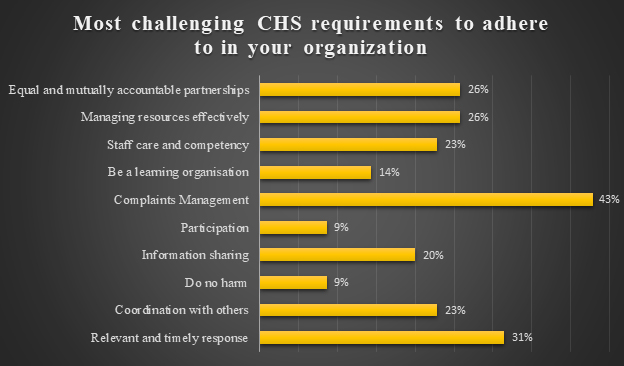 Forty-three percent of the participants chose complain handling as the most challenging aspect to implement in an organisation. It is a common challenge to address how an organisation ensures that it has an open, accessible complaints mechanism?
Coleen shared, "At CoS, we are continuously working on making our complaint mechanism stronger. We also try to make our annual report transparent by reporting about the number of complaints we receive and types of complaints received."
Reflections
Participants asked about ways to overcome challenges when donors are not open to receiving or reporting failures and the shift required to change this mindset.
 "It is about educating the donor and not think that donors always have that back information. Sometimes it works, but other times it doesn't. But to be vocal and to push back is vital, by doing it diplomatically and politely to make sure it happens," advised Coleen.
There were questions raised on trust and whether organisations are doing enough to garner and sustain that trust among communities. Mayfourth addressed the question by saying,
"When we say are we doing enough, I believe its means how we are doing it together with the community. The more we involve the affected-communities in the processes, as well as project interventions, the more we are contributing to the communities. This makes them feel that they are at center of planning, implementation and assessments processes. It is very important for organisations to know for whom they are working for as this will help the project teams to feel the gaps and needs of communities which have to be catered through the interventions."
Many of the participants also asked about how to truly embed accountability in an organisation's core values.
"Instead of saying we are implementing the CHS commitments, we have changed this and said that these are our commitments that Act CoS signs on to. We have built them in our policies and programmes.  It is also important that management be continuously questioned on whether or not the commitments are being met as an organisation. For us in Act CoS, we believe in localization and so we are working on how to make this possible in the coming five to ten years. It is about going back to the basics. When we talk about Codes of Conduct, it's about being a decent person, when we talk about accountability, it's about doing quality programming."
"You journey towards accountability is not easy and time consuming, but when we see an increase in personal accountability and if there are questions raised within the organisation about these issues, then we are moving in the right direction," concluded Uma.
---
[1] Hosted in collaboration by the Asian Disaster Reduction and Response Network (ADRRN), International Council of Voluntary Agencies (ICVA), UN Office for Humanitarian Affairs (OCHA), and Community World Service Asia.
[2] Monitoring, Evaluation, Accountability and Learning.