Mai loses her only livelihood as Locust Attacks damage huge farmlands in Bait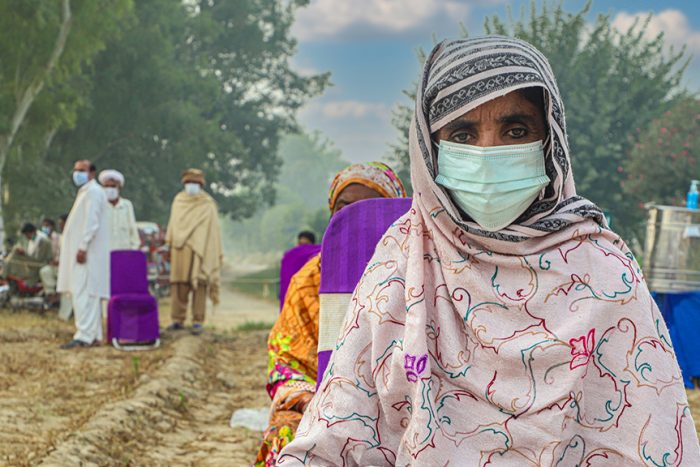 Iqbal Mai, is a widow and a single mother of three children who lives in and belongs to Bait village of Punjab province. Bait village is home to almost a hundred families who primarily depend on farming activities for a livelihood. Iqbal Mai's children, aged between 18 and 12 years, help her with sowing, harvesting, fertilisation and irrigation activities in the agricultural fields.
Mai's husband was also a farmer who tragically passed away after suffering a cardiac arrest in 2014.
"After the demise of my husband, I had to take all the responsibility of caring for my children and home. The tragedy that was my husband's death however did not lessen my hopes and determination of giving a better future to my children. I started to work on the fields; ploughing the lands, sowing the seeds, irrigating the lands and harvesting the crops. I strongly believe that literacy is critical to having a chance of a better future. I see it as something that will guide my children towards a brighter future and an improved standard of living," shared Iqbal Mai.
Fifty-seven-year-old Mai manages to send her all children to a nearby local school through the income she has been earning from agricultural farming.
Through cultivation of wheat and cotton on a two-and-a-half-acre self-owned land, Mai earns an annual income of PKR 50,000 (Approx. USD 310). Cotton is assumed as one of the main cash crops in Punjab province which is the most Agri-enriched region of the country and contributes to 22% of the country's total agri-business. The seasonal crops cultivated in Bait are irrigated with available canal channels and the river Chenab, which is a major source of water in the region.
To prepare the land for harvest season, Iqbal Mai took a loan of PKR 30,000 (Approx. USD 186) from a well-know landlord in their village. She took the loan to prepare the land to grow wheat.
"Last year, the wheat growing on the lands was severely damaged due to wheat leaf rustⁱ. I had no other option but to take a loan to prepare the land for the next harvest season. I rented a tractor for PKR 10,000 and also paid a tube well owner PKR 10,000 to provide water. The remaining amount was consumed on labor costs for ploughing the land. Sadly, all the harvest was lost." The recent locust invasion on the agricultural lands in South Punjab destroyed acres of agricultural land including Iqbal Mai's little livelihood source. "We tried all the indigenous techniques to get rid of the locusts such as waving rackets on the fields and using smoke to clear out the locusts, but nothing helped. All our hard work on the field was wasted in front of our eyes. We were unable to save our harvest and had no crops to sell."
Community World Service Asia's Emergency response team visited Bait village for an initial assessment to select the most vulnerable and underprivileged small-scale farmers affected by the locust attacks in the area for a short-term humanitarian project[1]. Iqbal Mai was selected as a project participant. Through the project she received two bags of 50 kgs of wheat seeds each, two bags of DAP fertilizer of 50kgs each and four bags of UREA fertilizer of 50kgs each. She plough the land with wheat seeds and is actively using the fertilizers to enhance the natural fertility of the soil.  Mai was also part of awareness raising, orientation and capacity enhancement sessions on learning skills and expertise about wheat cultivation techniques required to maximize yields in April and May 2020. Mai's hopes are very high this year as she is positive to have rich and healthy crops at the end of harvest season in May 2021.
---
ⁱ Leaf rust, also known as brown rust, is caused by the fungus Puccinia triticina. This rust disease occurs wherever wheat, barley and other cereal crops are grown.
ⁱⁱ Livelihood Support to Small Agriculture Farmers affected by locust attack in the Punjab province project, implemented by Community World Service Asia and funded by Japan International Cooperation Agency (JICA).