Developing New Employees into Leaders through Training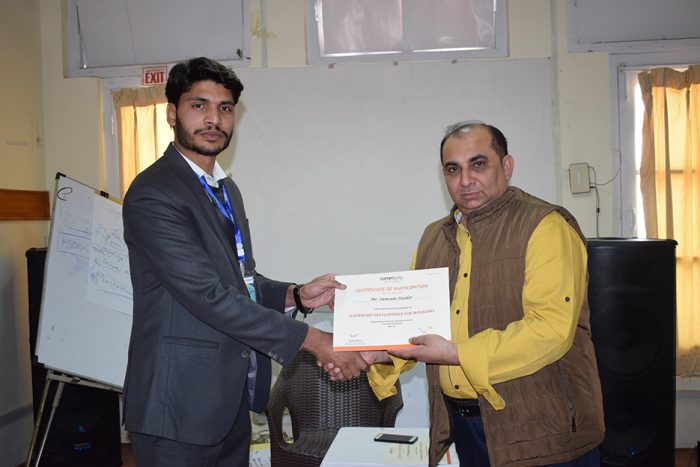 For any new employee, it takes time to learn and adjust to their new working environment. Through leadership training with Community World Service Asia, Samsam Haider—a new Agriculture Development Officer for the Farmers Friend Organization (FFO) Support Program—is starting his career in development with important skills to excel in his challenging and multifaceted role.
After completing his M.Phil. degree in Agricultural Extension eight months ago, Samsam started working in the FFO Support System Program's Operations Department. Samsam is responsible for developing and organizing Farmers Field Schools (FFS) and providing assistance to agriculture projects. He also organizes capacity development initiatives and performs departmental tasks involving data collection and management and monthly reporting.
According to Samsam, the FFO Support Program's projects involve many different components, such as Human and Institutional Development, Health and Nutrition, Youth Development, Women's Empowerment and more. Each component requires strong leadership skills, high confidence and effective team building skills to generate positive and productive outcomes.
Samsam says he participated in the Leadership Development for Managers (LDM) training workshop organized by Community World Service Asia in April 2019 because
The workshop was the essential platform for me to excel in my skills.
He added that the training taught him more than its name implied and was helpful both in his role at work and in his personal interactions. He commented,
The workshop was not limited to leadership content, as it also covered management styles, communication skills and motivation and team building. The training provided the opportunity to learn how to incorporate leadership strategies in our practical and professional lives.
For example, following the training, Samsam said he was able to apply the Conflict Management Style right away with his colleagues to understand their behavior and management traits. He explained,
A person's behavior varies in different situations of conflict management. It can be difficult for me to judge the situation. To combat this, I developed a 15-statement form for various colleagues to rate their views on different situations occurring in the workplace. It was an interesting exercise, as I got to know how different individuals perform in various situations. Moreover, it helped me understand the working environment and the nature of my colleagues,
Samsam said.
Now, he says, he feels much more prepared for many different challenges and scenarios that will inevitably occur as he grows in his career. He said,
The learning I gained from the LDM Workshop has been fruitful, as it helped me to know my colleagues better. I learnt basic leadership skills and explored the latest trends and techniques of leadership to incorporate in my professional life. I will seek more learning opportunities focused on building capacities in communication skills, managerial leadership, time management and team building.
In addition to his own growth, he is also sharing what he learned with others at the monthly meeting of the FFO Support Program's Operations Management Focus Group. Though Samsam is one of the newer faces at work, he—like a true leader—is already working to improve the culture of his organization through learning and collaboration.