A Training on Advancing Women Leadership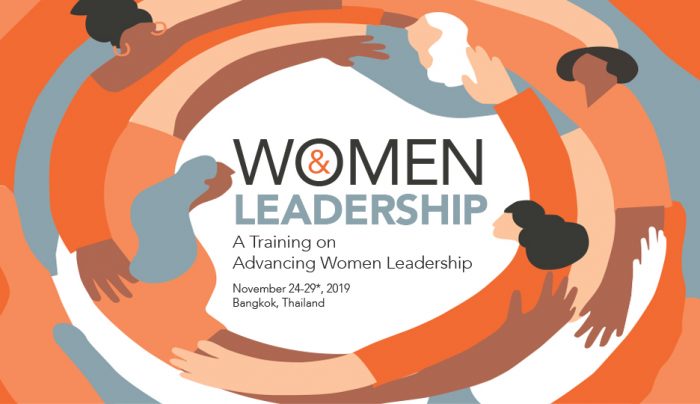 WOMEN AND LEADERSHIP = GREATNESS
Reflection and empowerment through effective communication, action, and beyond…
DESCRIPTION
As women we are preoccupied with everything around us that we often neglect, to our own detriment, ourselves. While women are "looking after" and "dealing with" matters, no one is reflective of their limitations and needs both personally and professionally. A change needs to happen at all levels in order to give everyone the space and opportunity to grow, flourish, and re-invent ourselves as part of this complex and dynamic world.
OBJECTIVE
The world greatly needs the strength and leadership qualities of women. This transformation is about being provocative, working and treating each other as allies, and being agents of change.
This training is a holistic approach to leveraging the power of women. We are all unique beings and this course lends itself to that. It is an opportunity to facilitate, lead, take control, and think outside the box about real problems that impact women. It is bringing about real change, one conversation at a time. As your facilitator, I invite you to take on this challenge to be the best leader you can be through every stage of your life.
OPPORTUNITY
The answer to the problem is not about reflecting on the past or pre-empting the future, it is about the moment and the very best we do in order to change things right here, right now moving forward.
METHODOLOGY
The methodology will be very participatory, allowing participants to be involved in a dynamic way at all times through presentations, debates, experience sharing, group work, learning pairs, writing workshops, design of programs and activities, etc. The course will be conducted in English.
THINGS YOU NEED TO KNOW!
When: 24th – 29th November 2019
Where: Windsor Suites Hotel Bangkok, Thailand
Fees: USD 800
Language: English
Participants are expected to arrive in Bangkok on November 23 and depart on November 29, evening and will be accommodated for maximum 7 days (6 nights)
All participants are invited to attend the half-day event on the 29th of November. More details to follow.
Two meals (breakfast and lunch), in addition to refreshments will be provided during the training. Participants will be responsible for their own dinner.
Participants are advised to please confirm any expense related information from Community World Service Asia to ensure all financial matters are clarified.
HOW TO APPLY?
Kindly click on the following link for registration: https://forms.gle/bkBHB3zUxXHo3cWZ9 Or fill out the attached application form and send it to Zunaira Shams along with your resume to (zunaira.shams@communityworldservice.asia) by October 30, 2019.
Applicants will be notified if their participation is confirmed as application forms are received. Please make sure you include contact information (postal address, e-mail or phone number) you will access during those dates. Payment of the tuition fee will confirm the course registration.
WHAT'S THE TRAINING ALL ABOUT?
Training Objectives:
To learn the fundamentals of leadership, communication, and change/transformation;
To analyze personal, professional, and social relationships;
To better understand emotional intelligence and how it works;
To share, discuss, and analyze experiences that will advance talents and skills Who can attend?
Participants will need to have at least three years of employment experience in the humanitarian or development sector;
Requirement to attend all five days of the course and the half-day event on the 29th of November;
Be willing to complete and/or share elements of a self-assessment/evaluation
Program Details:
DAY 1 – The Modern Leader
DAY 2 – Make Your Impression
DAY 3 – Networking
DAY 4 – Taking Care of Yourself
DAY 5 – Putting Your Best Foot Forward
Time:
5 days
THERE'S MORE:
THE CHS EXCHANGE
When: 08.30 AM Tuesday, November 19 to 12.00 PM Wednesday, November 20
Where: Pullman Bangkok King Power Hotel 8/2 Rangnam Road, Thanon-Phayathai, Ratchathewi, 10400 Bangkok
Organized by the CHS Alliance, the CHS Exchange provides the opportunity to debate and discuss how the CHS can make aid work better for people in crisis. For more detail and registration please visit: https://www.chsalliance.org/events/bangkok-chs-exchange/
The CHS Alliance General Assembly (Members only)
When: Wednesday afternoon, November 20 to Thursday, November 21
Where: Pullman Bangkok King Power Hotel 8/2 Rangnam Road, Thanon-Phayathai, Ratchathewi, 10400 Bangkok
The physical General Assembly of CHS Alliance members is an important opportunity for the membership to agree on the collective way forward, in our commitment to the CHS and making aid work better for people.
For more details and registration, please visit: https://www.chsalliance.org/get-support/event/bangkok-chs-exchange-and-general-assembly/
OCHA/ICVA/ADRRN Events
When: Tuesday, November 26 to Friday, November 29
Where: Bangkok, Thailand (Venue to be decided)
United Nations Office for the Coordination of Humanitarian Affairs (OCHA), The International Council of Voluntary Agencies (ICVA) and Asian Disaster Reduction and Response Network (ADRRN) are holding a range of events, including thematic sessions, in a collaborative manner during the four days. For more details, please be in touch with the organizers.
LAUNCH AND PANEL DISCUSSION
When: 09.00 AM to 12.00 PM Friday, November 29
Where: Windsor Suites Hotel 10/1 Sukhumvit Soi 20, Sukhumvit Road, Bangkok, Thailand.
A collaborative event will be organized by Community World Service Asia, OCHA, ICVA, ADRRN, Act Church of Sweden, CHS Alliance and Sphere. It will include the launch of the updated booklet on Quality and Accountability for Project Cycle Management. This user-friendly booklet is designed especially for field practitioners working in the humanitarian and development sector to improve quality and accountability of their projects towards communities. The revised version aims to introduce advance tools to use at each stage of the project cycle, allowing enhanced practical implementation of quality and accountability. The launch will be followed by a stimulating panel discussion by panelists representing a range of experiences on accountability towards affected populations.
WHO IS THE TRAINER?
Connie Cheung brings a different kind of energy and approach to workshops in an effort to bring out the authentic leader in everyone. Each participant will have the opportunity to reflect, listen, and lead as a unique individual. Connie's goal is to facilitate a training that will enable participants to: checking-in, build and/or recalibrate the foundation from where they will continue on their journey wherever they are in life.
Connie's career is grounded in emergency management. Through the years she has complemented her career by actively coaching, mentoring, and addressing issues related to workplace wellness, which include mental health and well-being. Her aspirations are to encourage people to embrace change and reinvent themselves.
Click here to download the brochure and invitation letter.