Webinar: Orientation on EAD NGO e-Portal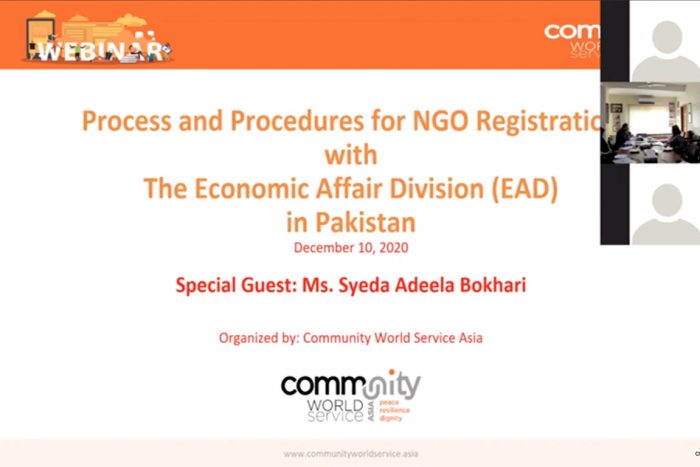 Community World Service Asia is committed to facilitating NGOs with quality and accountability mechanisms as well as overcoming mistrust between the government and NGOs. The Economic Affairs Division (EAD) has launched an e-portal this year to simplify the NGO registration This step is very cost and time effective. CWSA organized a webinar for local and national NGOs in Pakistan to enhance their understanding about the e-portal of the EAD on 30th September, 2021. The webinar lasted for about 90 minutes and was attended by 16 individuals of different organizations working in the development and humanitarian sectors.
The speakers explained the entire process of populating an NGO's data on the portal diligently. There are a total of 13 steps each of which was extensively discussed. Special emphasis was given to common errors made by NGOs and how to avoid them as well as some technical aspects such as ensuring that file size remains less than 7 MBs and the option of auto-filling draft MoUs. Speakers accentuated the fact that NGOs ought to exercise great caution and attention to detail while filling all the components because a single error could result in the MoU not being issued.
Participants actively asked questions, some of which were general while others were specific to their organization. Participants thanked CWSA for organizing the webinar. It is hoped that the webinar has enhanced the understanding of participants about the portal and will go a long way in helping NGOs in their registrations on the portal. CWSA will organize such informative sessions in the form of webinars and seminars in the future as well. Moreover, we are also committed to helping NGOs throughout the process and these services (some of which are pro bono) are available through the NGO help facility.