Upholding Humanitarian Standards: Considering Collectively Key Topics Related to Quality & Accountability Standards through the Project Life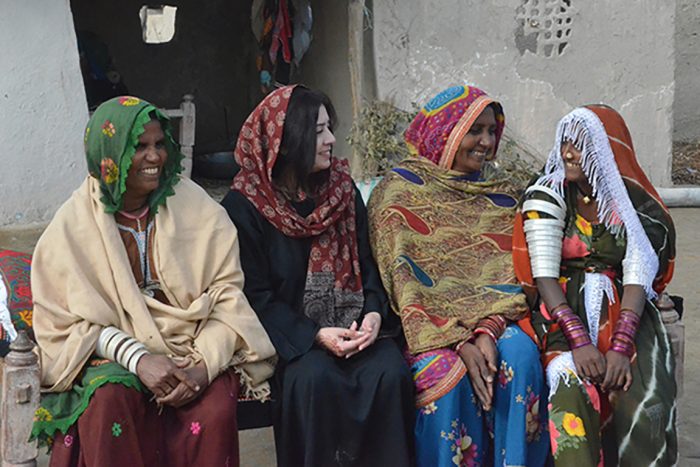 Follow the Learning Journey on Quality, Accountability and Safeguarding
Update on Virtual Learning Session I: LEARN
Update on Virtual Learning Session II: UPDATE
As part of this Learning Journey on Quality, Accountability and Safeguarding, Sylvie Robert designed and facilitated a panel discussion on topics inter-connected with the quality and accountability Standards' application through the project life.
This session combined highly committed panelists and field practitioners to exchange view and experiences on a wide range of key topics spanning the project life such as: The Do No Harm approach, building local capacities, empowerment, localisation and equitable partnerships, ethics and principles in emergencies, two-way communication mechanisms, community engagement, gender and empowerment and finally, Standards' verifications options.
53 humanitarian and development practitioners from Asia, Africa and the Middle East participated in the 3rd Virtual Learning Session 'PANEL'.
Applying ethics & principles in emergencies:
Codes of Conduct, Complaints and Feedback Mechanisms, including PSEAH
"The humanitarian movement is a universal movement with a lot of disparity and diversity. To meet the challenges faced by local actors on the ground, organisations must adopt a simple, up-to-date, communicative code of conduct based on universal principles. Furthermore, organisations must have a mechanism in place to ensure that the code of conduct is followed at all levels. There must be complaints procedures in place for this to happen. The method for collecting complaints must be responsive, transparent, protective, independent and impartial."
Philippe Dureau, Dorcas
Localisation and equitable partnerships through the Nexus: Can we avoid sub-contracting only?
"Localisation should not be generalised; we need to be very context specific and understand the challenges and successes that the local actors are reaching every day. In addition, localisation is not only limited to the emergency context, but also applies during the humanitarian and the longer term, through the 'Nexus'. Moreover, localisation is a shared responsibility between the local actors and the donor agencies. Therefore, it is important for both parties to build strong and meaningful partnerships, be active in collective advocacy and promote unified coalition."
Eman Ismail, ICVA MENA
Do No Harm & Do Some Good: The importance of context analysis from upfront!
"Commitment 3 of CHS says Humanitarian response strengthens local capacities and avoids negative effects. Do No Harm is about unintended negative effects of our work on community and conflict dynamics. It is also about how we approach the people we work with in terms of respect, fairness, accountability and transparency. It is crucial to know the dynamics of the communities and region we are working in, and other context details. It can be difficult to get this kind of information but we need to look beyond the needs assessments that we are doing. We need to know much more about the environment, who else is living there and who are the different stakeholders involved. Staff and partners are often good sources of information."
Corita Corbijn, ZOA
Capacity Building and Learning – Strategies
"In order for capacity building and learning initiatives to make a difference, both at institutional and individual level, we need to provide a space for discussion and have the right balance between knowledge, skills, and attitude. The CHS is a learning journey, for organisations involved, whether international or national, as well as for the CHS Alliance. We need to nurture mutual learning space, and tend toward longer learning journeys, linking theory and practice. We see great opportunity and value into this learning series involving Syria, Afghanistan and Pakistan, and this is certainly one we can all learn from."
Geneviève Cyvoct, CHS Alliance
The CHS verification scheme: Dreaming of a joint self-assessment led locally?
"The CHS verification is a way forward on how we can put the standards into practice. The verification is a structured and systematic process that determines how closely an organisation's work adheres to the CHS. The verification method ensures that processes, rules, and policies are in place at the organisational level, guaranteeing that interventions are of high quality and accountable. It also ensures that such policies are followed in projects and activities on the ground. Finally, it verifies that quality and accountability measures are included in collaborative practises and tools."
Bonaventure Sokpoh, CHS Alliance
Invaluable community engagement!
"In principle everyone agrees to involve and engage communities in the humanitarian work but when it comes to practice each context brings us new challenges. We can perform better if we know & benefit from existing tools & contextualise them based on the situation. For example, the CHS Commitment 4 that relates to community engagement puts focus on meaningful participation. It's requirements can guide us to function responsibly. On top of this, humanitarian practitioners must prioritise the safety & dignity of communities participating in the interventions. Staff should be considerate of what, when & how to communicate with communities. We, at ACT Alliance, are CHS certified, and each audit brings us a new perspective from communities to further improve. The CHS verification is an independent process that allows organisations to know how communities feel about our work."
Rizwan Iqbal, ACT Alliance
Gender, empowerment and inclusion: A critical aspect to all stages of our work!
"Gender is cross-cutting humanitarian quality and accountability aspects. It is essential for improvements in humanity and accountability and many of us in the development sector are working diligently to ensure that it is fully integrated. Women's empowerment is directly linked to inclusion and participation. Women's participation in humanitarian programmes has been prioritised, and community mechanisms have been reinforced to ensure women's participation. It is critical to guarantee that men and women participate in formal and informal decision-making on equal footing."
Palwashay Arbab, Community World Service Asia
ASKs: 'Do these considerations apply in your working context? What are limitations and opportunities? What could be concrete actions for improvement?'
"In order to apply the Quality and Accountability Standards, we need to have a collective approach. In the Syrian context, increased coordination between humanitarian actors on the ground is imperative. Furthermore, a uniform reporting system is required so that greater emphasis may be placed on the impact that must be reported rather than the report's structure. In addition, assistance is needed in mapping target regions so that responses and interventions can be more efficient and effective."
F. K. E. from Syria
"Donors' requirements can be overwhelming for organisations, especially for individuals who are unfamiliar with the language and concepts of accountability to affected communities. The funding framework for humanitarian efforts at the local level must be considered. In addition, integrations must be structured so that the focal person managing complaints is clear on the needs, time, and nature of the work."
T. S. from Pakistan
"The language and the context of the Quality and Accountability Standards have to be simple in text and meaning, in order for communities to understand and relate to them easily. A group member mentioned that one of the methods to solve this challenge was to hold theatre performances in the communities based on different chapters of the Sphere Handbook 2018. As a result, the communities were able to comprehend the handbook's criteria and connect to them in their own context. Language can be misinterpreted in the Syrian setting. We need to figure out how to get the right message to the right individuals in a practical way. In addition, in the communities with whom we work, there is apprehension about filing complaints. People are concerned with breach of confidentiality, insecurity, or a complaint not reaching to the qualified people. We have enhanced our campaigns to raise awareness on complaint methods, but there is still more work to be done in this area."
D. J. from Syria
Follow our Twitter Handle @communitywsasia for Live Updates from this Learning Journey