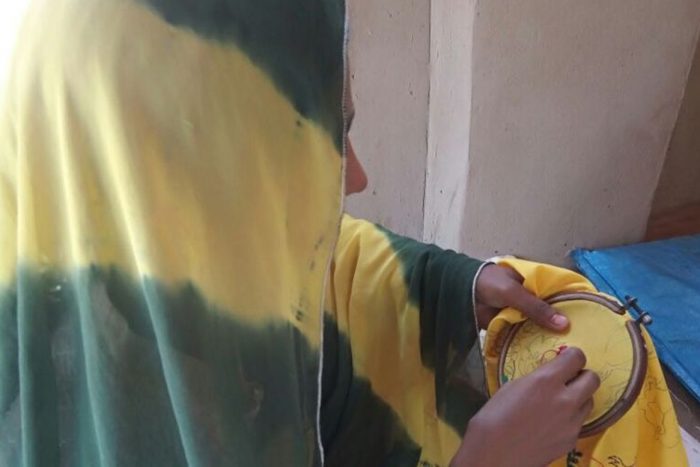 I was the only one who could support my family at the time
. Seeta, 17-year-old artisan, Umerkot.
In a remote village of Umerkot, Seeta lives with her two brothers and parents. Their father used to work as a chef in Karachi where he earned a monthly income of PKR 10,000 (approx. US$ 100). However, a couple of months ago, his head was injured and he was admitted at a hospital where he had to be treated immediately. The medical treatment, though necessary was extremely expensive. Since Seeta's elder brother had his own children and wife to support and their younger brother was too young to work and was studying, all the medical expenses of their father's treatment landed on Seeta's fragile shoulders. Seeta became her family's strongest and only support; emotionally and financially, at this difficult time.
During this crisis, a Women Enterprise Group (WEG) (under the CWSA & Ycare project) was established in Seeta's home village, Panju Meghwar. Though it was difficult for Seeta to take time out of all the household chores she was responsible for, she recognized this as the perfect opportunity to enhance her handicraft skills and improve livelihood prospects for the family. Upon joining the WEG, Seeta learned various handicraft skills, such as different stitches, color combinations, and use of assorted fabrics and threads. After the WEG participants learned these skills, the project team helped the women in linking them to urban markets from which they would receive orders with fair profits.
Through feedback from the trainers and project team it has been observed that Seeta is evidently a highly talented artisan. She easily understands design, has the ability to handle any type of fabric, and has excellent time management and quality control.
None of the artisans from the WEG were confident or willing to take orders for embroidery on different fabrics, such as organza or crape, as they were all afraid of the material being easily damaged and being too thin. However, Seeta was the only one among the artisans who took up the challenge and completed the given orders in time and in very good quality. Inspired by her, the other artisans have now also started taking orders on fabric and material that's new to them.
Seeta has learnt to produce new products like cushions, short shirts, trousers and stationary pouches. The chevron dupattas, with exquisite mirror work and hurmutch stitch, are her most popular and most sold products.
I have started working on orders that require varied types of threads and fabrics and have generated PKR 30,000 in the last three months for my family. I have used this money on my brother's education, household expenses, and on my father's treatment. Thankfully, my father is beginning to feel better now.
Seeta feels, and rightly so, that this is only the start. She confessed that at times one needs a push only and that she got from the trainings and by being part of the WEG. Once you get the push, there is no looking back, She plans to continue practicing and perfecting her skills and teach other girls in her village as well. Not only is this a convenient and acceptable business for women in their community, but also something that will remain with them through generations. Seeta further expressed,
I'm thankful to Community World Service Asia because it made me realize that a girl can also be independent and support her family. I am proud of myself for the achievements I have made, and I am more confident after participating in the Women Enterprise Group.