Home
Newsroom
Stories
Through Teacher Training, a Struggling School Boosts Student Engagement and Enrolment
Through Teacher Training, a Struggling School Boosts Student Engagement and Enrolment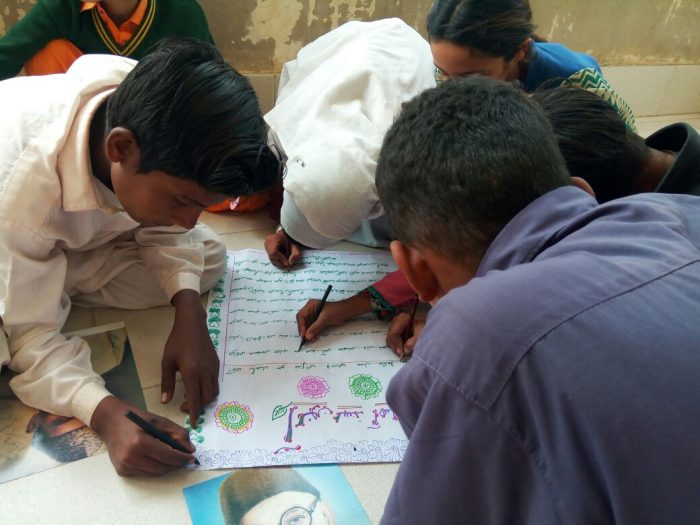 The Government Girls Primary School (GGPS) Abdul Wahid Colony in Umerkot, Pakistan, was struggling with low enrollment, low attendance and low engagement from the School Management Committee (SMC). In 2015, the school had a total of 80 students, with only 20 students newly enrolled. Sami, the school's principal, identified several reasons.
Weak infrastructure and limited basic facilities discourage parents from sending their children to schools in Umerkot. Moreover, far off distances, social evils and child labor contribute to the high illiteracy rate as well. Teachers in schools often use old methodologies of teaching, such as reading the lessons, giving lectures and assigning lengthy homework. As a result, students do not have positive outcomes and lose interest in studies,
she said.
In 2016, Community World Service Asia invited teachers from the school to attend Teachers' Trainings as part of the Girls' Education Projectⁱ.  In 2017 and 2018, six teachers from GGPS Abdul Wahid Colony—Sakeena, Mariat, Mohni, Naheed, Tania and Sami—were trained on pedagogical skills, early childhood care and education (ECCE) teaching methodologies and implementation of the Scheme of Studiesⁱⁱ.
When Community World Service Asia came to us,
said Sami,
things started to change gradually.
Putting New Methods into Action
Sami was pleased with how practical and hands-on the trainings were, packed with new strategies they could implement right away. For example, they learned about new ways to engage with their students, such as involving them in morning meetings to increase social interactions and in practical work to build interest in learning. The training also placed strong emphasis on lesson planning, which has renewed the teachers' excitement and dedication to their lessons.
Naheed attended a Teachers' Training focused on ECCE Scheme of Studies and ECCE Methodologies in January 2019. Back in the classroom, she began implementing new teaching methodologies involving group work, pair activities and learning through play. Since then, Sami observed,
Students have become confident and regularly attend school, as they are enjoying their studies.
Sharing her learning experience, Naheed said,
We have developed a different attitude towards our students after the trainings. The child-friendly environment created in our classrooms has encouraged students to learn more freely and ask questions frequently without any hesitation. The quality of education has improved immensely as students are more engaged in active learning.
Naheed and the other teachers have also worked to increase teacher-parent interaction, with positive results among both students and their parents.
Parents are more involved in their children's education updates and have witnessed the support the teachers give to their students in school. We have received positive feedback regarding teachers' behavior with their children and the children's increased interest in studies,
Sami added.
The students have noticed the difference. Humera, a student from class 4, shared,
There is so much change in our classroom. Our teacher, Naheed, encouraged us to participate in sports and cultural events and academic activities. We meet with students from different schools in these events and now I have made many friends in Umerkot. My parents motivate me to study hard after the parent-teacher meetings. They are very supportive and helpful, especially when I do my homework.
Reinvigorating the School Management Committee
The School Management Committee (SMC) of GGPS Abdul Wahid Colony is comprised of a General Secretary, a chairman, two teachers, two parents and two students. Its primary functions are to monitor teacher attendance, increase student enrollment and build awareness among parents on the importance of education for their children. It also holds administrative functions such as organizing co-curriculum activities, monitoring provision of free textbooks and disbursing SMC funds for improving the school. Unfortunately, the committee had not been fully engaged in its duties.
Abdul Razzaque, Senior MEAL Officer at Community World Service Asia, conducted a session for the SMC in February 2018, emphasizing the key role of the SMC in strengthening relationships between the schools and local communities. He highlighted each of the SMC's functions and why it was important.
Shahida, who has served as the chairman of the SMC since 2017, said the difference was dramatic.
It was after the teachers' training and SMC session that the SMC of Abdul Wahid Colony was actively involved in the school's operations and academic decisions. The learnings provided by Community World Service Asia further built on our capacities to work towards better outcomes for our students, teachers and the entire school system,
 she said.
Sami is very pleased with the progress she has seen at the school since her team started to work with Community World Service Asia and implement what they learned through Teachers' Trainings.
This year we have enrolled 60 new students, and today, a total of 210 students are studying in GGPS Abdul Wahid Colony. Moreover, 50% of the parents come to us for regular updates regarding their children's progress after the Parent-Teacher meeting held in collaboration with Community World Service Asia,
she said.
---
ⁱ Improving Access and Quality of Education for Girls in Umerkot Project is implemented by Community World Service Asia with the support of Act for Peace.
ⁱⁱ A guideline for teachers that defines the structure and content of an academic course, its learning outcomes.