Improving Quality of Life in Umerkot with basic health care and education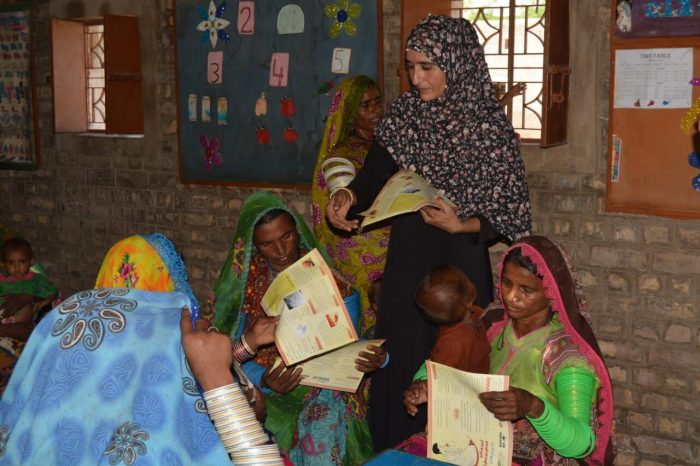 Community World Service Asia (CWSA) provides basic health services with a focus on Maternal, Neonatal and Child Health Care (MNCH) under its Umerkot Health Project, supported by Act for Peace. The project is implemented in two Taluka Headquarter Hospitals (THQs) in district Umerkot, namely THQ Pithoro and THQ Samaro.
Free medical camps are set up, under the health project, to bring health care and health education to vulnerable populations who have no access to basic health care services or knowledge about diseases. The medical camps aim at providing free medical advice, medicine and referrals for specialized treatment if required. These camps make sure that people receive health care at the right time and see a doctor early enough before a small health problem turns serious.
The health team organized a free medical camp on September 24, 2019, in the village of Maryam Nagar, Taluka Pithoro, District Umerkot. This village is nine kilometers away from THQ Pithoro and lacks a regular transport facility in the area. Patients from more than four surrounding villages came to the camp for treatment; in total, 127 patients were treated, including 55 women and 7 men, 29 girls and 36 boys. Five antenatal care (ANC), three postnatal care (PNC), and six family planning patients were diagnosed and provided with medical services. The remaining 113 patients were treated through the outpatient department and provided with free medicine. Major diseases diagnosed and treated during the camp were anemia, scabies, musculoskeletal pain, diarrhea and ear and eye infections.
The Village Health Committee (comprised of both women and men) was involved in organizing the camp and facilitating the patients, while community mobilizers delivered health education sessions to women, men and children on food and nutrition as well as on the causes, symptoms and preventive measures for malaria and dengue fever. The community mobilizers also distributed Information, Education and Communication (IEC) material on related topics.